The region around Beaverton, Mich., is full of small towns and tight communities. But from the humble heart of Michigan grew many of the world's largest and most innovative plastics companies. The region is known as the Plastic Thermoforming Capital of the World. Among the companies living up to that legacy is Robinson Industries, a family-owned manufacturer of plastic pallets, packaging and other specialized items.
The community acknowledged the company's contribution to the foundation of the thermoforming market when it chose Robinson Industries founder Fred Robinson as one of four leaders to honor at an exhibit about the industry. The exhibit, located in a former school house renovated into a community center, was intended not only as a way to celebrate the area's heritage, but as a way to build interest among the next generation of workers for a career in the plastics industry.
"One of the goals we're trying to accomplish with the plastics [exhibit] is to teach young people about the opportunities in this area in the plastics industry," says Ronda Robinson, marketing manager at Robinson Industries and granddaughter of Fred Robinson.
Four Generations
Fred and Ardis Robinson started Robinson Industries in 1947 as a manufacturer of EPS or expandable polystyrene. The company added thermoformed plastics in the 1950s and a decade later it was making plastic pallets for the automotive industry. Robinson Industries specialized in thermoforming to shape its products, but in the 1970s it added a structural foam process. Those two processes have remained the company's focus for nearly 50 years, resulting in great expertise and a strong reputation.
Robinson Industries has thrived for 70 years because of its people, Robinson says. Its home of Coleman, Mich. is a close-knit town with a population of only 1,205 people while Beaverton has only 1,049 residents, according to 2015 U.S. Census Bureau estimates. In many regions, it would be a challenge to find skilled labor in such a small population pool, but the abundance of plastics manufacturers in the area, including Dow Chemical Co., has created a workforce with generational knowledge of the industry.
The Robinson family itself is a dedicated owner, and four generations of the family have worked in the company. Robinson says it's a far different atmosphere from a corporate manufacturer. There are fewer layers of management so decisions get made faster and people are more willing to work harder for less pay during lean periods. "You have to balance family relationships with work relationships," Robinson explains. "In some ways, it's more challenging. In other ways, it's better because people are willing to go the extra mile. We're a close knit family and we're all dedicated to making sure that business doesn't interfere with the most important thing, which is our relationships with each other."
For most of its 70 years, Robinson Industries has been known for its returnable, reusable packaging. In the retail industry, clients use the company's plastic pallets or totes to send items between their distribution centers and stores on a closed-loop cycle. Once the item is dropped off, it comes back to the distribution center to be used again, eliminating the waste often found with wood pallets that deteriorate over time.
In addition to its pallets and packaging, Robinson Industries manufactures some custom items such as an ice fishing sled for an outdoor retailer, components for an air conditioning company and drip pans used by consumers in a variety of ways to name just a few.
Plastic Processes
All of Robinson Industries' products are manufactured out of two plants in Coleman located about five miles apart. Each facility specializes in its own plastics process. The main thermoforming plant is 110,000 square feet while the structural foam facility measures 42,000 square feet. From those facilities, Robinson Industries serves customers throughout North America and the world.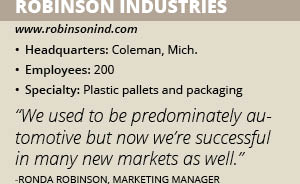 Many plastics companies utilize only one forming process and must persuade customers that a single option can fit all of their needs. Each of the processes has its benefits. For example, closer tolerances can be achieved with structural foam and often structural foam can handle higher weight loads. However, thermoformed tooling is less expensive than structural foam and in many cases is the ideal solution.
With its separate facilities dedicated to thermoforming and structural foam, Robinson Industries can give customers the right product. "The fact that we offer both of those processes is unusual and it's an advantage," Robinson says. "We can perfectly meet our customers' needs because we have both of these processes to offer."
Robinson Industries operates 20 thermoforming machines capable of producing single- or twin-sheet components ranging in size from 1 square inch up to 10-by-28 square feet. Its injection molding process can handle up to 190 pounds of structural foam per cycle and parts up to 5-by-12 feet in size.
The material used to manufacture the pallets and packaging are just as important as the forming process used when it comes to quality. Robinson Industries uses a combination of virgin material and high-quality, clean recycled plastics as specified by the customer. Some of the recycled material is sourced from third-party suppliers, but the company also has a recycling department. "Companies send our products back to us and we do our own recycling," Robinson explains.
Because the quality of material and speed of delivery are so important to the finished product, Robinson Industries strives to work closely with its suppliers. Those vendors that prove their dependability often turn into lasting partners, some of which have supplied Robinson Industries for more than two decades. "I think it's important to have good relationships with your suppliers," Robinson says. "Good relationships lead to better customer service and priority delivery."
Robinson Industries continuously invests in its technology and equipment to improve efficiency and quality. Last year, the company installed a larger extruder for thermoforming that improved productivity immensely. It has made improvements to infrastructure and machinery, which have increased efficiency, quality and safety.
Robinson Industries' improvement initiatives go beyond productivity and quality. Just as the company wants close relationships with its suppliers, its clients want closer relationships with Robinson Industries. "Clients want us to be more closely involved in design and engineering from the early beginnings of a project," Robinson says. "Thinking about packaging early in the process results in a better outcome for the whole program."
Diversifying Customer Base
Like many manufacturers tied to the automotive market, Robinson Industries struggled during the Great Recession. The company realized it had to diversify to better weather the ebbs and flows of the industry. "We used to be predominately automotive but now we're successful in many new markets as well," Robinson says.
Industrial customers may prioritize function over visual appeal, but as it caters to a more diverse customer base, Robinson Industries has found that looks matter. Plastics allow more variety in design and sometimes even become a part of a retailer's image. Stores can use the pallets for special displays to create a cohesive look across the shop floor. "You can use your packaging in a way to brand yourself further," Robinson says. "For example, manufacturing your pallets in your company colors or embossing your logo on the plastics enhances your brand and is a great look for your display space."
The Robinson Industries name has long been highly regarded among the automotive industry, but a wider range of clients is now discovering its reputation for quality plastic products. Robinson says strong word of mouth leads to repeat business is helping the company further its efforts to diversify. In addition, its status as a women-owned business can help clients fulfill requirements that mandate the use of minority- and women-owned vendors, further opening the door for new supplier agreements.
"People come to us because they know we've probably done something like that before and we're familiar with their challenge." Robinson says. "We've been here through so many ups and downs in the market and through four generations. We've proven that we're here to stay. We're committed to the customers we've had for 60 years and to the new customers in the diverse industries that are emerging daily. It's an exciting time."