Robinson Packaging Innovations Ltd
Ahead of the pack
After 180 years in business, packaging manufacturer Robinson PLC continues to develop its products and modernise its practices
When JB Robinson purchased a round box company in Chesterfield in 1839, it is unlikely he could have predicted the success his company would go on to achieve. Renowned for producing high quality paperboard packaging throughout the 1800s, Robinson Packaging Innovations diversified into surgical dressings, before becoming the most advanced carton manufacturing and printing facility in the UK in 1921. "When the company celebrated its centenary in 1939, it had around 3700 employees," explains Managing Director Steve Haley. "It must have seemed as though the whole of Chesterfield worked for Robinson."
Inextricably linked with the town, the company is still headquartered in Chesterfield today. It also operates three UK manufacturing facility based in Nottinghamshire, as well as two Polish locations in Warsaw and Łódz. Over the course of its illustrious 180-year history, the company has provided packaging for some of the world's most famous brands, including Radox,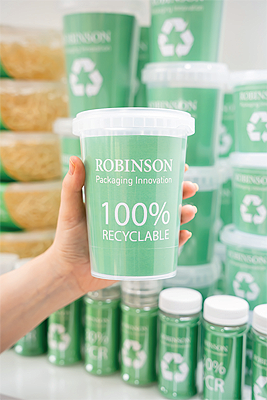 Nescafé, Tesco, Bisto and Gillette. An industry pioneer, Robinson purchased a patent for the first ever disposable nappy in 1949, before achieving unprecedented success in the 1950s when it produced Quaker breakfast boxes and designed the first Smarties tube for Rowntree & Co – a market first. By 1957, Robinson had begun investing in the latest technology to develop its injection blow moulded products, and that's where the company's focus lies at present.
"Robinson operates primarily within the food, household, drink, confectionery, cosmetic and personal care sectors, providing niche or custom manufactured products to major players in the fast-moving goods market," Steve says. "Today, our main activity is the manufacture and sale of injection and blow moulded plastic packaging."
Currently used to manufacture thin walled containers, tamper evident tubs, flip top caps along with PET and HDPE bottles which is a highly versatile, flexible, and consistent process in which molten plastic is forced at high pressure into a mould cavity. It has been used by Robinson to produce products such as the Nescafé Azera coffee cap across three conversion technologies.
The company's Poland operation in Warsaw is considered Robinson's centre of excellence for blow moulding, a process in which plastic is melted and extruded into a hollow tube, before air is blown through it so that it takes on the shape of a mould. The blow moulding technique is employed to create liquid dosing bottles, angled neck bottles, or laundry bottles, such as the one used by Poland's Pollena Ostrzeszów laundry care brand.
Steve believes that the company's experience in these areas, as well as the comprehensive range of technical services it offers in the development phase, are part of what has helped build Robinson's reputation as an industry leader. "Our expertise and heritage in producing sustainable plastic and paperbox products means that our clients truly trust in our service," Steve states. "Our three sites in the UK have the latest BRC accreditation and perform to strict standards that our customers trust and appreciate.
"We are currently enjoying success in four key areas: food and drink, personal care, household products and luxury gift packaging," he adds. "Our clients include powerhouse multinationals like Unilever, Jacobs Douwe Egberts, and S.C. Johnson. Our luxury gift boxes attract small to medium enterprises in the premium chocolate, home fragrance and beauty sectors. We also produce for most UK supermarkets across their own-brand chilled food and herbs and spices ranges."
This enduring success, after almost two centuries in business, is something that Steve attributes to Robinson's ability to respond and adapt to the ever-changing packaging environment. "We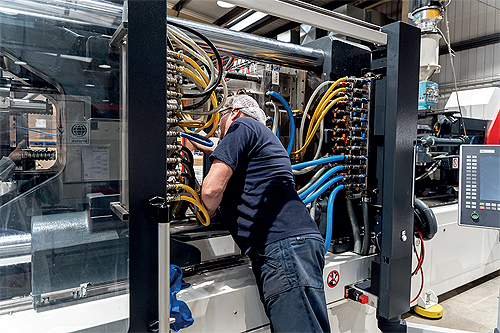 constantly invest in new technology to keep abreast of best production standards and efficiencies," he says. "We are always looking at ways to keep our operations lean, our products light, as we constantly drive for a sustainable future."
In keeping with the industry's shift towards sustainable business practices, Robinson plans to further develop its partnerships with Pledge2Recycle and RECycling of Used Plastics Limited (RECOUP). Working with RECOUP, a registered recycling charity and not-for-profit member-based organisation, has helped Robinson to produce plastic products more responsibly and minimise the negative environmental effects of its production. "We handle, recycle and respectfully care for all the precious resources we use," Steve says. "We have made great strides to improve the likelihood of products ending up in recycling by using single polymer materials with clear product labelling. We hope to see a future where all products are traceable and recycled as part of a circular economy."
Overseeing Robinson's efforts to become a more sustainable operation will be Dr Helene Roberts, who was appointed as the company's new Chief Executive in 2019. Helene, with a PhD in Polymer Engineering and former Managing Director at Klockner Pentaplast, arrived at Robinson's with an extensive knowledge of sustainable materials technology. "Helene's deep understanding and experience of plastic packaging – which includes materials, product design and innovation, end-to-end business improvement and the plastics circular economy, combined with her leadership talent, gives the board great confidence that she can lead Robinson on the next phase of our journey," explained Chairman Alan Raleigh at the time of Helene's appointment.
After experiencing strong growth in 2019 – Robinson invested heavily in new plants and equipment, as well as recruiting new staff to enhance the skillset within the business. "Looking forwards to the rest of 2020, the challenges in the market around plastic packaging will not get any less. Innovations in our recyclable range and the use of recycled materials will continue to drive current and future success," Steve states.
Deep into the latter end of its second century, Robinson's vision for the future is clear. "The company's continued strength will come through a focus on customer relationships, our expertise and our workforce," Steve says, "and we will continue to invest in new equipment, new infrastructure, simpler processes, and most importantly, our people."
Robinson Packaging Innovations Ltd
Products and services: Packaging manufacturer for food, drink and personal items