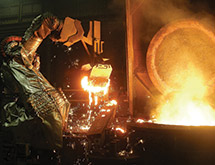 Industrial robots have changed the face of manufacturing, helping companies become more competitive via increased speed and productivity while at the same time reducing costs and removing humans from potentially dangerous and harsh working conditions.
But there are numerous environments in which robots might not operate without appropriate protection. Robots used for applications such as die casting, high- and low-pressure washing, and media blasting applications often-times require protection to shield them from extreme manufacturing conditions.
Charles Tur sought out such a solution more than 20 years ago when he worked in the automation industry. "He was canvassing the market for people who could protect the robots and was coming up empty handed," says Tur's son, Chris Tur, president and CEO of Roboworld. Charles Tur founded the West Chester, Ohio-based company in 1993.
Tur said his father "expanded the envelope for robotics" by developing protective suits that allow them to function in environments that previously were off limits. "He saw there was an opportunity to grow the market beyond what an unprotected robot could offer," he says.
Customized Suits
Two decades later, Roboworld offers a variety of products designed for automation in manufacturing settings, says Tur, who took over leadership of the company in 2015. The company's Robosuits® are designed to fit over the casting of a robot. The suits cover the robot's joints, stationary base and terminate at the tool flange, Tur says.
The economics of investing in a Robosuit® can be quite compelling, especially considering the cost to replace a single joint on a damaged robot can easily exceed that of an entire suit. "We encourage our customers to calculate the cost of an hour's worth of production and then project the losses associated with a robot sitting idle for days while replacements parts are sourced and repairs completed," Tur says.
Roboworld designs suits to keep pace with the gamut of today's broad-based manufacturing applications. These include protection from extremes of temperature, molten slag and splatter, corrosive chemicals, explosive dusts and high-pressure wash applications. Non-traditional applications also include radar-absorbing, food processing and handling, pharmaceutical and low-earth orbit (extreme vacuum/low-temperatures) applications.
In the food-processing industry, for example, the suits perform two functions. They protect food products from the grease and oils that could potentially escape from the robot, and they protect the robot from the harsh disinfection and sterilization chemicals required in many instances, Tur says.
Suits range in price depending on several factors, including the size of the robot, the degree to which the robot must be covered, the environment the robot is exposed to, and the material required to protect the robot, Tur says. The company has introduced 10 new Robosuit® patterns through September 2015, keeping pace with new robot introductions from OEMs, including ABB, Fanuc, Kuka, Universal Robots and Yaskawa-Motoman.
Roboworld participates in a competitive marketplace, but relies on customization to maintain an advantage. "Our strength is to design each and every suit to the robot's individual architecture," Tur says. "It's not simply a tarp thrown over the arm." Robosuits® preserve the full operating envelope of the robot and, given their form-fitting design, will not interfere nor snag on other equipment within the manufacturing cell.
Roboworld also offers a wide range of protective products for much of the support equipment exposed to harsh, penetrating environments, such as gripper covers, controller covers, teach pendant bumpers and vision system/laser covers.
Expanding the Business
Tur flew A-6E "Intruders" from the decks of Navy aircraft carriers and worked for General Electric before joining the family business in 2013. Charles Tur remains involved in the company, as does his other son, Mike, who has led sales for Roboworld for the past 16 years.
For several years, Roboworld focused largely on the U.S. auto manufacturers as well as their Tier I and II suppliers, but Tur sought to expand the company's reach. "I saw that the business was uniquely positioned for growth," he says. The global robotic systems market, including software and other related infrastructure goods, was estimated at $26 billion in 2012, and is projected to reach $41 billion by 2020, according to an Allied Market Research report. "Given the right mix of products and segments, there is potential for significant growth," Tur says.
To gain market share, Tur has diversified the company's client portfolio and introduced new products. "We are actively engaging customers and integrators across the aviation/aerospace, material-handling, food processing/packaging and automated welding segments," Tur says. "Since 2013, we have collaborated with four new domestic distributors and two international distributors."  Roboworld is also introducing its Pendant-Armor™ line of conformal fitting bumpers to provide drop-protection for teach pendants later this year.
"We work diligently to maintain relationships with all major OEMs," Tur says. He adds that the company has also embarked on dialogue with universities and research institutions to stay abreast of emerging technologies, identify trends and keep pace with new manufacturing process developments.