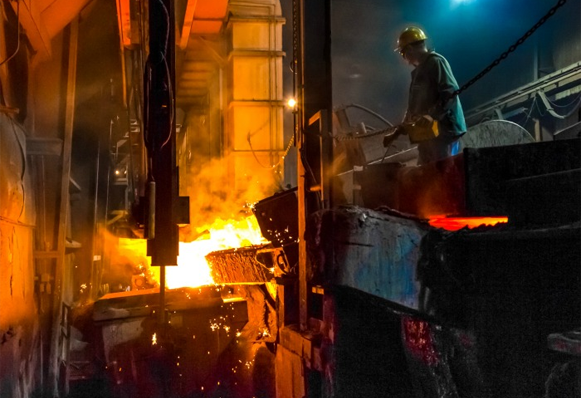 Rochester Metal Products Corp.
Rochester Metal Products Corp.'s (RMP) Employees have a reputation for taking care of the customer, Maintenance and Engineering Manager Doug Smith says. "There's a positive connotation when [people] hear you're part of Rochester Metal Products," he asserts.
Based in Rochester, Ind., with roots more than 125 years old, the company now specializes in pouring gray and ductile iron castings. Senior Vice President and General Manager Greg Loving says those roots go back to its beginning as a school furniture manufacturing business that started operations before 1890 in Richmond, Ind.
It moved to Muncie, Ind., in 1901 and to Rochester, Ind., in 1937 where it operated a small foundry that made castings for lawnmowers and parts for other markets. "The strategy was to be well diversified and to cover as many different markets as possible, so if one was off, the other would pick up the slack," Loving says.
Today, RMP's markets include agriculture, automotive, construction, energy, heavy truck, industrial, marine, rail and recreational. "We sell to a variety of machine shops," Director of Sales and Marketing Rick Bean says, adding the parts end up with majors such as Ford Motor Co., General Motors, Toyota, Caterpillar and John Deere.
RMP has a unique position in its industry, he adds. "We're not one of the big boys and we're not one of the smallest, but we are a leader all the same, in the way we treat a customer in the delivery, service and quality standpoint," he explains.
Key Leaders
RMP owes many factors to its success, including its strong team atmosphere, particularly in its current management team, Smith says. In 1996, he recalls, the company underwent a major expansion as it added ductile iron to its operations.
"That was a key transformation to the business where we grew into a market that was expanding," he says, noting that the company tripled its capacity. But it also added many people, including Loving, Bean and Smith himself, as well as Production Manager Craig Sederholm.
"A good job [was] done in hiring at that time for a group to take on that challenge," Smith says, noting that they helped RMP when it was vulnerable. "Many of those individuals are still with the organization and continue on that teamwork mindset."
Human Resource Manager Mike Adams, who has 35 years with the company, also praises the leadership of President and CEO Robert Kersey. "He's been one to reinvest into the company in a number of ways, not only in keeping his equipment well maintained, but staying with the times and investing in getting the right people to get the job done," Adams says.
"I see this company as being one that offers a lot of security for people that are seeking a career," he says. "It's not just a job for a short-term stepping stone."
Up to Date
RMP copes with increasing regulations in its industry, thanks to its internal engineering support, Loving says. "We've got external support as well, with environmental companies to help us," he says. "We understand that we have to spend money to stay up to date."
The company's affiliation with the American Foundry Society also helps, Smith says. "We also are a member of the Indiana Cast Metals Association (INCMA) and Indiana Manufacturers Association (IMA)," he says. "A lot of times, those groups are the folks that bring to us the issues, hot topics and items to be concerned about, whether it be with environmental health and safety or labor law.
"We also take an active role in supporting their efforts to contact our state and federal representatives to provide comment when necessary on a certain piece of regulation," Smith says. "We support their efforts to help our industry."
RMP also keeps its manufacturing operations state-of-the-art, Loving says. "We're in the process of updating our ERP system to control inventory, production and so forth," he says, noting that it plans to begin using the system, Odyssey by B&L Information Systems, in January 2017.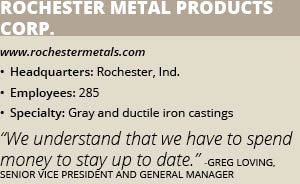 "We're always updating equipment or improving the equipment that we have," Loving says, noting that the company also is in the process of exploring the option of adding a new foundry. "We're landlocked pretty much where we're located, so we are looking at opportunities to expand and add to our capacity."
RMP owns property in the city of Rochester that will allow the company to do that, he explains. "We're in the preliminary stages of planning and researching," he says.
Aiming to Improve
RMP utilizes a continuous improvement program based on the corrective action system, Director of Quality and Technical Services Tim Opar says. So far, it has paid off for the company, which has seen a decrease in in-house scrap.
"The amount of parts we get back from the customers shows the same trends, and so have customer complaints," he adds. "We take whatever time necessary to resolve it so it never happens again.
"An example might be when a customer notifies us that a part number is running excessive scrap caused by a defect that was not noticeable until after machining," Opar says. "A team meets weekly to review all open issues and agrees to a resolution.
"This relentless pursuit has shown significant results in the past 10 years: 27 percent reduction in production scrap, 40 percent reduction in customer returns and 75 percent reduction in customer complaints," he says.
Product Partners
RMP maintains strong relationships with its suppliers. "We stick with a core group that are familiar to us," Smith says, noting that many have worked with the company for more than 20 years.
"They understand us, our needs and our capabilities," he says. "We want to be sure that those folks that are coming onto our property are well versed in that type of work. It helps each of us as a customer and a vendor to be successful when that familiarization has been built."
Sederholm adds that the company regularly works with its raw materials suppliers on ways to improve quality and lower costs. "We're always looking for improvements," he says.
"If at any point any of our vendors say they have got a material to try, we'll see if it's a good fit for us," Sederholm says. "Our suppliers typically allow us to make minor adjustments that fit in our operation, whether it is from a sizing or chemistry standpoint."
Rochester Pride
RMP has given its managers many reasons to be proud, including its "team spirit," Loving says. Previously, "I worked for a company where all they talked about that was 'group' this and 'team leader' that," he recalls.
But RMP represents those values better, Loving says. "When I walked into this place over 21 years ago, I felt that," he recalls. "It just came naturally."
Loving also highlights the company's quality focus, which is reflected by its ISO 9001 certification. "That's been kept up throughout time with the upgrades and the systems," he says.
RMP has always and continues to focus on the customer, Bean says. "We treat our customers very well," he asserts. "We call them, communicate with them and respond to them quickly."
Sederholm agrees. "Our people like what they do and they like to do a good job," he says. "They realize they're here to satisfy the customers."
Loving predicts more success for Rochester Metal Products. "I see this as an ongoing business," he says. "There are many foundries that are no longer in business. That is because of the foreign competition and a lot of that goes to the government regulations. We will endure those challenges."