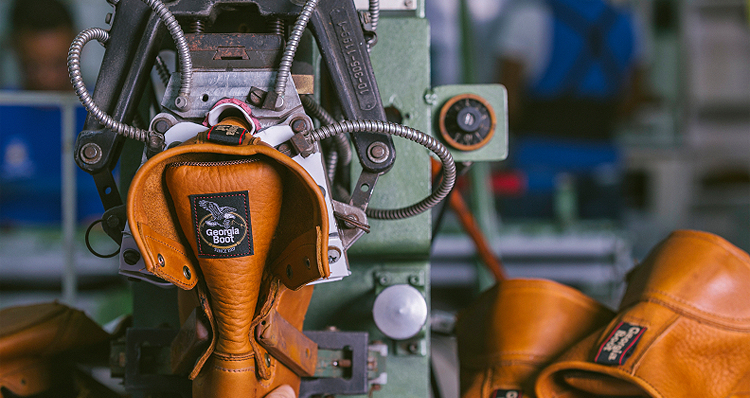 Rocky Brands built its reputation on developing innovative and durable footwear and continues to strive for operational excellence to deliver high-quality products its consumers expect.
For nearly 90 years, Rocky Brands Inc. has been designing, developing and manufacturing premium footwear that is known for innovation, durability and quality. "We make footwear to serve the people who serve, and we have a lot of passion for the people who are wearing our footwear," President and CEO Jason Brooks says. "It's more than just something to put on your feet; it's a tool and necessary part of the day."
The Nelsonville, Ohio-based company manufactures outdoor, work, western, duty and military footwear. The Rocky Brands family of brands include: Rocky, Georgia Boot, Durango and Lehigh. Rocky was established in 1979 as the company's premium priced line of branded footwear, apparel and accessories.
"Rocky is in many different categories, including work, outdoor/hunting, western boots and the service industry for police officers and EMS," Brooks explains. "We have a commercial military division that we sell directly to the United States Military and contracts with the United States government."
Georgia Boot launched in 1937 as the company's moderately priced, high-quality line of work footwear. "Georgia Boot empowers those who work hard – the workers that pride themselves on building real value with their hands," Brooks says. "We help them achieve personal success by creating performance-enhancing footwear designed for the physical demands of their specific trades."
Since its launch in 1965, Durango has developed broad appeal and earned a reputation for authenticity and quality in the western footwear market. "Slipping on your Durangos gives you a feeling of adventure and freedom," Brooks describes. "Durango is not a boot, it's an attitude. We call it 'Outlaw Fun.'"
Rocky Brands' fourth brand, Lehigh, was launched in 1922 as a high-quality safety shoe line to meet occupational safety footwear needs. "We offer an e-commerce solution for our clients where we set up a custom website for their employees to log into and shop the styles approved by their company and buy the shoes from the site," Brooks says.
Quality Performance
Over the years, Rocky Brands has implemented changes in its manufacturing process to increase efficiency and remain cost-effective. However, Brooks admits that for a period of time the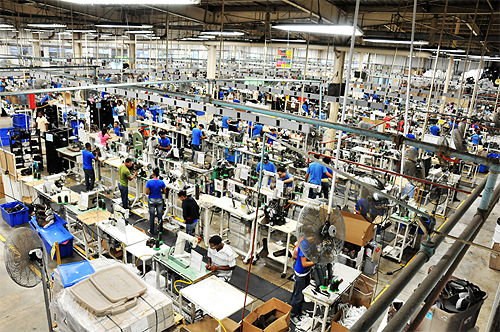 quality of its footwear suffered because of those changes. "Over the last couple years, we have really worked to get back to the quality we are known for, and I think the first step was recognizing when it's not right," he adds.
For example, Brooks received a letter from a major general in the U.S. Air Force who had purchased a pair of boots and was not happy with them because the quality of the shoe was not performing up to his standards. "He had just deployed to Afghanistan, so we shipped a new pair to him to make sure he had the right quality boot," Brooks remembers. "There's always mistakes that happen and we are never 100 percent perfect. He appreciated the customer service and told us the boot was right and he's now a Rocky customer forever. We have to do the right thing and sometimes that costs a lot of money, but it's the right thing to do."
Rocky Brands is committed to service excellence. "We listen intently, provide superior solutions quickly and are easy to do business with," Brooks adds. "Our integrity and reliability are paramount. Our focus on enhancing life's experiences stimulates our relentless drive to design and produce the best, innovative, comfortable footwear and apparel. Understanding what consumers need and want is at the heart of our product and brand portfolio development efforts."
Operational Excellence
To ensure it continues to deliver a quality product every time, Rocky Brands is focused on operational excellence and determining quality before the product leaves the factory. Rocky Brands has implemented lean principles in both its manufacturing facilities in the Dominican Republic and Puerto Rico. The Dominican Republic facility recently achieved ISO 9001 certification.
Rocky Brands recently celebrated its 30th year in Puerto Rico and invested in an automatic cutting machine for the facility. "New technologies come out that allow us to be more efficient by getting more material usage, generating less waste and the quality is there because it's exactly perfect," Brooks says. "We are so excited about that and expect to have the automatic cutting machine up and running later this year."
The company employs about 300 people at its corporate headquarters in Nelsonville, 900 people in the Dominican Republic and about 800 in Puerto Rico. "The people at this company make this company," Brooks says. "They have a real passion for what we are doing here. We went through that awful hurricane a year ago in Puerto Rico and the factory was down for 10 days, but we still had people show up at the facility wanting, needing to work and what they have been able to accomplish in allowing us to keep our company going and keep shipments going, and the quality going – their resilience down there just blows me away."
After Hurricane Maria hit last year, Rocky Brands shipped six containers of water generators, batteries, basic food and supplies to its employees. "The things they did were just amazing," Brooks remembers. "They really care about the company and they want it to work and that's why we will succeed."
Excelling at E-Commerce
Over the past three years, Rocky Brands has shifted its focus from less inventory and bigger orders to carrying more inventory to meet e-commerce demands. "Our facility here in the United States is probably one of the best warehouses you will find," Brooks attests. "We are very efficient and able to get shoes in and out within a 24-hour period. We do a lot of drop shipping and have really made that our expertise."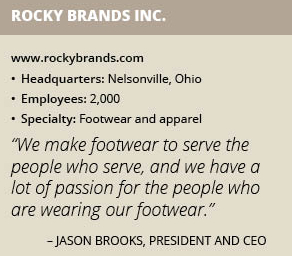 Consumers want their products "today," and e-commerce has changed the dynamic of the retail industry. "Consumers now have the ability to go online and shop, research and understand what's out there right at their fingertips," Brooks explains. "The market used to be you had to go to a store and maybe hit two or three stores in a shopping mall, but today you can find hundreds of stores online. You have to be on top of the game and product you are launching, and message you are sending out there."
Rocky Brands' website carries all of its products, which includes footwear, apparel and accessories, and balances that with its merchandise available from its retail partners. "We are very careful about it, but we have to get everything out there and there's a balance to it," Brooks says. "We work to drive people to our websites, but we don't discourage them from buying from Amazon, for example, if they choose to buy from different retailers."
Continuous Innovation
Rocky Brands launches new products twice a year – in the fall and spring. "It's not nearly as aggressive and competitive as the fashion market where you will find more launches," Brooks notes.
The company spends a lot of time on research and development when it comes to new product lines. Rocky Brands works on new product development a year-and-a-half in advance, so right now it is beginning work on its fall 2020 line. "We spend time in the field, making shoes, and having our end-users wear them and tell us what's good, bad and what we should change," Brooks says. "The fall is a bigger launch for us with the upcoming holiday season."
Rocky Brands' main brand value is passion – for the company, its consumers, vendor partners and product. "The product is key," Brooks says. "Our product has to be innovative. It doesn't have to change the world; it can be a slight change, but it has to be great quality and comfort. Those are things we really work hard at and maybe beat ourselves up a little too much on, but if it's not right it won't work. Consumers won't buy it and retailers won't buy it. We have to have a great product."
Rocky Brands is unique among footwear brands as it manufactures its own product, which allows it to control its destiny. "I call many other footwear companies marketing companies because they don't manufacture their product, they design and market it," Brooks explains. "We design, market, manufacture and sell our product."
Moving forward, Rocky Brands will continue to focus on its core brands, building great relationships with its customers and maintaining great quality and comfort, while expanding the company into adjacent markets. "We still have to grow as a publicly traded company," Brooks says. "The status quo won't be OK and we have to find a way to do that. I think that will happen in two ways – being innovative within our own brands and if we have an acquisition that makes sense for us and our corporate values, we will look at that."