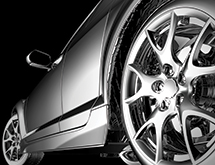 With more than 3,600 employees, the Röchling Automotive Group is a global partner to automotive manufacturers and system suppliers. Its 20 manufacturing plants, spread across four continents, ensure customer proximity and outstanding quality.
Röchling Automotive's core competencies include air flow management, acoustics and thermal management in each segment of the vehicle. The interplay of these competencies makes Röchling Automotive an expert and leader for active grille shutter systems, engine and interior air intake systems, as well as, engine and body undershields. The uniqueness and value of its solutions basically results in a significant contribution to lower fuel consumption and emissions while improving the comfort and sound of vehicles.
The group's American engineering center in Detroit ensures long-term benefits for end-customers. Several awards won, such as a series of innovation awards from the Society of Plastics Engineers on both sides of the Atlantic, ensure future success and a high level of recognition among carmakers and industry experts.
The ongoing success and worldwide growth of Röchling Automotive is founded in its clear focus and strong values. The history of the Röchling Company begins in 1822. During that year, Friedrich Ludwig Röchling founded a coal trading business in Völklingen, Germany. His four nephews – the "Röchling brothers" – began with the production of hard coal coke and processing industrial iron in 1849. But that was not the only material Röchling bet on – in 1922, it acquired its first plastics company, thus becoming a trail-blazer in plastics processing.
At the end of the millenium, it adopted a fundamental change in strategy: Röchling focused on its core expertise in plastics and sold all other holdings. Since then, the company intensified the globalization of the plastics group in Eastern Europe, America and Asia and tapped into new market segments.
Today, the globally operating Röchling Group stands for competence in plastics with 7,500 employees at 60 locations in 20 countries. Röchling stands for innovative products and cutting-edge process technology in processing technical plastics.
In the automotive sector, a series of quality awards indicates that customer proximity and service, paired with technical excellence, help carmakers to keep cost at low and quality at high levels. Local sales and service offices in the vincinity of customers have enabled Röchling Automotive to react quickly and adequately to customer's needs – and to overcome difficult times.
Today, Röchling Automotive stands for innovative products which perfectly fit to the demand of its customers. The North American business is expanding at high rates every year. Started 1999 with German carmakers BMW and Daimler, the list of customers in the United States now comprises GM, Ford, Tesla, Nissan, Subaru, BMW, Daimler and the VW group. The Röchling Automotive strategy to enlarge its customer portfolio is part of a global strategy to have the right products for the right customer at the right place and time.
Vincent Mauroit, president and general manager of Röchling Automotive LLP, puts emphasis on the willingness to learn and adjust: "The internal culture of our automotive supplier business requires employees which are driven by a spirit of innovation, driven by the willingness to learn and improve and, not to forget, driven by a sense of high quality." The benefit of the complete product range – reduced drag, weight, emissions, and fuel consumption – are for the fun of vehicle owners and the environment. "Therefore, competence and quality must be guaranteed, to avoid any kind of failure that could disturb the positive attention to our products," Mauroit adds.
Röchling Automotive succeeds in stopping or even reversing the weight spiral by especially lightweight and aeroacoustically effective underbody panels and parts for the engine encapsulation. The idea of installing active grille shutters in between the grille and the cooling package has brought Röchling Automotive a world market leadership in a strongly growing market. Aerodynamics, acoustics and thermal management can be improved at once by this revolutionary device. Vincent Mauroit: "The Tesla S is equipped with such a system, too. It was the first fully electric vehicle with such a system worldwide."
Recently, the company gained interest in the press for some innovations in the air intake area such as flexible charge-air ducts or intake manifolds with an integrated charge-air cooler. With a new way to forecast and calculate filter lifetime, Röchling Automotive attracted carmakers and gained important businesses. SCR  Systems (selective cathalytic reduction) have recently been added to the performance portfolio in Europe. Vehicles with bigger diesel engines need such a system to fulfill the new emission limits. Transmitting and storing energy is another field of activity with potential for future growth. Röchling Automotive's motivation to create the future therefore is: Boost your efficiency.