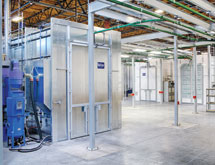 Like many entrepreneurs, Dave Rohner built his company by trying to fill a need he saw in the industry and then going after opportunities as they came his way. What has kept the finishing systems operation strong is that Rohner understands every aspect of the business, and the company uses that knowledge to enhance customers' productivity and profitability.
"Before I started the company, I had been in the industry for about  five to six years, doing some part-time projects on the weekends and evenings during my college years that lead to a full-time career opportunity," Rohner says. "I branched out on my own in 1999 when I launched Rohner Mechanical Inc., DBA Rohner, because I saw a need for quality installation services of finishing systems and knew it was an inroad into manufacturing our own product. A few years later, we started manufacturing our own equipment in-house, but we still have a presence in installation. We are licensed as a general contractor in several states, installing our own equipment and others'."
Based in Vancouver, Wash., Rohner designs, manufactures and installs industrial paint spray booth and finishing systems, incorporating the latest industry advances and its own innovations to meet customers' finishing needs. Specializing in custom industrial systems, the company creates solutions for large and small facilities in the aerospace, military, architectural, manufacturing, marine and utility markets.
"I came from the manufacturing and sales side, and I saw so many other businesses always fall through with installation," Rohner says. "I became dedicated to doing quality installation and with our manufacturing, we always manufacture for ease of installation and serviceability."
Moving Up
Describing it as a "continued testimony to our products and services," Rohner explains the company has been able to move up and grow with its clients. The company started small, but now is serving Tier I and Tier II aerospace clients, and 18 months ago Rohner began serving OEM automotive clients.
"We're currently installing a finishing line for Volkswagen, and we worked closely with the assembly plant engineers to make the project a success," Rohner says. "You don't get invited to this level without a good track record behind you."
Salesman Dave Stratton agrees, adding, "Projects like these elevate us to higher levels. We get to travel with companies that have facilities around the world. We are a solution-based company and that drives us forward. We're not offering just a specific piece of equipment; we provide solution-based ideas. As a result, we're helping customers with decisions of important magnitude."
Rohner's clients usually have a problem with a process or a challenge to overcome, and that is when the company steps in. "We work with them to improve their process," Rohner says. "We come up with a material handling or finishing process to solve their problem or bring innovation to their manufacturing process. Rohner has become a major player in the aerospace industry taking advantage of the large aerospace cliental in our northwest region. Rohner has helped many of Boeing's supply chain vendors meet the rigorous finishing standards of the aerospace industry. "
Next-Generation Plans
Rohner is dedicated to continuously improving its operations to be the best for its clients. On the design side, the company is "as current as we can get," Rohner says, with ongoing CAD software and hardware upgrades.
"In the next 18 to 24 months, we are going to focus on our design and 3-D-modeling, and automate these processes for custom booths  and enclosures," Rohner says. "Much of our future emphasis will be in engineering – we've doubled our engineering staff in the last nine months and expect to bring new innovations.
"We plan to introduce a new cabin design that we hope will be the next-generation for us," he adds. "It will require a manufacturing expansion with more lean process, because we want to be more efficient and increase output. We brought on an R&D department   headed by a 30-year veteran engineer, and now there is a bunch of new things we're working on to bring the industry to the next level. We are focused on energy-saving efficiencies and process improvements."
Rohner believes in maintaining a steady rate of growth by continuing to focus on the aerospace market and capitalizing on its new OEM automotive relationships. Stratton notes that attending tradeshows and strong relationships with distributors help the company get into new markets.
"Distributors have their own access to industries, and they bring us along," Stratton says. "They helped us get into the OEM automaker market, and we're developing material handling and finishing equipment for them. We're also creating material preparation equipment for denibbing, blasting and washing."
Rohner stresses that these diverse and extensive capabilities, as well as the vast expertise of the company's employees, will enable the operation to continue going strong.
"I am really proud of how we treat our employees, customers and vendors," Rohner says. "Relationships are of high value to us, and we are very ethical with our relationships. We have focused on this since we started and we will continue that way. Our accomplishments are really due to our workforce and their dedication to getting the job done."