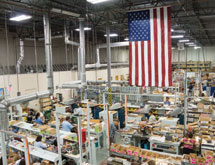 In his more than 20 years as CEO and 13 as a co-owner of Roma Industries, Paul Horowitz has heard little until recently regarding the need for a revitalization of domestic manufacturing and the resulting enhanced employment that will follow. He and his partners have made the growth of their manufacturing business a key part of the business plan. In Horowitz' view, little has been done by those in high places who trumpet the cause to back up the rhetoric.
"In some respects we manufacture a unique, luxury product as much of our production is focused on genuine alligator, crocodile and lizard," he says. "Products made from these materials are material-intensive, rather than the labor-intensive items made in low-cost markets, thus the labor component is less important."
Making these exotics in America eliminates the need for customs documents and the cost of importation. Overseas markets have been studied which the company has concluded would welcome its high-end accessories and watch attachments with the "Made in the USA" label.
"We feel we could build more business if we could export our products, but  we've discovered that, unfortunately, the playing field for us is far from level, and all of our competitors in Europe are at an advantage when it comes to the markets we're looking to enter," he says. "For us to ship our luxury products to China, for example, it takes three months for the merchandise to leave the United States because of stringent export regulations, when the same product, regulated by the same international laws, can be shipped from France, Austria or Switzerland in six days.
"It is clear that this disparity is disheartening. The customs inspectors and those at Fish and Wildlife are terrific," Horowitz adds. "They want to help in every way they can but they are tied up in a system that, for our products, inhibits and ultimately kills any chance of success."
To express his concerns and try to effect change, Horowitz earlier this year reached out to a significant number of government officials involved in export and the 'Made in America' initiative, as well as a number of elected officials in Florida, where the Largo-based company operates its manufacturing and back office operations.
He's received no responses in more than five months other than one preprinted postcard thanking him for his interest in important issues. "I've found that, for many officials, improving American manufacturing is just a talking point during election season, and not necessarily something they truly believe or want to invest in," he says. "Even statements issued from the White House are hollow when assistance is asked for.
"We have shown that with increased domestic production we can hire more people," he adds. "That is the alleged goal of our leaders."
A Quality Provider
The company is today the largest U.S. supplier of leather watch straps to the retail jewelry industry, under the Hadley-Roma brand. Hadley-Roma watch straps and other accessories including metal bands and bracelets are available in 4,000 independent jewelry stores nationwide.
The company also manufactures women's belts and accessories under the WCM brand, and licensed brands Nanette Lepore and Isaac Mizrahi. Roma also recently launched Bryant Park, an upscale brand of men's belts and accessories, and Tampa  Fuego, a line of cigar accessories. Each of these new collections is manufactured in Florida, within the Roma facility.
In addition to marketing its own brands to department stores and independent retailers, the company's Stylecraft division sells watch bands to watch manufacturers and importers who use them as the original attachment on  their own products.
Products are hand-made in a 40,000-square-foot manufacturing facility in Largo, Fla., from metal, leather and exotic materials such as alligator and lizard.
There are eleven departments and up to 58 separate operations which go into the production of a watchstrap.
New employees train for a minimum of five weeks before going on to the production floor. "Each production worker has to be expert at what they do. For example, as our production is heavily skewed towards exotic materials the initial job of cutting is vital," Horowitz says. "Money can be made or lost based on the expertise with which the skin is cut."
Until recently, most of the leather used by the company was imported from overseas tanneries. Today, it also uses domestic leather. Alligator skins, a key component of Roma's production, begin in the United States, where the skins are purchased by tanneries and then most of them are sent to overseas countries for tanning, after which they find their way back stateside.
Roma Industries emphasizes quality in its operations. "We don't ask for a specific level of productivity, because the people who are with us know  what the level of quality we expect," Horowitz says. "In our business, it's vital that at the creative end we have great designers and that our sample and product development people  have great hands and experience. I think our people have golden hands and make exquisite products."
Product Pride
Roma Industries recently entered into a business relationship  with a company that shares its enthusiasm for American manufacturing. The company is supplying watch bands and leather accessories for Detroit-based Shinola.
"Shinola is doing the first large-scale domestic manufacturing of watches in the United States in many decades," Horowitz says. "They're really putting their money where their mouth is when it comes to American manufacturing and they are totally focused on America as the source of their many product lines."
Roma Industries is investing in staff and equipment to meet the increased need for watch bands and other products created by this relationship. "Since the first of this year we have added almost 50 percent to our production capability. We expect this association to grow and flourish," he adds. "The increased capability will also benefit our many long-term customers who seek fine products and support our domestic effort. Recently we have received requests from some of the largest and most well-known watch companies in the world."
In addition to Shinola, the company is fortunate that one of its belt licensees, designer Nanette Lepore, is a longtime leader in the "Made in the USA" movement.
The company gained the new business as a result of the reputation it has earned for more than 50 years. "I'm proud of the reputation we're earned for being a quality manufacturer and a reliable source for product, as well as our reputation for being highly ethical and legitimate in everything we do," Horowitz says. "I look forward to the day when those who say they support `Made in the USA' stand behind those words and do not follow up by saying 'but we need to give our customers products made in Italy or France.'