Continuously progressing and moving forward
Romi's reputation in machinery production demonstrates there are no short cuts when it comes to maintaining quality
Born in 1930 in Brazil as an auto repair garage and manufacturer of agricultural machinery Romi has grown into one of the largest machine toolmakers in the world, with a particular presence in South America. In July 2008 Romi took over Sandretto's assets in the UK, France, Spain and Holland. Following the acquisition of Sandretto SpA, Romi experienced substantial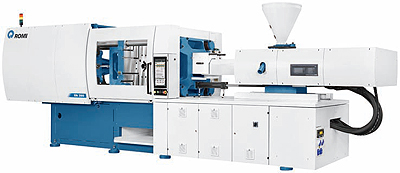 growth that resulted in the birth of Romi Machines UK in 2014.
Romi manufactures, services and sells plastic injection moulding machines and CNC machine tools. The plastic injection moulding machines have grown from 70 tonne to 1500 tonne, while the CNC machine tools are designed to use in mid and high production environments such as vertical milling machines, lathes, turning centres and injection moulding machines. Committed to keeping all of its Sandretto machines up and running with both spare parts and a growing team of qualified engineers, the company retains more than £1.2 million of stock, thus offering customers a broad range of superior products that are manufactured to the highest of standards.
With an already established reputation regarding the CNC machines, Romi has been focusing on the injection moulding machine range. The whole EN range has been updated to the V5 from 70 tonnes up to 1500 tonnes. All of the injection moulding machines are now V5 fitted with the latest controller, a CM20. It takes around 18 months from the design concept to bringing the machine to the shop floor. National Sales Manager Neil Bathard said: "The latest machine has been well received with the new controller and from that we have done well with new sales and have gained quite a few customers that are benefitting from this style of machine. We have customers like Nordell Ltd on the south coast, River Manufacturing of Sunbury on Thames, Skar Precision of Hadleigh & BSA Mouldings Ltd in Norfolk.
"Last year was a good year for us, not an exceptional one as obviously the market was tight for manufacturing in general and I think for the next 12 months it will follow a similar pattern because of everything that is in the world news at the moment with regards to Brexit. We are still strong and continue to grow. The aim of Romi Machines UK is to make the Romi brand well known within UK and Europe," Neil added.
Romi Machines UK is continuously progressing and moving forward. The company has recently launched a version five of the injection-moulding machine called the ENV5 range. This means the machine comes with a new controller and a 20-inch bigger screen. The range has increased to 1500 tonne, but Romi Machines UK is looking at the possibility of advancing it to 2000 – 2500 tonnes. The bigger machines are arriving on to the shop floor now.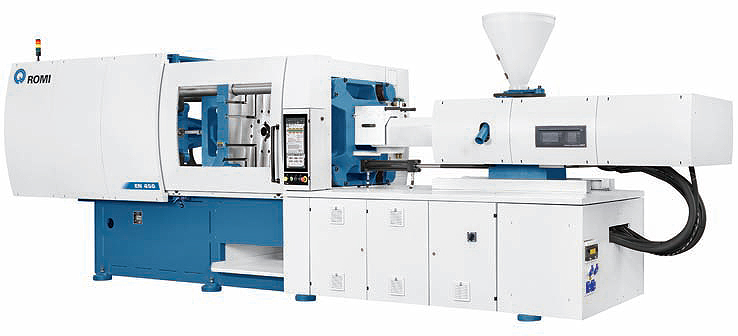 The software has been upgraded and improved making operator usage very easy to understand and follow. Neil was keen to point out that the software was upgraded in-house: "Everything manufactured by Romi is produced by the company. We have three cast iron foundries. So everything that is blue on the machine is made within the foundry. As we build our own milling and cutting machines all the patterns are cut and milled within Romi and made to European standard, on full CE approved machinery."
Looking into the future Romi Machines UK would like to improve energy consumption on all its machines. Neil said: "Working in partnership with Siemens our machines are even more energy efficient. They've been approved by the latest Euromaps 60.1 classification for energy consumption. Most of the machines within the Romi range have now got a 9+ certificate on.
"The market is positive, immediately after Christmas enquiries were slow to start, but it's now starting to pick up again. I think people are going to be conscious about what money they are going to be spending and just keeping an eye on what the government and the world are talking about. Customers who are looking to invest will continue to do so because they have to invest in themselves to grow."
Romi Machines UK has a strong export market and is in discussions with a new agent in Poland and is looking to get involved with an exhibition in Poland in May 2017. It looks like it's going to be an exciting year a head for Romi Machines UK.
Romi Machines UK
Products: Manufacture of plastic injection & machine tools