Ronaldsway Aircraft Company Limited
Technology optimised
With a history dating back more than six decades, Ronaldsway Aircraft Company Ltd offers a complete supply chain solution in the provision of components and services to the aerospace industry
Operating from its original base located on the Isle of Man, situated next to the island's Ronaldsway Airport, Ronaldsway Aircraft Company Ltd (RAC) operates as a world-class manufacturer of high-precision machined details and aircraft sub-assemblies. The company was founded in 1955 and during more than 60 years in operation has established a firm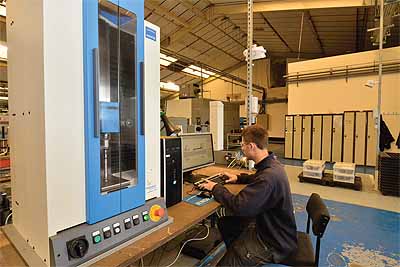 reputation as an innovative solution provider for clients with complex manufacturing and assembly requirements. Throughout this period RAC has driven forward with its continuous development and improvement culture, which has enabled the company to achieve some notable milestones during its history. These include the development of a unique 'cradle to grave' facility that provides the basis of an extensive range of manufacturing solutions comprised of aerospace component assembly, testing, surface and heat treatment, machining, finishing, plating, painting, fabrication, kitting and packaging services.
Ronaldsway Aircraft Company is fully AS9100 approved and holds a number of customer approvals. The business generates a turnover of over £25 million a year and operates from a 170,000 sq. ft. facility on the Isle of Man. The company is today part of the RLC Engineering Group (RLC), which is also headquartered on the Isle of Man and has sales in excess of £120 million and over 800 employees. RLC presently has manufacturing facilities in the Isle of Man, Northern Ireland, Northern England and Singapore, allowing the business to supply many of the major aerospace companies in Europe and North America.
By working with clients during prototyping and early product development through to the production stage and on into full life cycle support, RAC can ensure the most effective solution and the highest levels of customer service. RAC's extensive capabilities include; three, four and five axis machining, together with sheet metal and fabrication which allow RAC to produce a wide range of different products.
The company has always re-invested in new equipment and its latest investment, a Mazak 4 axis Mill/Turn machining centre will be installed in September. This is the first machine in a significant programme of investment for this year which will not only include further major assets but also expanding and upgrading the assembly facilities and creating a dedicated prototyping cell.
This is added to the company's range of finishing operations, heat treatment, plating and painting, all of which are NADCAP approved, and allow it to provide a complete service to its customers. It also has its own NDT facility, which is NADCAP approved. The ability to control all of its finishing operations in-house gives a significant advantage over other suppliers who have to subcontract these operations.
RAC also produces a wide array of sub-assemblies with the majority of the components manufactured on-site. These include electromechanical actuators, flight harness buckles, timing and firing mechanisms for fighter ejector seats along with complex engine sub-assemblies for the civil aerospace market. The services the company offers include assembly, pressure testing, load and functional testing so that the finished assembly can usually be incorporated in higher levels of assembly by its customers without any further testing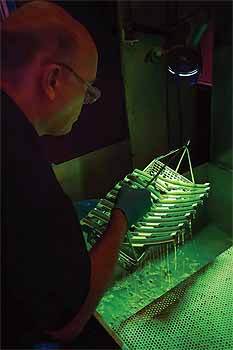 Its comprehensive service portfolio coupled with its membership of the wider RLC group, has allowed RAC to work with respected Tier-1 aviation organisations including Rolls Royce, MTU, Siemens, BAE Systems, Airbus, and Martin Baker. The company's strong position and trusted reputation has allowed both RAC and the wider RLC group to win high-value contracts, as well as developing long-standing relationships with clients.
Over the last year RAC has signed a number of new contracts across both the civil and military aerospace markets, which include supplying components for the Rafale and F35 fighter aircraft, and supplying a major European aircraft engine manufacturer. RAC is continuing to grow and is actively looking at new market sectors. It has initially focused on science and technology and is now an approved supplier to CERN in Switzerland.
RAC see the spares and repairs markets in both aerospace and defence as significant opportunities. It has significant experience of producing legacy components and re-engineering components from castings to a 'machine from solid' solution where necessary.
To support this renewed sales activity RAC is about to launch its own dedicated website which will stand alongside the RLC group website and it is looking at exhibiting at a number of different exhibitions over the next few years as well as supporting the RLC group's exhibition programme.
As part of its commitment to the Investors in People programme, it is proud to hold the Silver award, and looks to provide a clear career path for all its employees. RAC has an extensive apprentice programme and typically employs between six and eight apprentices per year. It is also a major supporter of the Isle of Man apprentice training centre and the 'Careers in Engineering' schools programme.
As well as training and developing their existing staff, RAC are constantly looking to recruit new talent to the business. As a result of the continuing growth of their business, they will be looking to employ new staff at all levels within their organisation in the near future and have a number of current opportunities
Ronaldsway Aircraft Company Limited
Products: World-class manufacturer of high-precision machined details and aircraft sub-assemblies
Contacts: Sales: Cheri Crompton cheri.crompton@rlc-ronaldsway.com
Careers: Colin Bagshaw colin.bagshaw@rlc-ronaldsway.com
Ronaldsway Aircraft Company Limited
Ballasalla, Isle of Man. IM9 2RY
Tel +44(0) 1624 820555