Roncelli Plastics was founded with one goal in mind in 1969: to provide unparalleled customer service and high-quality plastic components to the industries it served.
Nearly 50 years later, the Monrovia, Calif.-based company is a leading contract manufacturer of engineered plastic parts and components servicing the aerospace, defense, space, semiconductor, medical, life science, and oil and gas industries. In addition, Roncelli supports organizations ranging from Fortune 100 corporations to start-ups.
Keys to Success
Business Development Manager Anthony Loiacono attributes the company's success to manufacturing only 100 percent non-metallic or plastic components. He adds that Roncelli is also committed to meeting every customer requirement and qualification.
"Our manufacturing facility is 42,000 square feet and features temperature-controlled machining cells," he says. "We pride ourselves on helping our customers go from the conceptual design phase to pre-production with some low volume-engineering quantities. Once this is done, we also help them progress through production volumes as well."
Roncelli is able to achieve this with its 3, 5, & 7-axis machining centers, as well as in-house fusion deposition modeling machines, which allow the company to print parts for its customers, Loiacono notes. "We can machine or print low-volume quantities to help our customers qualify their parts," he explains. "Once the part is qualified, we're able to transition to high volume manufacturing seamlessly."
Roncelli sets itself apart even further from its competition by offering the rapid production machining (RPM) cell. The RPM cell is a specially designed manufacturing process that supports customers working with a shortened development cycle, or customers experiencing problems due to a line being down.
"We're able to meet our customers' compressed lead times with the RPM cell," Loiacono says. "In most cases, we're able to deliver engineering quantities to our customers in three weeks or less. This is a huge advantage in our industry as speed to market is critical to success."
Operations Manager Mario Valdez, agrees, noting that although speed to market is "tough to achieve" in the manufacturing sector, Roncelli's RPM cell has helped it meet customers' needs.
"Having a tremendous amount of material in stock has also helped us meet customers' compressed lead times," Valdez says. "On average, we carry close to $2 million worth of polymer shapes at our facility. So, as we receive orders or requirements for a particular material, oftentimes we have it in stock. This cuts down material lead time, which gets passed on to the customer."
Similarly, every single piece of material that Roncelli has in stock is traceable, Loiacono notes. "That's a huge benefit to our customers, especially those in the aerospace industry," he says. He adds that although most of the company's parts are made on-demand, Roncelli provides its customers with the option to build to schedule as an additional benefit if they have a forecast on parts.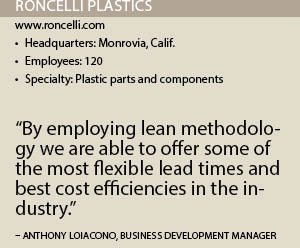 "This helps us reduce lead times even more for our customers," Loiacono says. "It also helps with reducing costs because we're able to build more efficiently. We really try to stay as lean as possible here, while also offering flexible lead times and cost savings. Our goal is to provide fast, clean, precise plastic parts to our customers."
Roncelli's suppliers also play a critical role in the company's success. "We have a pretty robust supply chain," Loiacono says. "Our customers rely on us to provide them with a strong supply chain. So no matter what the application is, all of our suppliers play a key role in what we do. Our Tier I and OEM customers work with us because we handle the entire process, with seamless handoffs, from start to finish. They come to us, relying on our supply chain, so they touch the part less."
Valdez agrees. "When working with us, our customers have come to expect a one-stop shop for anything that has to do with finished plastic components," he says, noting that Roncelli has longstanding relationships with its suppliers. "We want great relationships with our suppliers, especially those that are able to meet our strict requirements when it comes to lead time and our industry quality standards."
Roncelli has worked with many of its suppliers for at least 20 years. "We talk to other suppliers as well and test their capabilities," Valdez notes. "We value the supplier relationships that help our supply chain grow with us."
All-In On Automation
Roncelli prides itself on investing in the most efficient manufacturing technologies. In 2017, the company spent more than $1 million on capital equipment. "We invested mostly in automation," Loiacono says. "We added several robots to our shop, which helped us to reduce our lead times and increase our output."
He adds that Roncelli reduced costs even further for its customers when the company increased its shift hours from 11 to 22. "With the robots, we are able to run lights out, which enables us to have double machine time."
"This also allows our employees and machining operators to increase their skillset," Valdez adds. "So rather than spending the time loading and unloading machines, they are using their time to inspect the parts to ensure they meet our industry quality standards. Furthermore, this allows their career growth to progress even further because these skills are in high demand in our industry. Ultimately, this is a great way for our employees to get experience with these various opportunities."
Roncelli's 120 employees consist of a diverse team of dedicated and experienced engineers, machinists, inspectors, supervisors and managers. Its Application Development Team, for example, is trained in the industry's latest material specifications, material formulations and cutting-edge manufacturing methods to ensure Roncelli meets its customers' needs.
Loiacono recalls that when he started 10 years ago with Roncelli, the company had about 95 employees and $11 million annually in revenue.  Loiacono explains, "Today we're far more efficient with almost the same number of employees. The tremendous revenue growth we've experienced since then is a testament to lean processes we implemented over the last decade."
Roncelli's perseverance through the economic downturn in 2008 is testament to the diversity of companies and industries it supports, according to Valdez. "If you put all of your eggs in one basket and something goes wrong, that can be pretty detrimental to the business as a whole," he says. "So being well-rounded and having our hands in various industries has not only allowed us to grow quickly and efficiently, but also remain a healthy company long-term."
Major Milestone
Roncelli will celebrate its 50-year anniversary in 2019. "It's a huge accomplishment for any company, so we're all proud of that," Valdez says, noting that he has been with the company for nine years.
"I'm proud of how we easily adapt to new technology and changes in the industry to stay ahead of the curve," he says. "That was very interesting to see when I first joined the team. We certainly know how to make the most of new things that come to the market."
Loiacono says that he is most proud of Roncelli's culture, which emphasizes reliability, open communication and teamwork. "We have some really strong core values," he says. "These include safety, accountability, continuous improvement, respect and excellent customer service."
As Roncelli moves forward, the company aims to continue to meet its annual goals. "Last year was our best year yet," Valdez concludes. "So, of course, the next thing to do is beat your best, which is what we always strive to do."