Ronpak's work has been in the hands of consumers every day for the past 71 years. After a quick trip to the Walgreens pharmacy or stop through the Burger King drive-thru for a bite to eat, the company's paper bags and wraps are there every step of the way.
"We are proud to have been in business for 71 years and are laser-focused on becoming a world-class manufacturer of custom printed paper packaging, and continuing to get better every day," President and COO Kevin Wascom says. "While we embrace our history, we are looking to the future."
In 1947, pharmacist Nathan Sedley recognized the need for retail packaging and purchased equipment to manufacture bags during a trip to Europe. He sold to independent drug stores throughout the United States and his bags were an instant success, which led to the creation of Ronpak.
As Ronpak continued to grow over the years, the company built a 90,000-square-foot manufacturing facility in South Plainfield, N.J., in 1956 to support its rapidly expanding business. Ronpak took on a more national scope over the next two decades, which led to the acquisition of Los Angeles-based Promotional Packing Corp. In the late '70s, Sedley's son, Ronald Sedley, took over leadership of the company and expanded operations to the West Coast.
"The company grew in the pharmacy and retail markets for 60 years, but the biggest move in terms of growth in our history was in 2007 when we decided to enter the QSR (fast food) industry," Wascom says. "We currently serve the majority of the major brands in the industry and have seen growth of over 500 percent since entering the market a little over a decade ago."
Today, Ronpak produces an extensive assortment of carry out paper bags, portion control bags and food wraps from its plants in Shreveport, La., which is also the company's headquarters, South Plainfield, N.J., and Mira Loma, Calif. With more than 400,000 square feet of manufacturing in its three strategically placed locations, Ronpak's location provides efficient distribution to all parts of the country.
'People Buy from People'
"We are large enough to handle the big players in the industry and nimble enough to deal rapidly with issues and opportunities as they arise," Wascom adds.
Ronpak embodies that small company feel by providing its customers with easy access to CEO and Chairman of the Board Ronald Sedley and Wascom down to customer service, production and the design team. "When we are developing a new product, we bring our customers in and our whole team sits around the table to discuss what we can bring to the party, and let them know to reach out to us individually if they need to," Sales Director Marco Ferrin says. "They can speak to us directly, feel confident and believe in the company. That's what sets us apart from every other competitor."
Ronpak's young executive team led by Wascom is agile, effective and strong, and remains open-minded to lead the company into the future. "We wouldn't be Ronpak without Nathan and Ronald Sedley. Ron Sedley has done a great job at hiring the right people at the right time at important positions to lead that change," Ferrin says. "People don't buy from the best machine; people buy from people. Kevin, Bob [Bowers], CFO, and the whole team of 600 make Ronpak what it is today."
Wascom is the first person outside the Sedley family to be named president of Ronpak. "Ron [Sedley] has mentored me from the moment I entered the company in 2011 and continues to do so today. He puts his trust in me and gives me the autonomy to make it happen, but it's the employees at Ronpak, the customers and our great supplier relationships that make Ronpak what it is today," Wascom says. "We have a team focused culture that values people. We don't concern ourselves with individual credits rather seek overall success for the Ronpak team."
To ensure every employee fits the company mold, Ronpak's interview process is more of a marathon than a sprint, Wascom says. "Everyone is perfect on the first date, but we want to get to date 10 and make sure it's not only the right fit for Ronpak, but for them as well," he explains. "We have a family atmosphere. We train and invest in our people to make sure they thrive."
Ronpak University has been a pet project for Wascom over the past four years, and the training center came to fruition within the past year. "We now have dedicated trainers who have 30 to 40 years industry experience and are at the backend of their careers who will work directly with the trainee," Wascom explains. "With a dedicated trainer in place, new employees are set up for success."
Quality Paper Packaging
Ronpak's paper packaging are made from a single, continuous roll of paper that is printed on and converted into the finished product. "Our goal is to make the job of the operator as predictable and trainable as we can," Wascom says. "We want them to have success as easy as possible, so we are always looking for ways to automate and implement state-of-the-art equipment to improve the overall performance."
While taking a master roll of paper through a printing press and converted into a finished product may sound simple enough, Wascom says it takes a highly skilled individual to operate a line at Ronpak. "Operators have to be printers, which that's a skill in itself, and then it goes into a converting piece of equipment where it cuts, folds and glues, so they have to understand the converting line, as well."
All Ronpak paper packaging is custom-made with 99 percent on-time delivery. "Ronpak doesn't make packaging without custom print on it," Wascom says. "We have invested in printing technology to produce high-quality print with our water-based flexo printing presses in order to hit the demands of the customers in the current market we are in. We print packaging with the understanding that it will be a marketing piece for our customers so we continue to invest in printing capabilities."
Ronpak manages color digitally using a spectrometer to ensure high-quality results. "Our delta range can't be detected by the human eye, so we measure it continuously with the spectrometer and can feed that data graphically to certain customers," Ferrin explains. "We create that delta to set ourselves apart and go the extra mile to serve our customers."
Committed to Safety
Ronpak is committed to the safety and health of all its employees. The company has taken numerous steps to achieve a culture of safety, which is necessary to ensure the highest level of welfare throughout the organization. "An important part of safety culture is employee buy-in and involvement," Wascom says.
The first step was to form safety committees comprised of employees and management at all three plants. Employee members are rotated regularly and represented by all departments and all shifts. Ronpak's safety committees meet on a regular basis to discuss and address any potential safety issues and employee concerns.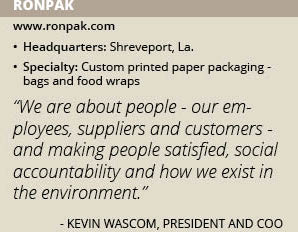 A safety call is held every two weeks among all three plants to share best practices and discuss any near misses or accidents. "If there is an accident, the root cause of the accident is determined and a corrective action plan is put into effect in all three plants to ensure this accident does not occur again," Wascom explains. "Supervisors are also required to conduct daily inspections of their work areas and fill out a safety checklist that is reviewed by management."
A third-party safety consultant performs inspections on a regular basis to ensure Ronpak is implementing and enforcing its safety program and providing a safe workplace for its employees. In addition, an annual safety training program is in place at all plants to train employees in hazardous communication, machine guarding, lockout/tagout, fire life safety, personal protective equipment, emergency response and ergonomics, including back safety and blood-borne pathogens. Training is mandatory and employee participation is encouraged.
Quality Assurance
Ronpak is committed to providing the highest quality products and services available. The company accomplishes this by building quality into all its processes and continually improving the effectiveness of its Quality Management System.
Ronpak is certified by the Global Food Safety Initiative and the first paper packaging manufacturer to receive Safe Quality Food Institute (SQF) certification. It is also the only company in the industry that is 100 percent SQF Level 2 certified, Ferrin says. SQF Level 2 focuses on food safety and is increasingly recognized within the food industry.
On the production floor, managers and operators are responsible for ensuring quality on the line. In addition, quality department technicians are on the floor continuously to conduct evaluations. Ronpak's focus on quality and continuous improvement has resulted in a low scrap range.
Supply and Demand
Plastic has become a bad word and environmental enemy No. 1, which has been a positive market change for Ronpak. "Recycled paper is exploding, but at the same time e-commerce is driving an increased demand on paper by way of boxes and it's driving our cost up," Wascom says. "We are battling raw material costs while maintaining and growing our profit."
"Recycled paper is becoming more popular and something everyone wants to switch to," Ferrin adds. "It allows us to look for new creative paper-based solutions to show our value to our customers. Foil coming from overseas and the associated tariffs is also a big deal right now, so we want to bring value-added solutions to our customers such as duplex food wraps and bags made with recycled paper in the United States. We don't want to use foil and now our customers are changing their minds about it."
Ronpak does not limit itself to only serving the quick service, pharmacy and retail industries. In fact, the company is always looking to expand its customer base. To date, Ronpak has seen double-digit growth over the past seven years and is looking to accelerate this through organic growth with its existing customers, as well as adding new customers.
Ronpak believes in building just as strong of bonds with its suppliers as it does its customers. "We treat our suppliers like we treat our customers, keeping them within arm's reach," Wascom says. "We have wonderful relationships with them."
"We are about people – our employees, suppliers and customers – and making people happy, social accountability and how we exist in the environment," Wascom adds. "That's how we win."
Sustainable Practices
Ronpak is committed to protecting the environment by promoting recycled paper as a sustainable, renewable resource through a variety of initiatives. The company's business initiatives are undertaken with the understanding that sustainability and a commitment to reduce its environmental footprint are key to its success. "We have always been environmentally conscious and continue to stay on the forefront," Wascom says.
Ronpak recycles 95 percent of its waste and no longer uses VOCs or heavy metals in its water-based ink. The company invested in motion-sensitive light fixtures, HVAC control management systems and improved building insulation to save energy in all of its facilities. Its plant in New Jersey has solar panels that create many kilowatts of clean electricity going back into the electric grid.
The company has also invested in automatic packaging equipment, which allows it to replace heavy weight corrugated packaging with lighter weight kraft paper. This saves thousands of tons of corrugated packaging annually.
Ronpak is a member of the Foodservice Packaging Institute, the Sustainable Packaging Coalition, Sustainable Forestry Initiative and the Forest Stewardship Council in addition to its SQF certification. By 2020, Ronpak has committed to becoming ISO 14001 certified, reducing its carbon footprint, implementing How2Recycle and becoming certified compostable.
Ronpak is in the initial stages of implementing ISO 140001 and anticipates having it fully implemented by the end of 2019 in all facilities. ISO 14000 is a family of standards related to environmental management that exists to help organizations minimize how their operations negatively affect the environment, comply with applicable laws, regulations and other environmentally oriented requirements, and continually improve in the above.
The company is currently in discussion with a supplier to provide its carbon footprint, which is the measure of the environmental impact of a particular individual or organization's lifestyle or operation measured in units of carbon dioxide. A carbon footprint is composed of a primary and second footprint.
The primary footprint is the sum of the direct carbon dioxide emissions from the burning of fossil fuels, such as domestic energy consumption by furnaces and water heaters, and transportation like automobiles and airplane travel.
Certification for compostable products is critical for ensuring that items have been properly tested, meet international standards and can be identified as such by composters, municipalities, restaurants, consumers and others engaged in the diversion of organic waste. Ronpak advocates for compostable products as tools for scalable diversion of organic waste to composting.
Lastly, How2Recycle is a standardized labeling system that clearly communicates recycling instructions to the public. It involves a coalition of forward-thinking brands who want their packaging to be recycled and are empowering consumers through smart packaging labels.
Variation in recycling programs, unclear labeling and inaccurate recyclability claims make proper recycling a challenge. How2Recycle label was created to provide consistent and transparent on-package recycling information to consumers in North America. This icon tells you whether the item falls into one of the four categories: Widely Recycled, Check Locally, Not Yet Recycled and Store Drop-Off.
Ronpak is in the process of adding the How2Recycle labeling system to its product line as the company wants to use this system to promote consumer awareness and educate consumers on the advantages of recycling.
Stepping into the Spotlight
Ronpak's goal is to be the industry leader in terms of quality and customer service and continue to grow marketshare in existing and developing markets. The overall growth plan is to double the business within the next three years.
"It seems like a lofty goal, but we have invested in people, processes, and equipment that have positioned us to continue the stellar annual double-digit growth and look to accelerate this," Wascom says.
Social Accountability
Ronpak owner Ronald Sedley drives the company's philanthropic activities. Good corporate citizenship is important to Sedley and he believes that companies should be responsible to those communities in which they live and work. For example, Ronpak contributed $10,000 to the Disaster Relief Fund of the Red Cross of Louisiana in 2012 to assist families still struggling to recover from Hurricane Isaac.
"We have focused on disaster relief, education, local outreach and medical research, to name a few," President and COO Kevin Wascom says. "We goal ourselves on social accountability and donating to various causes is one way we achieve that goal. In addition to the Red Cross, Ronpak has also donated to NYU Hospital and the Shreveport Regional Arts Council."