Seeing red
Rosenbauer America's history dates back to the late-1920s in Minnesota, when it started off as a General Safety Equipment manufacturer. Since its existence began, the family-owned company is proud to have never had a layoff which highlights the company's culture; a company that cares about the communities it serves.
Now, as the second largest fire truck manufacturer in North America, and the largest in the world, Rosenbauer America is investing in additional technology, innovation, and brand awareness as a means to further focus on sustainability and safety.
"In this day and age, you need to have considerable breadth and depth of talent to stay in-tune with the values and causes communities are passionate about, and we have a number of young individuals who have inspired our team to push boundaries and explore new opportunities – so much so that we're working with this software company to develop virtual augmented reality technologies. This would provide additional brand identification for us. Certainly, this will help us gain greater exposure to millions of people who we wouldn't have had previously. As far as our trucks are concerned, I think that branding is really an important part of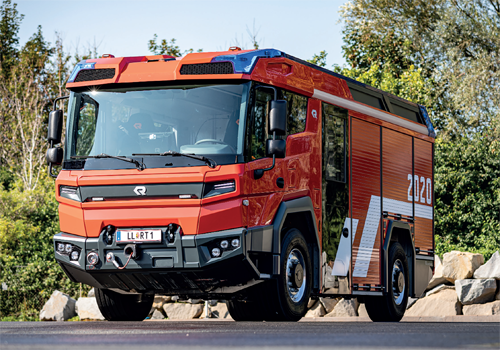 who we are as an organization," says John Slawson, the company's CEO. "However, in my opinion, what really sets us apart is our purpose. We are driven by our mission to support those who save lives and protect property, and we do that through our core values of family, ethics, teamwork, passion and accountability," he shares.
Focus on environment
According to John, another key factor that sets the business apart is its ability to contribute to the fire industry at a much greater capacity than its competitors. "In North America, we are looking at a total addressable market of about 4000 to 4500 fire trucks, but there is a global market of 18,000 and we are able to share resources through our global partnerships; it gives us a competitive advantage to use the technology synergies and learnings throughout the world. This, in addition to a global supply chain, allows us to continue keeping our costs down," John says.
Its ability to manufacture leading heavy-duty trucking has also challenged the business to be part of the sustainability solution, and in so doing, it is proud to show off its Revolutionary Technology (RT) fully electric fire truck. "While we have our airport rescue firefighting trucks, which have a global platform and are manufactured in North America as well as Europe, we are also excited about our electric fire truck that has been added to that global footprint. The inspiration for the RT electric fire truck was originally conceived to develop new standards in safety and sustainability. Ultimately, we started this concept ten years ago to develop a durable chassis, and enhanced ways to help put out fires. Some of its new capabilities reduce the center of gravity, so that we don't have the same constraints as conventional frame rails have where the water tank sits up significantly higher. With that, the tank and the floor of the chassis provides a much more improved center of gravity and better weight distribution across axles.
"We have two batteries that support the chassis superstructure and have partnered with Volvo Penta who is the absolute leader in battery systems for the commercial truck market, which allowed us to focus on what we do best; which is to design and engineer the best fire trucks. By partnering with Volvo Penta that has the additional electrification resources, we are also capable of implementing many new features such as crab steering for the truck. We have a turning radius that is far superior to any other fire truck in the market, and we also have an air suspension system that raises and lowers the entrance to the vehicle to under nine inches versus the usual 19-24 inches," he discusses.
Each of these enhancements is bringing the business one step closer to encouraging its industry to promote more environmentally friendly practices. "I think we are certainly seeing a focus on our environmental impact with so many different countries focusing on reducing our carbon footprint. If we look at the data, 95 percent of all fire calls are non-fire related, and we are able to provide our customers with products that are innovative and provide emissions free solutions," he shares. However, as a result of the business specializing in a fairly traditional industry, transformations like this take time, yet John is optimistic on the progress. Recent wildfires that have swept through cities like Los Angeles resulting in more than 4.3 million acres being burned are a wake-up call that the fire service needs to become pioneers in the climate change movement. "Whether you believe in some of these changes or not, I think we are seeing a definite demand for improvement as far as the environment is concerned," he adds.
Managing challenges
In addition to the challenges the business faces within its industry, it is also attempting to get back on track to manage through supply chain obstacles that Covid-19 has created. As an essential business, Rosenbauer America was able to stay operational throughout the pandemic. "We had a challenging yet strong year, we grew substantially in terms of systems and processes, which wasn't easy. I think as an entire organization our employees found creative ways to support our customers and work with suppliers to manage through the challenges we faced. At the moment, we are dealing with a supply chain disruption that no one has ever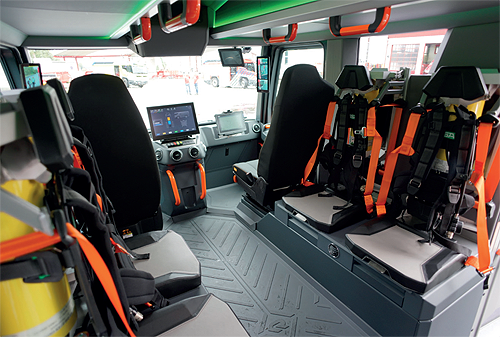 experienced in the history of modern manufacturing. The price increases and shortages that everybody is seeing, are coming in on a daily basis at unprecedented levels. Many of us are familiar with the semi-conductor and chips shortage, but there are other sectors that have been affected such as increased demand in cardboard boxes, talent, and other associated expenses; these things continue to be a challenge in the whole manufacturing segment up and down the supply chain, and are likely to continue for the next 18 months or longer," he shares.
John is determined to identify ways to manage through these challenges with communication, advanced analytics and other ways to become more flexible and nimble to keep Rosenbauer America's supply chain as strong as possible. The company is putting the inputs in place to continue leading the industry in technology and innovation to provide fire departments with more solutions for their needs.
"We continue to position ourselves to be the most desired fire truck manufacturer and earn customer's business. Some of the key company priorities include strengthening our dealer network to support customers and continue developing talent. With this, in addition to continued technology innovations, I am confident Rosenbauer America will continue to position itself to better serve customers, and continue to be a leader in the fire truck business in North America," he concludes.
Rosenbauer America
www.rosenbaueramerica.com
Services: Fire truck apparatus and emergency response vehicle manufacturer