With finish and finesse
Over the past decade, Rossell Techsys has been bringing innovative new ideas to the global aerospace and defence industry
Rossell Techsys, the aerospace and defence division of Rossell India Limited, is driven by ambition, passion and customer satisfaction. With a reputation for big ideas and incredibly reliable, high-quality service, the company works closely with major OEM's from all across the world. Having grown rapidly over the past ten years, Rossell Techsys now looks forward to further expansion, as well as investment in new technologies, processes and people.
The story of Rossell Techsys begins with a chance encounter, and a big idea. As the company's Chief Executive Officer, Prabhat Bhagvandas reveals, "It was during the end of 2010 that I met this young gentleman, Rishab Gupta. It was a chance meeting organized by a mutual acquaintance that took place when I was transiting through one of the cities in India. He had a dream of making a name for himself in the aerospace and defense sector, and he had the spark and passion for something big. Passion was a key common trait between the two of us.
"When the company started in early 2011, we were conscious that the aerospace and defense business was not for the faint-hearted. We were cognizant of the manifold risks, constrained volumes, high product mix, heavy investments, slow returns, and experienced global competition that we would face. It was indeed very daunting, but we were blessed to have the experience and wisdom to understand that success is an ongoing process with numerous ups and downs. There was no dearth of enthusiasm for 'thinking big'."
From these beginnings, Rossell Techsys began serving the aerospace and defence sectors, quickly growing into an industry-leading provider of custom engineering and manufacturing support. The company now performs Build to Print (BTP) and Build to Specification (BTS) services. Its core competencies are in electrical wiring and interconnect systems, including electrical panels and boxes (EWIS), electronic systems and systems Integration (ESSI), test solutions for automatic, semi-automatic and manual testing (ATEs), product installation, testing, commissioning, maintenance, obsolescence management, reverse engineering, alternate source creations, and customer liaison single point support (SPOC) for product maintenance.
"Our typical customers are large size OEMs such as Boeing, Lockheed Martin, Honeywell, and other global sub-tier companies. The company has become synonymous with on-time, on-quality delivery. We have parlayed our reputation for performing with finish and finesse, right down to packaging and final delivery, into a competitive advantage," Prabhat details.
These incredibly advanced services and processes are supported by a strong working culture. As Prabhat asserts: "The core process behind our success is to always think futuristically, yet be connected to our roots. We keep big audacious goals, but approach them with small baby steps. Finally, we remain undeterred, regardless of what comes our way.
"We are successful because we stay open to opportunities, work hard, learn from our failures, and only focus on the end goal. Rossell Techsys is a miracle of chance, but the success didn't come because we rolled a dice. We made a lot of careful and calculated decisions, and had the motivation to act.
"The vision is very clear and precise on all fronts. We want to have the best people, who can embrace the philosophy of global citizenship, be great professionals and even greater human beings. We also maintain the best infrastructure by always staying current and adopting scalable, optimized practices and systems.
"On the business front, the vision is very simple. We follow the principles of the great Mahatma, Gandhi, and stay inspired by the sentiment that 'the customer would be our reason for existence'. The culture of putting customers first, employees next and organizational process after, is very religiously followed by everyone within the company. Ask any customer and they would tell youthat Rossell Techsys is a very customer centric entity."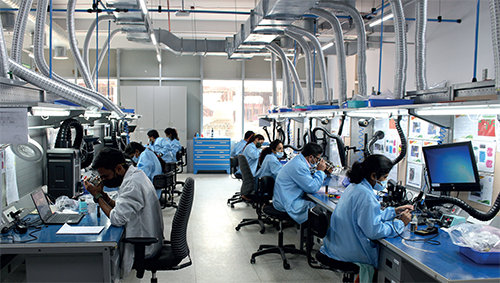 Over the last ten years, Rossell Techsys has made major investments in its manufacturing footprint. The company now boasts a highly advanced, industry-leading, state-of-the-art facility. As Prabhat discusses: "The company has 225,000-square-feet of manufacturing space at the sprawling aerospace and defense park, near the Bengaluru international airport. It has customer specific centers of excellence (CoE's) for all major customers and provides a 'home away from home experience' for each customer it works with.
"Mainline production takes place at its LEED IGBC GOLD rated facility. It is a fully green manufacturing facility, built on a robust IT Infrastructure that is slated to be CMMC- level 3 in 2022. The operations are fully video traceable, with every step of the job route being traceable through every single serial number. We will be enhancing the facility soon, by moving towards Industry V4.0 by the end of 2024. An integrated ERP/MRP is at the core of our operations, but we also ensure that our practices are customizable to the customer.
"Our facility has a capacity of 2000 people per shift, and is currently operating at a utilization level of 25 percent. It has a production capacity of over 15,000 units a month but is operating at a level of 3000 units, a fifth of what it can actually produce. This means that there is enough capacity for growth, both in terms of space and people."
Today, Rossell Techsys has many achievements to its name. The company excels in all areas, from engineering expertise to customer support, and these attributes are well recognized by the aerospace and defense sectors, as Prabhat enthuses: "Whilst every award is special and important to us, we are particularly proud to have won the Boeing Supplier of The Year Award twice in the last six years. Rossell Techsys is a growing international brand and it is a huge honor to have our leadership, culture, credibility and determination recognized in this way."
In just ten years, Rossell Techsys has built itself into an industry leader. As it continues to expand and develop its processes, the company also plans major investments into research and development, as Prabhat affirms: "The focus areas in 2022 are to expand the company's client base and geography, specifically into to EMEA and Australasia regions. Towards this end, we are in dialogue with many global OEMs and Tier One companies.
"The company will also be investing in aerospace and defense research and development, specifically in the field of RF electronics and products; we will be partnering with likeminded companies and academic institutes in pursuit of this objective.
"Rossell Techsys will also be growing its US presence over the next few years. The future of the US subsidiary is intrinsically linked with the growth of Rossell Techsys in India. In the next half decade, the plan is to expand in the US, with a portfolio of intellectual property and niche products that complement our ongoing manufacturing offerings with engineering services as well.
"It is too premature to talk of the specifics, but there is a definitive plan for growth in aerospace and defense, space, land and sea applications. We are also planning on expanding into other relevant areas with common technology. Our main vision is to see Rossell Techsys expand its global footprint in terms of market, competencies, capacity, people, infrastructure, products and processes," Prabhat concludes.
Rossell Techsys
www.rosselltechsys.com
Services: Aerospace and defence