Cooking up ideas
With a 25 per cent rise in sales since it was previously featured in Manufacturing Today Europe in March 2015, Rotpunkt Küchen aims to maintain this successful trend through innovation and further investment
Established in 1930 by Heinrich Rabe and Wilhelm Meyer in Bünde-Ahle, Rotpunkt Küchen began manufacturing cigar boxes as a way to build upon the history that Bünde holds as the cigar-making centre of Germany. Keen to diversify, the company later expanded into the manufacture of wooden toys and sewing boxes before cementing its position in kitchen manufacturing after the Second World War.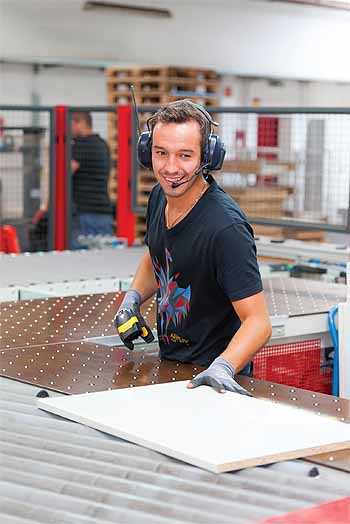 Since making the strategic decision to focus on the kitchen industry, the family-run company has not looked back and has instead continuously invested in the latest manufacturing technology at its main factory/headquarters as well as its subsidiary plants in Löhne and Preußisch Oldendorf.
Today the company boasts four kitchen programmes within its portfolio: vintage wooden kitchens, the oak line edition, lacquer and laminated fronts. The former programme includes timeless and sophisticated classic wooden kitchens with veneered fronts as well as colour lacquered veneered fronts in different wood finishes such as maple, oak and cherry. Colours within the company's range include basalt, which is similar to cement, Bordeaux, carbon, magnolia, old wild oak, pastel grey and stone. Aware that handle-less kitchens are a popular choice for customers, Rotpunkt offers straight grip profiles in stainless steel or any of the carcase colours; these include carbon, brown wild oak, grey real oak, snow, sand and titan.
Meanwhile, for those looking for a unique visual experience, the company offers its oak line edition, which allows customers to enjoy the quality of a used material to create a vintage, rustic and delicate kitchen style. Front colours for this range include carbon, Kashmir, pastel grey, retro red, black and snow. Carcase colours include icy white, basalt, grigio, titan and white. "We have seen a lot of growth in metallic fronts in the kitchen industry and are responding to this demand by including these colours in our exhibitions and showing them in information material. Another popular colour is basalt, which is similar to concrete. We are working with different materials in kitchens also with new drawer systems; for example, we have created a drawer system for cleaning items in the kitchen that is easily accessible," highlights Andreas Wagner, Managing Partner of Rotpunkt.
Not only a provider of set ranges, the company is proud to deliver bespoke kitchens that meet the needs of its customers and has developed a strong reputation in the market on an international scale thanks to its professional designs, high quality products and close contact with clients. On top of this, by paying attention to market demand and ensuring smooth operations throughout Rotpunkt, the company has enjoyed a 25 per cent rise in sales since March 2015, as Andreas highlights: "Our main customers are in the UK, Germany and the Netherlands; we also have a strong market share in Scandinavia. Over the last nine months we have had a very successful period and strong turnover from the UK, the second biggest market in our portfolio. The reason we have a lot of new customers from the UK is because we attended the KBB and other exhibitions, which have given us the opportunity to show customers in the UK the quality of product and services we can provide.
We also network with UK based contractors at these events and have made arrangements that we anticipate will increase turnover by a further 20 per cent in 2016."
He continues: "By being close to the market and having the right sales people with the right contacts and the right products at the right time, we are able to deliver great quality products at a competitive price. Everything fits together perfectly, particularly in the UK where our products are very popular and we have sales people who can discuss the benefits of our kitchens to those in this area."
In line with a rise in international demand, the dynamic company has enhanced its website, not only by making it more user friendly but by making it more accessible for potential customers from Denmark, England, France and the Netherlands. "We have modernised our website, which now looks more impressive for customers; it is now also more popular with customers with different languages," confirms Andreas.
Alongside enhancing its connection with customers via the web, Andreas notes that Rotpunkt has also improved facilities and services through investments: "The first step of our investment plan was the construction of a small production hall, which is roughly 500 square metres. We are now investing in a 6000 square metre hall, however this is taking longer than anticipated as we are awaiting planning permission. It is hoped, weather
permitting, that construction will begin in March 2016.
"To coincide with the factories we plan to build we have a sawing system and storage system for shelves that will go with the new 6000 square metre hall. We have also invested in cutting machines, CNC machines and drilling machines, the latter of which we got for the production of kitchen doors. In total the new 6000 square metre hall, the sawing system and storage system is an investment of approximately 1.5 million euros."
As demand for innovative, stylish and high quality kitchens continues to increase, Rotpunkt aims to retain its crown as one of the German leaders in kitchen manufacture within the UK market by focusing on finding solutions to current and upcoming trends, as Andreas concludes: "Accessible drawers are definitely a trend that we see is gaining traction, so we are working out new ideas to show existing and potential clients at the KBB in March and the in-house exhibition in September. For example, during the first week of December 2015 we went to Italy to talk with suppliers about what could be produced for the next season so we will be able to offer innovative ideas to customers, particularly those in the UK."
Rotpunkt Küchen
Services: Kitchen design