Rottler Manufacturing LLC
Rottler Manufacturing LLC is so confident in its machines that it not only sells them to clients, but also uses them within its own operations. "With our own machinery that is capable of making parts and the advanced technology we employ, Rottler is able to customize tooling and fixtures for odd jobs that competitors must turn away," the company says.
Based in Kent, Wash., Rottler Manufacturing offers a range of machinery for all types of engine builders. "Whether [our clients] have a custom one-man machine shop, a diesel jobber shop or a high-volume production remanufacturing facility, Rottler has the right machine to suit [their] needs," the company declares.
Clarence T. Rottler started the firm in 1923 as the Rottler Boring Bar Co. Rottler manufactured machine tool equipment for the automotive aftermarket. The company's first machine sale came from a product that was built during off-hours.
At the time, the company notes, automobiles traveled on gravel roads, which led to the vehicles needing constant repairs. "In this climate, the Rottler Boring Bar Co. became an independent entity and increasingly prosperous through the roaring '20s," it says.
Business Evolution
When Clarence Rottler died in 1956, his son Don took leadership of the company, which saw its market evolve. "Shops were fewer but larger and started to perform complete automotive engine remanufacturing more economically," the company explains.
For Don Rottler, this represented an opportunity to direct the company towards making larger, more productive equipment. The firm changed its name to Rottler Manufacturing and grew its sales volume as it added new patent-protected products.
In 1985, Rottler Manufacturing changed its products from mechanical controls to electro-mechanical systems that were ultimately coupled to microprocessors. "This transition was essentially completed throughout the product line by 1997," the company says.
That same year, owner Andrew Rottler took leadership of Rottler Manufacturing, which has continued to evolve. "The traditional automotive engine rebuilder who was once the mainstay of Rottler's business has all but disappeared," the company says.
Rottler Manufacturing adapted by creating new machines for the performance engine building and industrial remanufacturing sectors. "Pioneering mechanical and machine control design has been key to Rottler's success in leading the engine building market," it says.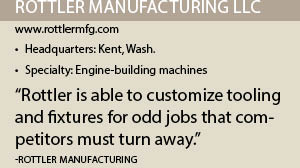 The company's export sales grew to comprise more than half of its total product sales. "Rottler takes great pride in the quality and integrity of both their uncompromised product line and their commitment to service," it says.
Only the Finest
Rottler Manufacturing's location in Kent is the largest domestic facility completely dedicated to the automotive aftermarket. "[It] boasts the finest equipment available for maximizing the precision componentry used in our products," the firm says.
Committed professionals build its machines to last. "In fact, Rottler still services original model boring bars with both trained factory technicians and spare parts," it says. "Rottler is dedicated to serving the life of [our client's] machine."
The company's Quality Control department helps ensure its high standards. "Having the ability to engineer, manufacture, assemble and stock machinery make us responsive to the dynamic changes within the industry," it says, noting that clients can be certain "[their] Rottler machine will meet [their] needs today and tomorrow."
Cutting-Edge Machines
Rottler Manufacturing's machines include its three and four axis machining centers, including its Rottler F69A. The machine features "blueprint bore, line bore, deck blocks, surface heads, true lifter bores, automatic milling to size, all in fully automatic operational modes," the company says.
But one of the machine's most distinctive features is the Rottler Windows program control. "All the listed functions are formatted in operations tabs on the touch screen that any shop hand can understand," the company says.
Rottler Manufacturing also has its vertical honing machines, including the H85AXY. Its features include an automatic lower cash protection system.
"Many engine blocks have interference in the lower area of the bores and can damage honing stones and holders," the company says. "Every time the H85X starts honing a cylinder, the machine will check bores for interference, avoiding potential damage to honing stones and holders."
According to the company, variances in lower bores are common. "Rottler H85X Control senses lower bore interference prior to rotation and stroking motion starting at full power, eliminating any stone or holder damage," it says.
The company also has its surfacing machines, including the S85A, which is part of the S80A series. "[The] machines combine cutting-edge control technology with proven column machine tool dry surfacing technology to give [us] the world's most advanced surfacing machines available today," it says.
Rottler Manufacturing's S85A model is designed for surfacing automotive and small diesel heads and blocks. "The S85A is ideal for the requirements of the performance racing engine builder and production engine remanufacturer," it says.
Proud Partners
For five years, Rottler Manufacturing has partnered with Roush Yates Engines, a Mooresville, N.C.-based engine development company. The firm utilizes Rottler Manufacturing for block honing and machining equipment.
For example, Roush Yates uses the Rottler H75AXY for manufacturing the NASCAR Ford FR9 EFI and FR9 Carb engines, which are used in more than 25 Ford Cup, Xfinity and World Camping Truck racecars. "These engines have brought home NASCAR championships, Daytona 500 wins and have been driven by NASCAR Hall of Famers," Roush Yates says.
"The H75AXY has been specifically developed for performance engine manufacturing," the company continues. "The H75AXY is able to hone an entire V8 block automatically, improve our tolerances, and finish and improve our overall production efficiency and run time."