Roundel Manufacturing Limited
Kitchens that inspire
It's important to stay a leader of kitchen design trends, which is why Roundel was kept busy perfecting its product offering in 2018, whilst also upscaling its manufacturing capabilities by investing in new machinery
Long gone are the days when the home was associated just with comfort. Today more than ever, people are gripped by the idea to create a vibrant living space of their abode that follows the latest trends in interior design and that will provide an inspiration for them to work, play, and, inevitably, rest. For half a century, Roundel Manufacturing Limited has aimed (quite successfully, we shall say) to remain at the forefront of the kitchen furniture manufacturing industry, specialising in the design, production, supply, and installation of both affordable and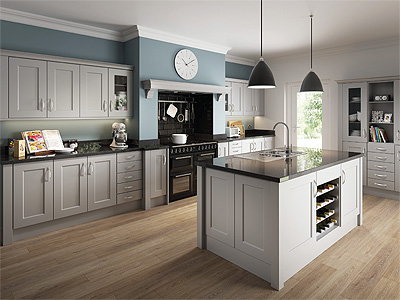 luxury fitted kitchens. At the beginning of the new year, we got in touch with the company's Managing Director, Jim Bebbington, to hear his opinion on what 2018 was like for the business, and to find out more about Roundel's plans for the years to come.
"First of all, despite the concerns everyone in the industry and indeed the country has with regards to Brexit, we are pleased to report that we have seen no downturn in sales. Quite the contrary, we continue to experience good growth, but we will continue to monitor closely. We are pleased to confirm we are enjoying a five per cent growth in volumes with existing clients, as well as an impressive 30 per cent increase in business generated from our newest clients.
"Last year, we decided to change the colour palette we offer to the marketplace. We have taken the opportunity to launch with the more fashionable grey and earthy colours, trends we expect to be very successful in the industry in the next couple of years, these colours are reflected in all of our new kitchen ranges," Jim discusses the recent additions to Roundel's product portfolio. "One of the milestones of the year was the launch of our new kitchen cabinet which we call fusion, this represents a mix of our previously two best-selling cabinet colours stone grey and Kashmir (around 93 per cent of our total sales in cabinets). We were looking for a unique tone that would work well with all our 150 doors in the new Roundel collection. What is more, we also took the opportunity to update the drawer box to the more fashionable colour, orion grey, as opposed to the lighter shade of grey we used previously. Again, we wanted the product to be more aesthetically pleasing and to more accurately reflect the trends of the day in our industry."
Driven by its firmly established principle that it should offer not only the standard products clients would expect it to, but also a selection of unique items, Roundel took the marketplace by surprise with the introduction of a special three-piece door range last year. Customarily, the collection was named after British rivers, in this case Cam – the main river flowing through Cambridge in eastern England. "Four finishes are available for this door and we can proudly say that it is a completely new product that none of our UK competitors currently offer," Jim glows. "I should also mention that we have been quite active in improving the specification of some of our existing components. For instance, we have changed the edging on some of our doors from 0.8 mm to 2mm."
Roundel's intention to extend the control it has over the manufacturing of doors is clearly identifiable from the targeted investment the company placed in 2018. Both of its brands – Roundel Kitchens and Nixons Kitchens – had their facilities upgraded with Airtech machines from Homag. This will enable Roundel to increase in-house door manufacturing to 85 per cent of all their requirements. Currently, the business has the capacity to produce some 65 per cent of its doors, with the rest being outsourced, but it will not be long before the vast majority of the door production will take place in the company's plants near Newcastle.
"On top of that investment, we also spent more than £1 million on machinery that will increase our worktop manufacturing capacity by 500 per cent. It is fully operational now and we are beginning to experience the benefits. We had originally scheduled to commission in August but were delayed due to a serious cyberattack the company suffered in August," Jim reveals. Speaking incredibly calmly about the challenge Roundel faced, he praises his team for their tenacity and composure during the critical period. "Our systems were down for nine days, but we
still managed not to miss a single customer delivery. This is a tremendous testament to the ability and efforts of our staff. In fact, there was very little knowledge outside of Roundel that we had experienced such a challenge. True, it required a massive effort on our part to keep the business functioning, but it also reaffirmed our confidence in the structure of the company, as we came out the other side."
Having repelled the cyber-attack and taken delivery of the new worktop manufacturing facility, Roundel now awaits to complete the final part of the machinery investment it had planned and budgeted for. "We are planning now for the arrival of a new angle saw in March which will increase our cutting capacity by, yes again, 500 per cent. This will not only allow us to manufacture significantly faster but will also allow us to be so much more efficient. With it, we will be able to cut all current weekly demand in just one working day. It will optimise the way in which the business operates and reduce our costs, currently we work five days per week plus additional hours to service our clients demands. This will change, however, once the saw comes into play," Jim reasons.
As the Managing Director turns his attention to prevalent market trends, he ventures to predict that it will be their new super gloss and super matt Coe & Forrs kitchen ranges that will generate the greatest sales in 2019 with matt likely to be growing at the same rate gloss reduces. This aside, the keyword for the company in 2019 is poised to be 'stabilisation'. Jim clarifies: "We have experienced incredible growth over a relatively short period of time. The business doubled in size over a three-year period just a few years back, we now need a little bit of time to take stock and to understand what future investment and strategic steps need to be made to support our further heavy growth plans. Right now, our senior managers are working on our stabilisation plans, aiming to ensure that the company remains a strong service provider with a solid infrastructure for future growth. In 2020, we aim to start our ambitious growth plans. At this point in time, our turnover is about £25 million, but our overarching am ition is to reach the £50 million mark over the course of the next seven years," he wraps up, sharing with us Roundel's aspirations for the coming decade
Roundel Manufacturing
Limited Products: Luxury fitted furniture