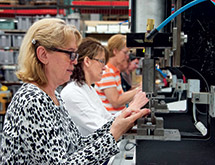 Rowley Spring & Stamping Co.
You don't have to look very far to find a product manufactured by Rowley Spring & Stamping Co. "We make springs and stampings for a number of different industries including military and defense, automotive, appliances and residential," says John Dellalana, president of the Bristol, Conn.-based manufacturer. "You probably have a Rowley part in your car, home or business."
Rowley springs and stampings can be found in applications as diverse as car window mechanisms, electrical outlet contacts, firearm triggers and sights and grenade pull pins. The company is also a supplier of the parts used in the spring mechanisms of the "popper" in Hasbro's classic board game Trouble.
This diversity has helped the company maintain steady business even during economic downturns. "We try to position ourselves as being as recession-proof as possible," Dellalana says. "If there's a downturn in defense, as there has been over the past year, we have other markets that have potential to backfill."
The majority of the company's products are manufactured to customer specifications.
Rowley staff can design tools based on customer blueprints or sample parts, then design and fabricate a part. The company also conceives quality and production plans. "There are dozens of metal manufacturing companies here in central Connecticut that can make springs and stampings, but what differentiates us is we're like a one-stop shop: We not only can fabricate parts, but also have a fully staffed and fully equipped design team," Dellalana adds.
Above and Beyond
Rowley designs and fabricates products in a 150,000-square-foot manufacturing facility that includes more than 500 pieces of machinery including coiling machines, CNC machines, torsion machines, power presses and four-slide machines. The company also operates small presses for secondary and finishing operations including contouring and bending.
Lean manufacturing principles play a large role in the company's operations, particularly where quality is concerned. "Companies typically gauge quality by defective parts per million, but it goes beyond that for us," Dellalana says. "Our customers expect us to work with them if issues arise."
All of the company's departments, and the manufacturing facility as a whole, measure a number of key performance indicators based around the metrics of quality, cost, delivery and safety. "We set aggressive goals for those and measure them constantly," he adds.
Dellalana has helped the company improve on its lean methods since joining it in 2013. Before arriving at Rowley, he worked in engineering, operations and continuous improvement positions for companies including Allied Signal, BAE Systems and DRS technologies. Dellalana has applied many of the things he learned from those roles to his current position, and also partners with  a leading lean consultant, Leanovations, with whom he has worked previously. The consultant conducts week-long lean certification programs at Rowley's manufacturing facility, drawing people from throughout the Northeast.
Rowley is ISO 9001 certified and is pursuing AS9100 certification for aerospace-related products. The company next year intends to pursue a certification for its work in medical manufacturing.
Positive Teamwork
Quality has been a hallmark of the company since 1954, when founder Stanley Bitel started the business in his garage with a spring grinder, two coiler machines, four torsion machines and 12 bench presses. Rowley relocated its operations twice; first in 1960 and again in 1994 to its current location. The company remains owned by Bitel's family. Bitel passed away May 22 at the age of 93.
"One of the nice things about this company is that it is family owned, and the family is willing to invest in it," Dellalana says. Most recently, this included purchasing new power press machines that are dedicated to tool design and development, freeing up production machinery. The company also recently added upgraded its CNC wire forming capabilities and is investing in high-speed spring machines and inspection equipment including a new visual scanner that can measure parts in just seconds.
The company's family ownership and internal culture have earned it the loyalty of employees, many of whom have been with the company for over 25 years.  The average seniority is roughly 15 years. "I'm most proud of the people here," Dellalana says. "When I came here, I found it to be filled with people who know what they're doing and who have tons of manufacturing experience not only across the industry, but here at the company."
Rowley employees extend the company's positive culture outward by participating in community training and employment programs. This includes a joint program with the Bristol Adult Board of Education which provides classroom training and hands-on experience in Rowley's quality, four-slide and spring departments, taught by experienced Rowley experts.  Each student graduates with more than 70 hours of manufacturing experience.