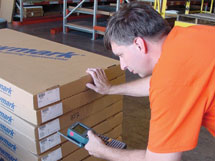 The leading plastic sheet extruder to the engraving and awards industry continues to expand into new markets while maintaining the quality that made it a highly recognizable name.
Rowmark LLC offers more than 5,000 laser and rotary engravable plastic products as well as sublimatable products, sign supplies and name badge holders. "We dominate the awards and engraving market globally," President Duane Jebbett says. "We have a very broad product line of more than 5,000  products that we can deliver on an average of three to four business days with a 99.3 percent fill rate – not many manufacturing companies  can do that."
Recent years have seen the company significantly grow its business through both internal investment in equipment and acquisitions. The company last year installed a new, 10-foot-wide extrusion line dubbed "The Beast" because of its size. The new line supports the company's custom sheet division and is capable of extruding sheet with up to three-layers engineered to meet the needs of thermoformers who service the recreational vehicle, marine, heavy truck and construction markets.
"We're the only manufacturer in the engraving sheet materials market that is able to produce plastics sheet from pellet form to a finished product, and that gives our company a huge advantage against our competition.  We've made a significant capital investment to be able to do that," Jebbett says. "We have the technical capability to meet our customers' needs and solve their problems."
'Knowledge is Power'
Rowmark's manufacturing facility in Findlay, Ohio, is at the heart of the company's operations. The facility gives the company the ability to perform thin- and heavy-gauge extrusion as well as press lamination, and decorative hot stamp lamination. "We take great pride in our manufacturing processes, our advanced use of technology and the overall cleanliness of our facility,"  Jebbett says.
The manufacturing staff follows a number of quality and safety procedures that are reinforced daily through plant-wide stand-up meetings where the previous day's progress is discussed and goals are set. Employees are regularly updated on their progress, as well as the company's health, through large plasma screens installed throughout the facility. The screens post updated financial and productivity metrics that drive the business.
"One of our company's greatest strengths is our culture, which is driven by transparency," Jebbett says. "We continually update all employees on how we're doing, and believe that knowledge is power and lack of knowledge is fear. I believe it's very important to hire change-oriented and passionate people."
Community Leadership
Rowmark's management and employees believe strongly in using their talents and time to benefit the community. Employees are involved in a number of community activities, in particular working with the United Way and the organizations it supports.
Rowmark employees donate an average of $700 per person to the organization annually, making the company one of the largest contributors in its home county, Jebbett says.
Employees also donate time and money and serve as volunteers and board members for a number of organizations including the Blanchard Valley Health System, YMCA, Findlay Rotary Club, American Red Cross and Cancer Patient Services, and support youth-based organizations including the Boy Scouts of America.
This spirit of giving closely follows the example of Fred Kremer, the company's late founder and Jebbett's mentor, for whom community service was a high priority.
"[Kremer] believed that leadership is best demonstrated by giving back to others," Jebbett says.  "We don't do it for exposure – we believe it is our corporate responsibility to support and be a part of the community and strongly believe in being good citizens and helping others become better citizens."