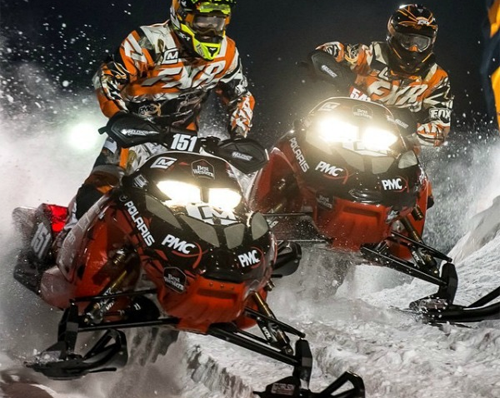 When the first shift of the week came in on Sunday night at engravable plastic sheet manufacturer Rowmark, it could take nearly an hour to get machines up and running. That was lost time and lost productivity. The Findlay, Ohio, company decided it had to cut that time by 25 percent.
Many manufactures would balk at shutting down a portion of a production line, even for a limited time. But Rowmark knew if it was going to improve its start-up process it had to engage its employees in training.
The company stopped production for two days and brought in all three of its shifts. Employees and management brainstormed a list of ideas on how to speed up the cold start time, then conducted trials to see what worked. From there, Rowmark finalized the most promising procedural changes and implemented the process across all three shifts.
Rowmark ended up exceeding its goal by shaving 32 percent off the time it takes from turning on the extruder to when the first sheet has been checked for quality. "It was a good win for the team and helped improve morale," says Eric Hausserman, vice president of business integration.
The improvement was a testament to the kaizen and lean manufacturing philosophies Rowmark adopted at the beginning of 2015. The company tries to do one continuous improvement event each month at one of its two divisions, Rowmark and Premier Material Concepts (PMC). Each session follows a similar process: The area is shut down, the existing process is reviewed, ideas are developed and tested, and then the ones that work are finalized and implemented.
Because of the disruption, Rowmark works those continuous improvement sessions into its production schedule. Most are timed to coincide with slower periods of work. Still, even a temporary interruption can be a turnoff for some businesses, but Rowmark recognized it as a necessity in order to reach its lean goals.
Innovation Advantage
Rowmark started as an independent company in 1997, but its roots date back a decade earlier. Fred Kremer, CEO of a drainage pipe manufacturer in Findlay, had recognized a need for engravable extruded sheet materials. He established a plastic sheet extrusion line within his company and watched as it grew into the international market in only a few years. Kremer resigned as CEO to purchase the Rowmark division in 1997 and initiated the move into a nearby industrial park.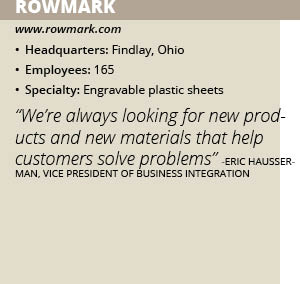 Since Hausserman started with the company in 2000, the original facility has gone through three major expansions and opened a second manufacturing plant. While Rowmark produces engravable sheet for awards, small-format signage and other applications, PMC specializes in customized plastic sheet and roll stock for the industrial thermoforming market. PMC customers convert the plastic sheet into parts such as panels for recreational vehicles or tractor roofs.
Rowmark's base manufacturing process is extrusion. It starts with resin pellets and a color concentrate, then blends them. The extrusion process melts the resin, then conveys it through an extruder into a sheet die. From there, a calendar roll forms the material into a sheet, which is given a smooth or textured finished. The Rowmark division runs 24 hours a day, five days a week, while PMC runs on a 24/7 schedule.
Rowmark is known for its quality products, quick delivery and innovation, Hausserman says. "In both businesses, we're a leader in innovation," he explains. "We're always looking for new products and new materials that help customers solve problems."
Take, for example, the danger of a power outage in an enclosed space like a ship. Rowmark's sheets are often used in safety signage, but what good do those signs do if they are too dark to see? Newer building codes are geared toward photoluminescent technologies, so Rowmark created a high-end glow-in-the-dark sheet product. "Once that trend started, we developed that product and were the first ones to market," Hausserman says.
On the PMC side, the company is a leader in thermoplastic polyolefin (TPO), a compound material used for recreational vehicle parts such as hoods, door panels and wheel wells. Hausserman says TPO has a better cold weather impact resistance than acrylic and is more suitable for the rugged use such vehicles experience.
Creating Bonds
The ability to innovate begins with Rowmark's suppliers, which the company views as partners, not as buy/sell transactions. Suppliers are enlisted in the product development process, helping Rowmark create new products such as the photoluminescent sheets. "The product line is really complex in terms of color and material type, so it's taken us a long time to develop the range of products," Hausserman says. "Generally, our suppliers are partners in that effort." Those interactions are possible only because of the trust and relationships the company has built with its vendors, which have mostly remained unchanged over the years.
As Rowmark builds lasting relationships with its suppliers, so too has it created a bond within the Findlay community. The company is involved in several local nonprofit groups and Hausserman himself sits on the board for Cancer Patient Services, an organization that provides financial support and guidance to those with cancer. Rowmark also shuts down its entire operation one day each year to hold a United Way fundraising event. "There's not too many things that happen in Findlay we're not involved with as far as nonprofit goes," Hausserman says.
Hausserman believes that community outreach is an example of how Rowmark is growing the right way: by maintaining a family atmosphere and finding the right blend of internal and outside talent. It all adds up to a better experience for the company's clients. "That's our mission – to help our customers grow their business – and I think we've been successful doing that," Hausserman adds.