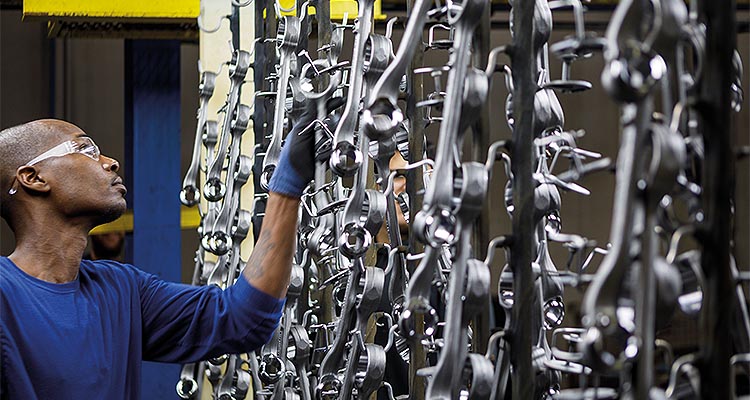 Roy Metal Finishing shares its historical journey and plans for continuous investment
Founded in 1961, Roy Metal Finishing Company (RMF) is an industry-leader in highly engineered, corrosion-resistant metal finishing solutions that are both functional and aesthetically pleasing. The business offers a wide range of technologies and services that meet the most stringent performance requirements. It has been a family-owned company for most of its 62-year history, only recently joining the Aalberts family in September 2018.
Established in Greenville, South Carolina, RMF was founded by Donald Roy, who previously worked in the textile industry in the Northeastern region of the US. Donald identified the need for a high-quality metal finishing company in the Southeast, dedicated to providing superior quality and excellent customer service.
"Donald started the company without borrowing money or taking on debt; if they didn't have the money for something, they had to wait and save until they did," begins Dean Davidon, current President of RMF. "Donald, his wife, and their team did everything themselves, from pouring foundations, to fabricating, installing, and operating equipment as they expanded into the initial corporate headquarters in Conestee, South Carolina.
"In 1975, after graduating from the University of Kentucky with a metallurgical engineering degree, Donald's son, Clifford, joined the company as Vice President," he continues. "Clifford's son, Alex, and daughter, Emilie, along with her husband, John Pazdan, later joined the management team, with John eventually becoming President and CEO."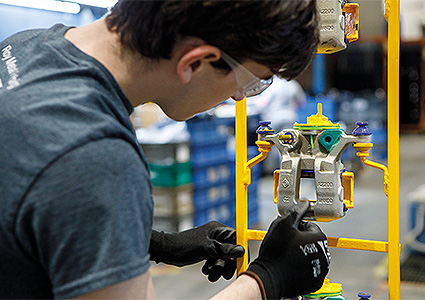 Dean goes on: "When the automotive industry began to migrate to the Southeast and replace the textile industry in the 1990s, Donald's vision became a reality. RMF found itself strategically located in the heart of what is now known as the Southeastern automotive cluster and began servicing the industry with its metal plating capabilities.
"Entering this industry was a significant milestone for us, as it required further development and standardization of our management system to comply with the automotive industry's strict standards," he adds. "Although we had always been known for excellent customer service, it was this transition that elevated our capabilities."
State-of-the-art facility
In the early 2000s, RMF began to establish a reputation across the Southeast as one of the region's premium metal platers. "But we wanted to be known as more than just a plater," Dean states. "Instead, we wanted to be recognized as a provider of highly engineered, corrosion-resistant solutions and value-add services; and known as the company that takes on the jobs no one else could figure out."
This led RMF to do business with some of the top-tier automotive companies in the world, such as Bosch and Continental, which required additional space. As a result, Clifford purchased another location to facilitate the company's growth.
"It was around this time that then-President, John, developed a strategic plan to consolidate all operations on to one state-of-the-art corporate campus, allowing the business to expand and differentiate itself from competitors," says Dean. "John invited me to join the team in 2004 and I worked as a Coach for seven years, helping to develop the company's management system and organizational structure in preparation for the desired growth in the automotive industry. In December 2011, I was then invited to join the team full-time as General Manager."
He elaborates: "We selected a 25-acre plot of land in a prominent technology park in Piedmont, South Carolina, as our new corporate location. In our previous sites, we had to retrofit our lines and equipment into existing buildings, but Piedmont gave us a unique opportunity to take a green field approach to designing our facility and really engineer the building to suit our operations."
Today, the 30-acre site in Piedmont forms RMF's headquarters and is home to the largest independent electroplating shop in the Southeast. It offers barrel and rack plating, electrodeposition painting, powder coating, and warehousing capabilities, as well as direct shipping for the transportation, construction, agricultural, appliance, and industrial fastener markets.
Pursuit of perfection
"The next significant step in our journey was to find the right partner that could help us continue to grow, provide us with additional structure, standardization, and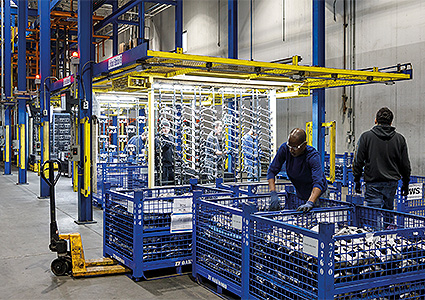 investment, but one that also aligned with our existing core values," Dean explains. "In September 2018, RMF joined the Aalberts family of companies. Aalberts, a publicly traded company based in the Netherlands, is a collection of 150 high-technology, industry-leading businesses.
"We are now in our fifth year within the Aalbert's family, and we are completing our rebranding campaign, 'Spread the Red,' later this year, which will result in a change of our company name to Aalberts Surface Treatment," he reveals.
"When John retired as President in January 2021, I was honored to be appointed President by Aalberts," Dean reflects. "Most of my experience is in operations and quality, so I certainly had a lot to learn about the other aspects of presiding over a company of our size, including governance and compliance, as well as sustainability."
He continues: "Since being appointed President in 2021, we've dealt with various challenges in the aftermath of the pandemic, such as supply chain disruptions, inflation of raw materials, and a tight, ever-changing labor market. But overall, I consider myself to be very fortunate to work with such a committed, experienced, and effective leadership team at RMF, which has navigated challenges together.
"One of the many things I love about RMF is the people we attract," Dean states. "Our culture is one of a team-based, performance-driven, relentless pursuit of perfection. At RMF, we realize that we live in a land of variables where perfection is not always attainable; but along our journey toward pursuing perfection, we often find excellence.
"Our core values are: 'leave it better than you found it,' 'none of us is as good as us,' and 'earn your position on the team every day," he details. "We try to focus on 'doing the right thing first time' by eliminating wasteful activities. We continually look to recruit people who are a good fit for our environment, and who are resourceful, reliable, and accountable, without any quit in them; what we do at RMF is difficult and it isn't for everyone. But we do walk the talk here, by promoting from within our organization. In fact, every one of our current team leaders and managers started in an entry-level role, which has given the leadership team a strong and credible foundation."
The next challenge for RMF is embracing technology and automation on its Piedmont campus. "We will continue the transformation of our production area and we have identified appropriate technology and integration partners that will contribute to our goal of automating the shop floor," Dean explains. "We need to convert manual, repetitive, and ergonomically challenging roles into technician-level jobs through the introduction of relevant technology and automation, such as robotics, vision systems, and artificial intelligence.
"With current labor challenges across the industry, we need to do everything we can to appeal to potential employees and make RMF a place where people want to work and continue the strong commitment of offering mission-critical technologies to our customers," he concludes.
www.roymetalfinishing.com