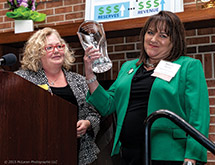 Royal Die & Stamping Co. Inc.
Some do not perceive metalworking as a typical job for a woman, but Royal Die & Stamping Co. defies expectations, COO Sue Freitag says. "The women [here] have always been on the production floor as assemblers and operators," she declares.
But their participation is not limited to operating machines. "It's a slow process, [but] I do see women rising from the plant floor into supervisor roles and more managerial roles than they did before," she states.
Fifty-six percent of Royal Die employees are women with a majority on the manufacturing floor. This percentage includes women in supervisory and management roles for departments, which include Quality Control, Stamping, Assembly, Finishing, Program Management as well as Safety. A number of women work closely with its logistics/shipping manager to ensure a smooth delivery outline.
Based in Carol Stream, Ill., Royal Die manufactures components for the automotive, electronics and telecommunications markets. Founder Ole Jensen started the company in Chicago in 1938 as a manufacturer of components for TV tubes.
Over time, the company branched out into other markets. "We've moved from television components to telecom to electronics," Freitag says, noting that Royal Die has partnered with the automotive industry for decades. "Our latest line of products [consists of] back-up cameras and components for electric and hybrid vehicles."
Today, Royal Die operates under the leadership of Freitag's father-in-law, CEO Henrik Freitag and her husband, President Erik Freitag. The company also occupies a new, 165,000-square-foot location in Carol Stream, with more than 75 high-speed presses. "Everything is under one roof," Sue Freitag declares.
Royal Die also invests in the best technology. "We just bought our third 3-D printer so we can create prototypes more quickly," Freitag says, noting that the company has switched from 2-D to 3-D design and manufacturing and has connected its CNC and wire EDM machines to 3-D CAM systems.
"We're right in the middle of a huge undertaking," she says. "What we want to do is to reduce the lead time from design to completion."
Just Getting Started
Freitag has 31 years' experience with Royal Die. Previously, she worked at American Plasticraft Inc., one of the company's former suppliers. "I started there answering phones," she recalls. "The owner took me under his wing and showed me everything about how to run a plant."
Henrik Freitag ultimately offered Freitag a position at his company to install the company's new computer operating system. Sue's position grew through to COO. During her time at Royal Die, she has won the 2015 Rose Mottl Leadership in Manufacturing Award from the Women in TMA Committee.
Freitag, who has 37 years' experience working on a factory floor, says the involvement of women in her industry is growing. "I think we're just starting," she says.
Beyond the Border
Royal Die continues to compete against offshore sourcing, Freitag says. "We're always competing with Mexico and China," she says. "A lot of suppliers are asking us to build and have a presence in Mexico."
But that is a challenge for the company, Freitag admits. "It's a huge undertaking and what we [prefer] is having everything under one roof," she says.
However, Freitag will be traveling to Mexico to research the option. "We never say 'no,'" she states. "That's one of the reasons we're successful.
"If you want us to go to Mexico, we'll go there, see if it's feasible and tell our customers if we'll be able to do this," she says. "You can't be close-minded."
Quality Focused
Ever since Royal Die moved into its new plant in 2012, the company has focused on creating a quality-focused environment for its employees. This includes employee training from Plexus Worldwide and a dedicated training room that it has named "Royal University," Freitag says.
Employees are given group numbers so "they know when their group is due for training," she continues. "When we get to a milestone of training hours, it shows our commitment and seriousness about the training." This includes continual training on the production floor that culminates with a written exam and performance test to advance to the next level. There are three levels to achieve.
Employees have been trained, Freitag notes, on decision-making and knowing what they should do after completing a job. "We try not to have a hierarchy where someone has to wait around to have them tell them what they should do," she says.
Training also is focused on a buddy system, where an employee's partner verifies if a manufactured part is up to standard. "Our engineers go to classes all the time to learn how to design a part," Freitag says, noting that Royal Die's designers recently visited factories in Germany to learn new ways to design and manufacture.
Additionally, "We're cross-training our employees so not one employee knows one particular job [alone]," she says. "They can go from line one to line two and work just as efficiently."
The company also implemented lean and 5s initiatives, as well as layered process audits, where supervisors perform weekly checks on the lines. Freitag notes that associates will check whether a press is clean, for instance.
"That's a new standard that Volkswagen is requiring," she adds. "We've [normally done] plant-wide system audits."
Giving to Others
Royal Die regularly makes philanthropic donations, Freitag says. "We donate to Operation Christmas Child and our shoeboxes filled with gifts, go to children in need all over the world," she says.
The company recently recognized employees for participating in a 5K and 10K run on Memorial Day. "[Over one] hundred of our employees showed up in a suburb of Chicago [to run]," she recalls. "We donated $5,000 to Salute Inc., a local not-for-profit that supports U.S. military service members-to ensure they are treated with honor and dignity."
Royal Die sponsors a FIRST Robotics team "got robot? FTC Team 5037" from Elgin, Ill. "We're helping them learn there's a future in manufacturing," Freitag says. "They were able to come here and see what we do." These home-schooled teens look forward to their next visit to discuss the patent process with Henrik Freitag. The team are among the elite within their age group and most recently won the INSPIRE Award at the World Finals which took place in St. Louis.
The firm also contributes to Northwestern Settlement, which provides programs and services to children, families and seniors in Chicago's West Town community. "We [made] a capital campaign pledge to them," she says. The contribution will help build a teen camp counselor training and meeting center at House in The Wood – a summer camp experience for children from Chicago.
The Next Generation
Freitag is proud of the staff Royal Die has assembled, which includes seasoned employees who have been joined by their children. "That to me is very humbling, knowing they're bringing their next generation, not only on the production floor," she says.
"That's just fantastic," she says. "It shows that they have the utmost confidence that we will be here for the next generation."
Royal Die plans to continue adding to its staff, Freitag says. "We have a huge apprenticeship program," she says. "I hope to see women more involved on the engineering level. The got robot? robotics team has one female founding member, which I thought was really refreshing."
The company's younger team also might include members of Freitag's family. "My daughter worked here all summer in customer service and she loved it," she recalls. "She wants to be in business operations, which to me is a compliment because I'm in operations myself."
Freitag also anticipates more growth for Royal Die as it branches out into more products, including components for electric cars. "There's a whole bunch of things happening here," she states. "Everybody's wondering what Royal Die's going to do next."