Leading the way
Servicing a wide range of customers from the nuclear, construction, healthcare, and mining sectors, Royston Lead's modern approach to specialist lead production is changing the way the industry thinks
With its usage traceable as far back as the Prehistoric Age, lead has played a vital role in human history. Forged and developed into countless different products and applications across the years, the material remains as popular and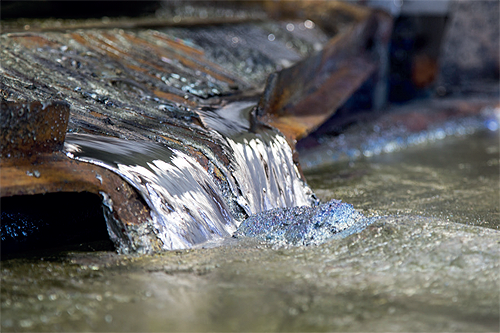 versatile today as it was in the beginning. Nevertheless, due to the lead industry's longevity, and the familiarity of its core material, many people have, over time, developed a number of misgivings about lead. As a progressive company doing things differently in a very traditional industry, Royston Lead's mission is to change the way we think.
"Let's be honest," begins Ian Crabbe, Royston's Managing Director, "if you say lead to anybody, they will think almost instantly of lead pipes by the Romans. Following that, they usually believe that, because the material is so old, everything that lead could be used for has already been invented.
"At Royston Lead, we respond to these arguments through the way that we operate. Firstly, we have deliberately employed skillsets from outside of the lead industry to give us a fresh perspective on what we do. Our Sales Manager, for example, has a different background and has brought along a focus on customer care, our service offering, and many other things you would not traditionally associate with a manufacturing business. We are highly client-centric, and working with a close network of partners, we aim to find solutions for any customer request.
"Secondly, as we move into more automation and better controls in our manufacturing process, we have not only been able to improve quality, but also our in-house health and safety performance and our environmental performance too. Robotics and better tooling take people away from tasks where previously they were close to lead work or interacting with the material in a way that we would rather limit. You actually get to a point where you start to see lead in a slightly different light. It's infinitely recyclable and low energy in terms of using old scrap lead to create new products, and as such, it is part of the modern world's circular economy."
Originating from a boilermaker called George Royston & Sons, Royston Lead began to focus on lead production in the mid-1900s, Leadand by the turn of the century, had become a global supplier of lead-related products, from anodes to window sash weights, sealing materials for the industrial sector to lead ballast for use in shipping. As the business progressed through good times and bad, its offering grew, allowing the firm to become a valued supplier to a variety of industries across the globe. Its success led to a buyout and by 2015, Royston Lead joined a group of top UK lead businesses, alongside the EnviroWales smelting facility in Ebbw Vale, and rolled lead sheet distribution businesses servicing the construction sector in the UK and Europe. It was at this time that Ian joined Royston, tasked with reviewing what the company did well and what could be improved to make the organization more profitable.
"When I joined the business, we were doing about £8 million in turnover and our focus was mainly on the domestic market," Ian recalls. "The first thing we did was analyze each area of the business, sector by sector, focusing on how to rebuild the company's skills, sales proficiency and production capabilities. One of the things I noticed was that the anode business that had been so strong in the latter part of the previous century wasn't really all that active. I ended up heading out to South America, which had always been a great market for us, and tried to understand what we could do to improve sales of our anode products. We refocused our sales and support presence in the region to address the issue, began to rebuild that business, and then moved on to do a similar thing with lead shielding, looking more globally, getting the products back up on to their feet again in regions like Continental Europe and the Middle East.
"Over the last five years, we've increased our turnover to around £20 million, moving from an almost wholly domestic business to one that is now broadly 50/50 between domestic and export sales. It's surprised some people, but our products travel extremely well and it allows us to approach those international markets efficiently and easily. It's also helped by the fact that the price of lead is set by the London Metal Exchange, so everyone in the world is working at a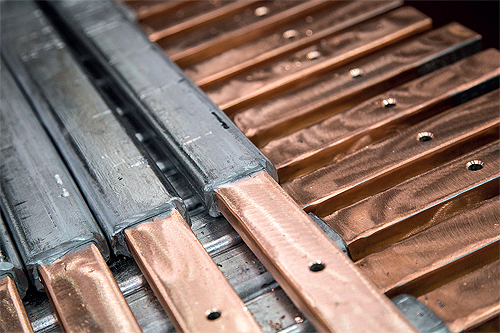 very similar lead price. By looking at innovation, process efficiency, and quality, we are now able to compete, not just on a national stage but on an international level too. Last year, we sold into southern Africa, South America, Europe, the Middle East and India."
Year on year, Royston Lead strives to improve and update its products and processes, adding new technologies or services to its already comprehensive offering. Since Ian joined the firm, Royston has focused on anode products, shielding for the medical sector, and most recently, ballast and specialist ballast for the shipping industry. Driven by a culture of continuous improvement, Royston challenges its employees to always ask 'why?' when it comes to the company's technologies and production methods. The approach continues to help the firm find better ways to operate, and despite the maturity of the lead industry, Royston has lodged two new patents in the last 12 months. As part of the company's evolution, Ian explains that Royston is looking to introduce more automation and robotics in its manufacturing processes.
"We have decades of knowledge in this business and we always try to make the most of that, but we also understand that there is room to do things differently and space for new ideas," he states. "We are never afraid to use modern production techniques, like automation, in what is a very historic business, and we have found that it not only helps productivity, but also quality control because you have a system that has better checks and gives you a better understanding of what your clients want."
By combining the experience of its workforce with modern manufacturing processes, Royston has built what Ian calls a 'client-led ecosystem' supported by strong supplier relationships and the latest technology. The resultant increase in turnover has allowed Royston to feed more funds into Research and Development and new product creation.
"Looking forward, there are more process improvements and automations that we want to implement, primarily in the casting side of the business, but also in other areas," Ian adds. "There are three automation projects which are currently nearing completion. We have the automated production of anodes, which uses a patented technique, including the robotic handling of the semi-finished product and the finishing of the product on an automated system. At the same time, one of our ballast customers procures a substantial amount of material from us, so we've introduced an ABB robot with a changeable head, which allows us to cut the material to shape and package it in an automated process line. The final project is stamped products, for which we have put an automatic stamper with a robotic offload facility to allow us to make products more quickly and efficiently."
In a year dominated by Covid-19, Royston has maintained sales as a consequence of the global nature of its business, continuing to receive orders from overseas customers, even while the UK market slumped. Among other things, a rise in demand for lead shielding in the medical sector has kept the firm busy throughout 2020 and, as a company working with lead, Royston's already stringent health and safety procedures made for an easy transition to a Covid-safe working environment. Though a degree of business uncertainty remains – fueled not only by Coronavirus, but also Brexit – Ian is confident that Royston's focus on quality and customer service will spur the business on to further growth.
"In terms of quality, if you take anodes as a classic example, many of our customers say that we have some of the best anodes, if not the best anodes, in the world," Ian reveals. "What's clear is that we produce one of the best products in that particular market, so it's important for us now to understand why it is best and what we can do to make the product or service even better.
"We do see the Covid-19 hangover being a little bit longer than any of us had hoped, and along with any other manufacturing company in the UK, we would most definitely welcome progress in our relationship with Europe at the end of this year, but we also believe that change brings new challenges and opportunities. As long as you are awake, listening to your customers, and preserving those key relationships, change allows you to find new ways of working and sometimes those new ways are better than the old ones."
Royston Lead
Products: Specialist lead products
www.roystonlead.com