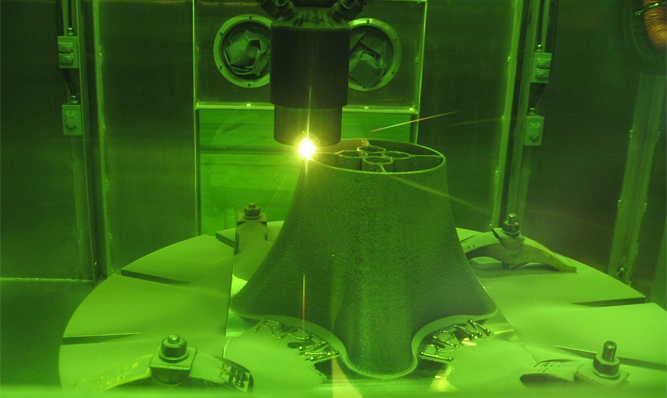 Additive manufacturing, also commonly known as 3-D printing, is one of the fastest-growing segments of manufacturing. During the past five years, a number of industries including the aerospace, healthcare and medical markets have successfully used laser-based 3-D printing  technologies to produce complex parts.
Even within this growing market, however, very few companies can accomplish what RPM Innovations Inc. (RPMI), can. The Rapid City, S.D.-based company prides itself on being one of the most experienced and reliable in its field.
"Our customers tell us that, in the powder-fed laser deposition world of growing parts from CAD files, we do the highest quality of parts, the largest and most complex parts, and have the most consistent operation they can find anywhere," President Robert Mudge says. "That's why they keep coming back."
The company's customers include aerospace companies as well as the oil and gas, power and mining industries. RPM Innovations also works with the Department of Defense. "Our customers commonly want us to repair or build something in a tight period of time and do something no one else has ever done," he adds.
A Flexible Process 
RPMI specializes in "powder fed" laser deposition technology (LDT), which is also known by its ASTM International designation, directed energy deposition. LDT  includes laser freeform manufacturing technology, laser repair technology and laser cladding technology. The company provides application development, manufacturing and repair solutions for its customers.  RPMI also manufactures a complete line of LDT Systems that employ fiber lasers up to 3 kilowatts. Laser deposition technology is an additive process that is used to build freeform fabrications, repair metal components typically considered non-repairable by conventional techniques, or strategically add features to forgings or castings. LDT deposits exhibit excellent material properties. These material properties, combined with the flexibility of the process, significantly lower overall production costs. When used for manufacturing and the production of prototypes, the LDT process greatly reduces product development time.
RPM Innovations operates four LDT workstations where parts are produced based on computer-aided design (CAD) data. The company's manufacturing process involves injecting metal powder into the focused beam of a high-powered laser, which is fired in the center of a metal plate or a worn part, creating a melt pool. Powder is added to the melt pool layer-by-layer, eventually producing a part.
A variety of metal powdered alloys can be used during the process, including tool steels and stainless steels as well as nickel, cobalt and titanium alloys.
The powder-fed additive manufacturing method can be differentiated from powder bed additive manufacturing, where a laser is used to produce parts layer by layer in a reservoir of powdered metal which is then removed once the part is completed. Powder bed methods are more commonly utilized in the industry, but typically not to produce parts of the size RPM is capable of, Mudge says.
"We have a lot more flexibility and repeatability than powder bed additive manufacturing companies do, but we cannot do small detailed parts the way they can," he adds. "We don't see ourselves as being competitors with those companies; we're complementary to them, and there are differences in the technology."
A Technical Advantage
Once RPM Innovations completes a part, it is scanned and compared to the original CAD file, ensuring accuracy and quality. The company recently received AS9100C, ISO 9001:2008 and ITAR quality registrations for itsr service bureau work, which includes a set of standard operating procedures, checks and notifications that ensure parts are produced to customer specifications
"We tell people what we are going to do and how we are going to it, and we document our work to show and prove that we did it that way," Mudge says.
The company plans to add real-time thermal imaging monitoring systems that will enable RPMI to verify to its customers they are making deposits within the desired parameters through the entire process. "Our customers want to know that, through the entire time we're producing their part, their 'recipe' did not change," he adds.
In addition to producing quality parts, the LDT method offers customers lower per-piece production costs, lower tooling costs and an overall reduction in product development time.
One example Mudge gives of the quick turnaround times possible with the technology is the company's work on a rocket engine project, which their customer expected to take between 18 to 24 months. RPM completed the project in less than 100 days, he notes.
From the Ground Up
RPM Innovations was established in 2013 following the spinoff of the additive manufacturing division of its parent company, RPM & Associates Inc. Founded in 1982 by Mudge, his wife Debbie, and his parents, Jim and Phyllis Mudge, RPM & Associates Inc. is a manufacturing firm that repairs and makes large industrial parts used in coal-fired power plants, mining operations, cement plants, chemical plants and other applications.
RPM Innovations is one of two companies affiliated with RPM & Associates. A sister company, RPM Solutions Inc., was established in 1996 in response to customer demand for rotary atomizer parts used in dry flue gas desulfurization.
The origin of RPM Innovations dates to 2001, when its parent company was approached by the South Dakota School of Mines and Technology (SDSM&T) about teaming up to develop a laser welding process. "At the time, we didn't know anything about it," Mudge says.
RPM & Associates worked with SDSM&T and Aeromet, a Minnesota-based laser contracting company, to secure a four-year federal technology grant. The grant funded a friction stir welding and laser deposition technology system that was located in the school's lab as well as a second system housed at RPM & Associates.
The company's system was delivered in 2004, but proved to be difficult to use. RPM & Associates completely rebuilt the system over the course of the next year, which it then used to provide thousands of part samples to aerospace companies.
The LDT system used by the company at the time was too small to produce many of the parts its aerospace customers demanded. "Our system was 3 feet wide by 5 feet long and 3 feet tall," Mudge says. "Our main aerospace client wanted parts produced in a machine that stood 5 by 5 feet on the floor and was 7 feet tall. We investigated, and found that nobody had a system that big, so our aerospace client suggested we build one."
The company in 2009 completed a 5- by 5-foot and 7-foot system it dubbed the RPM 557 system. The system is the largest controlled LDT environment available, Mudge notes. After completing the first RPM Model 557, the company in 2012 built a second system of the same size to meet aerospace industry demand.
Industry demand led RPM & Associates to spin off the laser division completely in 2013, as it needed to attain AS9100C, ISO 9000:2008 and ITAR certifications to continue doing work in the aerospace sector. RPM Innovations, RPM & Associates and RPM Solutions Inc. all share the same building, but are separate legal corporations.
In addition to its repair and part manufacturing work, RPM Innovations offers a line of LDT systems including the RPM Model 535 and 557, as well as the smaller Model 222. The company received its CE registration for its laser systems in fourth quarter 2015. "We were doing enough work and providing enough parts for our aerospace partners that they began to ask us about how to do some of this work in their own facility," Mudge says. "We didn't want our customers to go through what we did when we first started using this technology; before we started selling systems, we wanted to make sure they were robust and repeatable."
A Fifth Line
RPM plans to expand its operations later this year with the addition of a fifth LDT system for its service bureau work. Then, the company intends to move into a new 40,000+ square foot facility in 2017.
Mudge credits the company's past success and future growth to the work of its staff. "I'm proud of the creativity, loyalty and ingenuity of our people, and how they are able to work together as a team to tackle difficult problems," he says.