In any industry, in any market sector, it's no secret that the more value a company provides to its customers, the more competitive it will be in the marketplace. When Claro Precision was its own private entity, the company had established itself as a reliable producer of precision-machined steel and aluminum components and assemblies for the major aerospace OEMs in the Montreal area such as Bombardier and Bell Helicopter Textron.
These capabilities made the company attractive to RTI International Metals Inc., a leading global producer of titanium. RTI was looking to expand its value proposition, and in 2004, Claro Precision became RTI Claro. Now a part of this worldwide organization, Claro is finding there is no shortage to the value it can provide to its customers and those of its parent organization.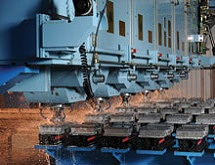 Headquartered in Laval, Quebec, RTI Claro still provides the machining and assembly of aluminum and steel parts to major OEMs, but as part of RTI International, it has added the production of titanium components to its core business.
"We retained our traditional business with our established set of customers, but also now have the capacity to grow in the area of titanium components," General Manager Christian Sauve explains. "RTI Claro provides value to RTI by being strategically located close to some major OEMs and in one of the most important aerospace hubs in the world. RTI Claro is the only RTI facility in Canada and the largest machining facility of RTI worldwide."
The company's current state-of the-art facility opened in 2007. Covering more than 180,000 square feet, RTI Claro's facility is not only large, but equipped with advanced systems. It features an integrated surface treatment operation for chemical processing and the finishing of components, and all of these processes are NADCAP-approved, as well as by the major OEMs. The site allows RTI Claro to offer complete machining and finishing of aluminum and titanium parts, Sauve explains.
"This facility enables us to have direct control over the complete pro­cess, allowing better quality and lead time," he says. "As part of RTI, we are fully integrated from the production of the raw material to complete machining and finishing on titanium. In turn, we can support customers with our integrated capabilities."
This extensive integration of operations is "not typical" of firms in the industry, he notes. "We produce titanium, and with our strong R&D capabilities, we can develop specialty metal solutions to best meet customers' needs," he says. "From there, we can transform any material with complete machining, chemical processing, coating and finishing. It's a great value to our customers."
On Track
RTI built the Claro facility in 2007 in part because the company had secured a 10-year contract with Boeing to supply extruded, welded and machined structural titanium components for the Boeing 787 Dreamliner. RTI Claro is supplying and integrating the 787's PAX Floor Seat Track system. The contract for this project is worth more than $900 million, according to the company.
"We are very focused on our work for the new Boeing 787," Sauve says. "The aircraft is currently in development and is going through testing for certification, but we started deliveries on all of the tracks for that aircraft in early 2010."
RTI also has contracts in place for the production of other major structural components with Boeing Global Partners, he notes.
Additionally, under two contracts that begin in 2011, RTI will fabricate critical structural titanium components for the Airbus A350 and A320 aircrafts, including the manufacture of seat tracks for the A350 and flap tracks for the A320.
RTI Claro is part of its parent company's Fabrication Group. Serving the commercial and defense aerospace markets, the Fabrication Group's product line includes hot-formed and superplastically formed parts and machined, assembled and cut shapes and extrusions.
Other parts of RTI's Fabrication Group serve the oil and gas exploration and production and geothermal energy production industries.
Global Presence
The overall RTI International Metals operation comprises 1,750 people and 20 locations throughout the United States, Canada, Europe and Asia. In addition to its Fabrication Group, the company also has Titanium and Distribution divisions.
RTI's Titanium Group melts and produces a complete range of titanium mill components, which are processed further by its customers for use in a range of aerospace and industrial applications. This division primarily produces titanium mill products and specialty alloys for use in the ferrous and nonferrous metals industries.
The customer base of the Titanium Group primarily consists of manufacturing and fabrication companies in the aerospace market, as well as metal fabricators, forge shops, machine shops and metal distributors. RTI's titanium mill products are semi-finished goods that are most often the raw material for customers who then form, fabricate, machine or process them into finished parts.
RTI recently created its Distribution Group after separating it from the Fabrication Group. This is an effort to "provide clarity on our business performance to investors and to give clearer accountability and strategic direction to this important part of the company," it says.
Distribution sales represent more than 40 percent of total RTI Group revenue, the company says. Its goal for the distribution operation is for it to facilitate an integrated offering to RTI's global customer base, as well as provide customers with a total supply chain solution.
In addition to its three core divisions, RTI has two subsidiaries: RTI Energy Systems, a supplier of titanium and metal components to the oil and gas industries; and RTI Reamet, a distributor of titanium products to the French market.
Expanded Offering
Going forward, RTI Claro plans to work with its sister operations to ensure growth and further unify the entire RTI group.
"The RTI ERP system was implemented when we moved to our new facility in 2007, and this provides us the capabilities needed to manage an extensive supply chain and complex Bills of Material," Sauve says. "Our Boeing 787 contract is allowing us to expand our offering of titanium components, but we also plan to grow our traditional business in aluminum. We will continue to expand our capabilities of assembly and increase our value to our customers."
​