Lightweighting is one of the biggest trends in vehicle manufacturing today. Consumer demand for better-mileage cars coupled with increasing government fuel efficiency standards have made vehicle weight a priority for all the major automobile manufacturers. To reach those goals, OEMs must find suppliers that can provide components that match the strength of iron and steel parts but at 30 to 50 percent of the weight.
A lot of progress has already been made on vehicle lightweighting. In 2015, Ford trimmed up to 700 pounds from the F-150 by switching to an aluminum alloy body, improving the vehicle's fuel economy by as much as 29 percent. Ford has since designed more aluminum parts into its other models and other automobile manufactures continue to explore methods for lightweighting.
Katsumi Sano, vice president of product engineering and sales at Ryobi Die Casting, believes there are still more opportunities to reduce vehicle weight through improved materials and manufacturing processes. Engine blocks, for example, could be moved from cast iron or low-pressure aluminum parts to components made from high-pressure die casts. The company works with OEMs and other partners to identify ways to apply the high-pressure die process to reduce weight and increase fuel efficiency.
Ryobi Die Casting's focus is on components that used to be made from stamped steel – power train, drive train, large aluminum die cast parts and structural body-in-white castings. If it seems like those components are geared toward vehicles, that's because more than 97 percent of Ryobi's business is with automotive customers. The company's location in central Indiana has made it well positioned to support the auto industry as a Tier I supplier. "Not only do you have a lot of the Japanese OEMs, in northern Indiana you have GM and we're close to Ford and even some European Tier I suppliers," Sano says.
Large-Scale Casting
Ryobi Die Casting is a wholly owned subsidiary of Ryobi Ltd., a Japanese-based company that was founded in 1943. It has since grown to encompass 12 facilities around the world, including six in Japan and others in Northern Ireland, China, Thailand, Mexico and the United States. The American facility was established in 1985 when it began operating in Shelbyville, Ind., located about 30 miles southeast of Indianapolis.
Like its parent company's other divisions, Ryobi Die Casting specializes is high-pressure aluminum parts. Following the $97.5 million purchase and equipping of a neighboring former plastics plant last year, the Indiana campus has grown to about 1 million square feet of manufacturing space spread out over 100 acres and six buildings.
With $450 million in annual revenues, Ryobi Die Casting makes up a significant portion of Ryobi Ltd.'s $2.3 billion in annual sales. Die casting itself makes up nearly half of the parent company's revenue, with power tools, builder's hardware and printing equipment making up its other major markets.
From its campus in Indiana, Ryobi supplies parts to clients in the United States, Canada and Mexico. Customers include many of the largest automotive manufacturers and key suppliers.
Although it is focused on North America, Ryobi can reach a truly global market through its parent company. "A lot of our customers like Ryobi because we have a global presence," Sano says. "We do a lot of global coordination." Ryobi facilities from all over the world can aid each other. There have been cases where Ryobi Die Casting develops a die cast but its sister company in Europe is awarded the manufacturing program.
Similarly, Ryobi Die Casting prides itself on designing and producing all of its dies in-house; however, in some cases, those designs are derived from products at other Ryobi facilities. "We're a little bit independent, but because we all provide feedback to [Ryobi Limited in] Japan there's a shared global knowledge," Sano explains.
To facilitate that cooperation, Ryobi facilities employ local expatriates to cross language barriers. Ryobi Die Casting's engineers will perform technology reviews and hold meetings at 6 a.m. when their counterparts in Japan are still working. The resource sharing that goes on between Ryobi's different locations allows the company to set up new programs more quickly than its competitors and often results in improved quality since new parts can benefit from the experience of past projects.
It is common for new casting programs to have faults or quality issues when they are launched, but Ryobi is able to eliminate or lessen those problems by drawing from a global knowledge base. "We have the capability and horsepower to solve those issues quickly," Sano says.
Ryobi Die Casting continues to build on those capabilities. In 2007, the company purchased a die casting plant in Irapuato, Mexico, that has since grown to 700 employees.  The Indiana branch wholly owns the facility.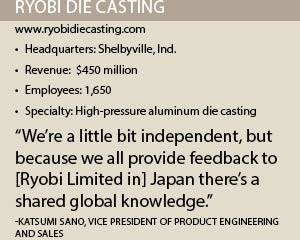 Quality Commitment
"I think we're known for providing quality products," Sano says, adding that he knows of situations where a customer dual sources parts from Ryobi and another supplier and Ryobi offers a better first time through yield.
Ryobi's reputation for delivering quality on a large scale has made it a preferred supplier for many in the engineering community. There have been times when an OEM's purchasing department advocates for a switch to a lower-cost provider only for the OEM's engineers to veto the change, according to Sano.
In other cases, OEMs started with one die caster and were forced to move suppliers several times because of inconsistent production before coming to Ryobi. Sano says the company has had success stabilizing those projects and holding onto the client. "If they know they have a difficult part to produce they come to Ryobi," he boasts.
Quality control is especially crucial for a company such as Ryobi Die Casting that historically shipped raw castings to OEMs or secondary manufacturers. In many cases, defects are not discovered until the part goes through the finishing process at another facility. To catch those issues, Ryobi Die Casting developed book-ended quality control systems that can identify  the production run when a fault occurred. The company can then test other parts of that run to isolate the issue and correct it for the next batch while clearing previous batches for release.
New testing equipment and techniques are further improving those quality control processes. Ryobi Die Casting already takes one part from every machine during each shift for destructive testing. If a fault is found within the part, the company can quickly determine whether the entire production run is compromised and make adjustments to resolve the issue. The high precision required of many parts also calls for extensive measurement testing to ensure they meet specifications.
Those measurements used to occur only after a part was completed, so if an issue was found it could set back the entire production. However, better technology is streamlining the process. Ryobi Die Casting is now rolling out dimensional scanners for part production and die repairs. The scanners allow for measurements to be taken while the die is still being worked on, identifying problems earlier and expediting production.
"We're trying to avoid our customers being our quality detection," Sano notes. "We want to be our own quality detection."
The company can offer that level of quality because of the scale and capabilities of its manufacturing facilities. The Indiana campus houses 44 die casting machines, of which 39 are large die casting machines with more than 2,500 tons of locking force. More than 200 million pounds of aluminum is melted annually to produce more than 9 million castings each year across both the Indiana and Mexico locations.
Adding Value
The automotive market is ultra competitive and price matters to many consumers just as much as gas mileage and in-car technology. The need to reduce costs has caused OEMs to put more pricing pressure on suppliers. At the same time, suppliers must find ways to make themselves indispensable to ensure they are not replaced by a competitor that can do good enough work at a lower cost.
The auto industry is unusual in that OEMs often demand reduction in costs each year for a contracted program, instead of allowing for slight price increases. "We always have to make sure our productivity and quality is to the level that will allow us to meet our customer demand for price downs," Sano says.
Ryobi's solution was to add secondary processes such as heat treatments and fluorescent penetrant inspection (FPI). In the past, the company outsourced those processes to companies that specialized in machining, but transporting materials between facilities carried shipping costs and lengthened delivery times to the customer. Bringing those capabilities in-house was a way for Ryobi Die Casting to offer more service and value while reducing the number of suppliers customers needed to work with.
"In the past, a lot of times [customers] would have to manage two different suppliers: a cast supplier and a machining suppler," Sano says. "If there were any issues, they'd point their fingers at each other."
Adding secondary processes to its capabilities streamlined the entire process for Ryobi Die Casting's clients. Additionally, performing its own machining allowed the company to identify manufacturing defects that are only apparent during the machining process in-house so it could more quickly make adjustments to improve quality for the next production run.
The business case made sense for Ryobi Die Casting to expand into machining and the company had the capital to make it possible. What it lacked was skilled workers with experience in secondary processes. To gain that experience and know-how, the company has retrained workers and expanded its workforce to fill positions for secondary process manufacturing.
"It's something that we've had to learn with the heat-treat and FPI to make sure these processes are being done properly," Sano says.
Partnerships with universities and colleges in Indiana and neighboring states have played an important role in recruiting graduates skilled in secondary processes. Ryobi Die Casting has apprenticeship programs at Rose-Hulman Institute of Technology, a highly regarded engineering college in Terre Haute, Ind., and Ivy Tech Community College.
The company also participates in career fairs and has developed a pipeline of talent from schools such as Purdue, Ball State, Indiana University-Purdue University Indianapolis, Ohio State and the University of Cincinnati. "We're so centrally located that we can find [people] when needed," Sano says.
Growing Capacity
The purchase of the new manufacturing building and expansion of the Indiana campus were a reaction to the rising demand from Ryobi's customers for secondary processes. Likewise, the facility in Mexico is undergoing its own expansion. The focus there is on machining and capacity to supply the growing number of Japanese and European OEMs who have opened Mexican operations to better service the North and South American markets. American manufacturers have also made recent investments in the country, such as Ford's $2.5 billion plan to build an engine plant in Chihuahua and a transmission plant in Irapuato.
To accommodate the demand in Mexico, Ryobi Die Casting has already increased the number of die cast machines at its Mexican campus from 12 to 15 and expects to have 25 in operation by the end of next year.  The number of machining lines will also double from three to six or seven.
Between both campuses, Ryobi Die Casting is projected to reach production of 10 million castings annually by 2021. That additional capacity will be crucial as Ryobi Die Casting helps the automotive industry make the transition to electric and hybrid vehicles. Those new vehicle types are more complex than gas-powered cars and trucks and require new components such as sealed battery trays.
Sano believes high-pressure die cast aluminum will be a good fit for many of those components as OEMs continue to try to keep vehicle weight down. "As those electric and hybrid parts continue growing, there's going to be further and further need for those parts," he says.