S. Siedle & Söhne Telefon – und Telegrafenwerke OHG
Built upon family views
One of Europe's leading manufacturers of building communication technology, Siedle is able to create everything an entrance requires, in a range of styles and with unbeatable design versatility
It was during the mid-18th century that Mathäus Siedle established a foundry business casting bells for clock manufacturers on his farm in Furtwangen in Germany's Black Forest. Over the next 260-plus years, the company S. Siedle & Söhne Telefon – und Telegrafenwerke OHG (Siedle) has remained a fixture of the region, producing its first telephones in 1887, before evolving to become one of the pioneers of the German telephony industry. Since the 1930s, it has specialised in the field of in-house and door telephony, rising to become Europe's leading manufacturer of building communication technology.
Now in its seven generation of family management – it is today headed by CEO Gabriele Siedle and Richard Rutschmann – Siedle produces everything connected with communication that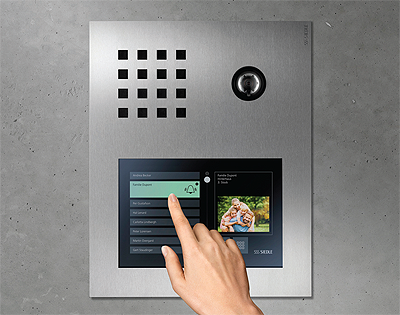 can be found in and around the home, and has become renowned for its uncompromising attitude towards quality and its prize-winning designs. In its home market of Germany, the company's door intercom systems hold a market share of around 50 per cent, while its export share, which is bolstered by representatives in most of the world's important regions, currently stands at just under 25 per cent. This reach resulted in a consolidated turnover of €88 million in 2018.
Siedle's reputation has been forged, at least in part, by its investment in innovative technology that is ahead of its time and its willingness to break new ground in its field of expertise. In 1935, for instance, the company launched its Portavox system, the first door loudspeaker. Together with an in-house telephone, this created an entirely new concept – the door communication system. More than 80 years later, and the door intercom system has achieved an unrivalled degree of refinement, forming the basis for a tool that can achieve far more than just communication with visitors or the releasing of doors. Today, the company's technology also incorporates features including – but not limited to – LED lighting, letterboxes, access control devices, communication and signage systems, and barrier-free solutions.
For Siedle, good design is not something that exists to provide the illusion of quality, rather it is there to express it for all to see. The company's design ethos is one that is committed to functionality, ergonomics and the simple operation of what are, in fact, complex systems. Meanwhile, minimalistic styling focusing on essentials means that its products continue to offer lasting visual appeal.
Looks, of course, are only one facet, and adopters of a Siedle product can be safe in the knowledge that prior to its launch it will have successfully proven itself to be able to withstand a series of grueling tests performed under simulated conditions that include mocking the effects of tropical heat, extreme cold and salty sea air. Furthermore, every button, every housing and every seal is subjected to every kind of physical maltreatment millions of times over, before making its way into a customer's home. While the company's product specifications almost always exceed statutory requirements, in the very unlikely event that something should end up going wrong, new generations of its devices are designed to be reverse compatible, and it maintains a stock of spare parts for systems which can be decades old.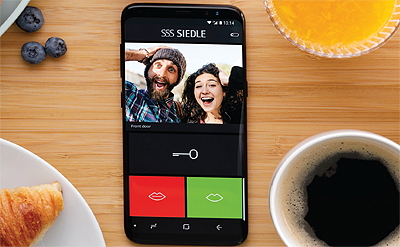 By developing and producing its products exclusively at its facility within the Black Forest, Siedle is able to ensure that it constantly achieves the optimum levels of consistency and quality that help to distinguish its goods. While it goes without saying that the company makes excellent use of state-of-the-art machines, as well as automatic manufacturing techniques and production robots, to this day it still calls up the skill and care of experienced, qualified employees. This combination of human expertise and craftsmanship, and modern technological advances and machinery helps to make the decisive difference between an average and an excellent product.
Throughout its many decades in existence, Siedle has remained a family-owned business, managed by family members, and driven by its founders' vision. That is why what exists in 872019 is a company that still thinks in terms of generations, not in terms of quarterly reports, and that values a solid, steadfast foundation over quick profits.
Indeed, its objectives are the independence of the company, securing jobs, maintaining its presence in Furtwangen and responsible treatment of the environment. While these convictions may appear to be somewhat novel in today's economic environment, Siedle has proven that a company that follows such a path is not only capable of surviving for an exceptionally long period of time, but do so with enormous success..
S. Siedle & Söhne Telefon – und Telegrafenwerke OHG
Products: Intelligent building communication technology