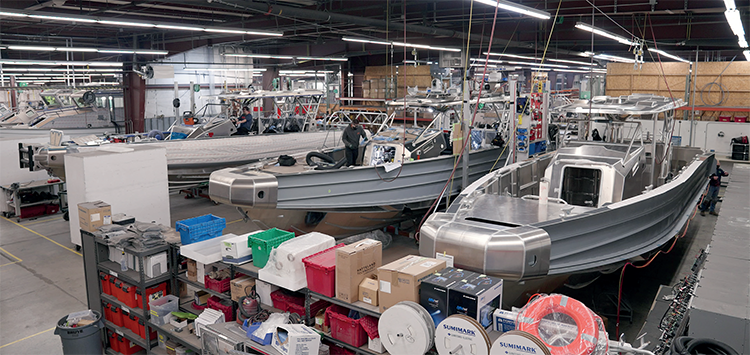 SAFE Boats is quickly approaching uncharted waters; here's how the company is anchoring itself in success for the future
Secure Around, Flotation Equipped – that's the meaning of SAFE at SAFE Boats International. The business, which celebrates its 25th anniversary, is a leader in engineering reliable fast response boats, driven by the safety, experience and comfort levels of passengers. SAFE Boats revolutionized the industry by designing and building boats to ensure that any boat built would take the beating of the ocean, and protect the operators.
Then came custom designs and supporting technology to improve functionality on the boats. One such example is the business' industry-leading and patented foam collar for impact and floatation. The team at SAFE Boats created sound-dampening hull designs for reduced acoustics and noise pollution in the cabin. "Keeping crew safety and mission performance at the forefront, the SAFE team developed performance technology that allows our boats to corner tighter, at higher speeds, for maximum manoeuvrability. We optimized our V-shaped hull and deadrise combination, which enables our patrol boat models to slice through rough water with minimal impact. We were early adopters of proven new technology like shock-mitigating seating to reduce operator fatigue and impacts," explains Chief Executive Officer, Richard Schwarz.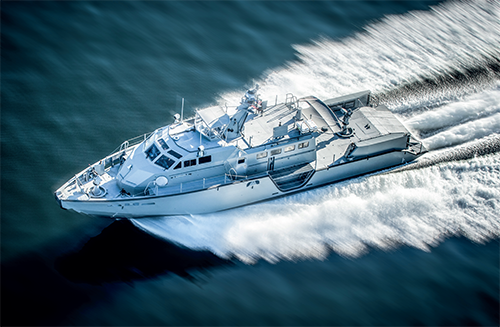 Growth opportunities
Innovation at SAFE Boats comes down to listening to customers. By understanding their requirements, missions and remembering that everybody using a SAFE boat is out in difficult conditions, the business is able to set itself apart from the competition. "If you see a SAFE Boat in the news, it's usually because something dangerous has happened. Therefore, when it comes to designing the boat, everything we do is with the intention of ensuring the people on the boat return safely. This approach also contributes to our decision to go for ISO9001 certification. Even after 25 years of focusing on how we improve, we turn to the customer first. We send people out into dangerous conditions, whether it's search and rescue, offshore wind or hydrographic survey work, the same sort of conditions prevail and that drives the same needs. The idea is to bring our level of quality and design philosophy to the commercial market and leverage our military and government background," Richard says.
With innovation comes the opportunity to expand, and considering our core US market is relatively fixed, SAFE Boats is looking to grow elsewhere. "Federal, state, and local government customers buy a predictable number of boats per year. This is a fantastic safety net for us, and also offers us the chance to expand into other sectors."
Because the US Federal market works according to multi-year contracts, when boats already in use wear down, the Coast Guard or Navy will renew their contracts for the next generation. "Those are fairly predictable. However, the replacement of existing fleets offers us some great opportunities for growth in different areas, so that's the obvious place for us to start looking, especially given how broad our international presence is."
Richard reckons the business has approximately 2500 boats currently in use worldwide, including significant fleets in Central and South America, Africa, and the Middle East. "We have really increased both the foreign military sales opportunities through the US government, while also increasing our direct marketing throughout those regions as well. This is to help create brand recognition and to work directly with foreign governments."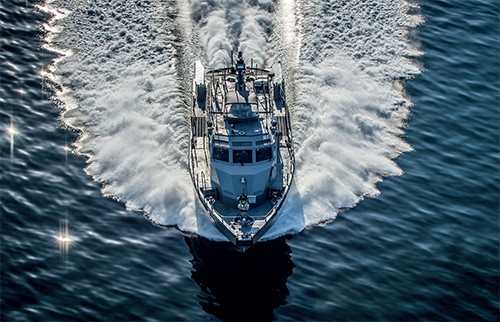 Broader customer base
Recently, the business licensed the design of a 65-foot boat in Colombia. "We provided them with materials and design packages, as well as some technical assistance, and it was the first time a SAFE boat had been built outside the US. The customer just launched their first 65 footer and they are building their second right now, which was an exciting project. We don't typically design and license boats – that isn't our business model – but because we have a strong relationship with COTECMAR and the Coast Guard, it turned into a brilliant partnership. We were able to work with them to meet their needs while growing the SAFE Boat fleet in Colombia. The first boat is going into service on the coast of Colombia in the next few weeks."
Richard shares that since the business has firmly established a reputation for quality and performance, there are developments in the pipeline to further improve its overall operation. In addition to transitioning into a 100 percent employee-owned company, SAFE Boats is also leveraging its history, culture, and foundation for opportunities that generate meaningful growth. "We have always been good at building fast patrol boats, interceptors, and products that cater to law enforcement and military customers. What we do is build incredibly robust, high quality, high performance aluminum boats, and I think we can take what we do for the most demanding customers and transfer that experience and capability into a broader customer base."
For Richard, the rest of the world is a much different market to the US; sales cycles are longer, and the geopolitical landscape is constantly evolving. "As a result, we know that relying solely on local revenue to generate growth limits our options, so we are pushing to think a little differently regarding what we want.
"We are now building boats that are not designed by us, which is completely outside of historical practice. We have relationships with different designers around the world, allowing us to pick from a portfolio of boats based on the needs of a customer. We are also developing partnerships in the UK, Saudi Arabia, and a number of other different countries where there is an opportunity to replicate our business."
In the coming years, the company will be thinking more broadly about the business, and looking for growth opportunities through diversification. "We are going to stay true to who we are. We are going to push for how we can take the quality and performance we are known for and leverage that into a market that uses those strategically. We think there is a chance to broaden the business that way, and as far as I'm concerned, it's going to serve us very well," Richard concludes.
www.safeboats.com