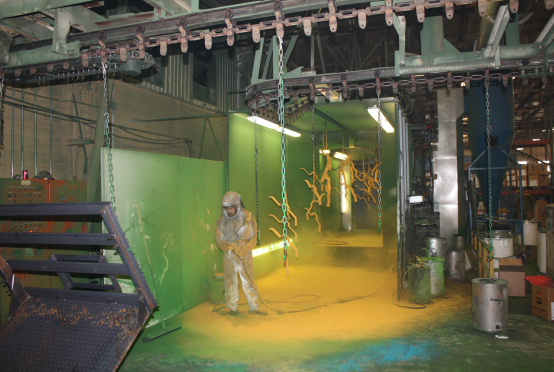 Based in Mississippi, SafTCart is one of the most reputable manufacturers and sellers of gas cylinder carts and related equipment in the nation. With a wide array of product offerings designed for a diverse customer base, SafTCart's modern product development efforts are part of the company's commitment to building on a long legacy of innovation.
"We can trace our roots back for three decades to Walker Welders of Clarksdale, Miss.," Vice President Jim Herring says. "At that time, Jimmy Walker Sr. was interested in the creation of a self-contained cutting torch outfit, but other manufacturers weren't keen on building the cart for him."
Undaunted, he chose to invest in used equipment to built the cart himself. He created the first cart, the 1324 IIE, subsequently producing them in the rear of a gas distributor, where they were welded, painted, hung to dry, outfitted with wheels and shipped to various locations.
Achieving Growth
The Metal Fab Division of Walker Welders was incorporated as SafTCart in 1986, seeking out interest in its products from the gas distributor market sector. Increasing sales came about as SafTCart developed a full line of carts to serve the marketplace. Over time, the company looked to expand, investing in a shuttered school in Dublin, Miss., which was located eight miles south of Walker Welders' original location.
"It was a large enough space for the company to expand, as walls inside the old classrooms were removed and a new conveyor system was installed," Herring says. "This became SafTCart's first official manufacturing facility, where more products were designed and developed. The company showcased its products at national tradeshows, such as those organized by the American Welding Society."
In 1997, Walker sold Walker Welders and its eight locations in north Mississippi to Holox. However, he kept ownership of SafTCart. It was during that year that SafTCart also grew beyond the capacity of the Dublin facility, moving to a location on Highway 322, which had ample space thanks to its previous identity as part of a local logistics company.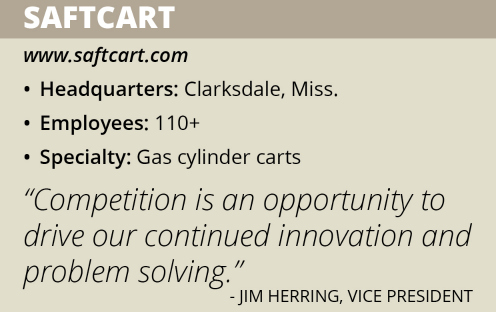 "We moved the equipment in to what was an expansive facility with a lot of room for growth," Herring says. "During the next few years, SafTCart added on to the facility five times plus we were adding wholesalers, buying groups and distributors from across the country to our customer base."
Fast-forward to 2005 and SafTCart needed to expand into a new space once again. That November, the company moved to what remains its current location, situated in the Industrial Park of Clarksdale, Miss. Again the company chose a facility with adequate room for expansion, as it had previously been the site of a mobile home manufacturer and storage space for cotton bales. SafTCart adapted the building for its needs, repairing and painting walls while also installing two conveyor systems.
By the end of 2005, SafTCart had moved pallet welders to its new location, keeping the cart welders back at its previous location. This allowed for production of products to take place at the new location before being transported to the old location for powder coating and shipping. By March 2006, the company brought all of its operations to the same location in Clarksdale, wrapping up its transformation by moving the large powder coating oven used.
"A wall had to be removed from the old facility to move the oven," Herring says. "We had a crane put the oven in place at the new location, adding walls and a roof around it."
Since that time, SafTCart has remodeled two buildings located at the back of the Clarksdale property. One has become the home of manifold assembly and installation into cylinder banks, while the other is utilized for laser and plasma cut parts.
"Those buildings had been used for axle and wheel storage, but we needed more space," Herring says. "We installed a clean room in one of the buildings for manifold parts and assembly. As for the other building, it was totally gutted before partitions were installed and cutting machines, plasma tables and our laser machine was moved there."
Thanks to its current setup, SafTCart can now cut parts that it previously was required to outsource. This allows the company to operate at higher levels of efficiency while providing greater value to its customers.
Ready for the Future
Today, SafTCart's product offerings include oxy/acetylene carts, pallets and cradles for gas distribution systems, delivery carts, medical carts, a line of running gear for the transportation for welding machines, storage products, wheels, straps and cylinder caps. The company also offers firewalls for the safe and reliable storage of oxygen and acetylene cylinders, as well as Pallet Trailers and Trucks for gas distributors.
Additionally, its entire medical line is available for its Saf-T-Coating process, which coats carts in a plasticized layer instead of powder-coated paint for a longer lasting finish. This Saf-T-Coating has noise dampening characteristics for hospitals and laboratory environments plus protects cylinders from wear. Continued improvements are a testament to how SafTCart reinvests with an eye toward the future.
The company continues to look for expansion opportunities, including recently constructing a finished goods building in order to provide SafTCart with more room for product staging and shipping. "We also made additions to our truck bed and trailer fabrication facility, allowing us to build up to six pallet beds simultaneously and essentially doubling our previous capabilities," Herring says.
2016 marks the 30th anniversary of a journey that began when the Metal Fab Division of Walker Welders became SafTCart. Thanks to a successful legacy that has been handed down to a leadership group that maintains the family-owned origins of SafTCart, the company has every reason to be optimistic about its future.
"There is a lot of competition, as many cart fabricators have been emerging," Herring says. "But competition is an opportunity to drive our continued innovation and problem solving."