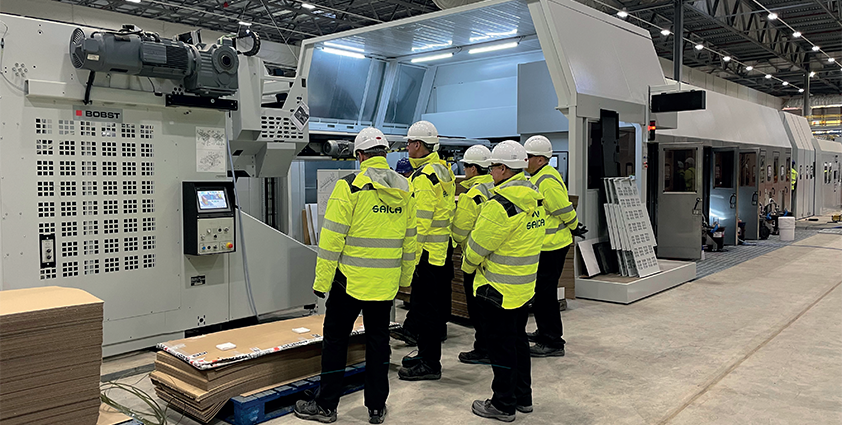 The perfect package
Building on a long history of excellence, Saica Pack is pioneering innovative packaging solutions with a heavy emphasis on sustainability
The origins of Saica Pack, a division of Saica Group, stretch back to 1943, when the company was founded under the full name of Sociedad Anónima Industrias Celulosa Aragonesa (Saica), in Zaragoza, northern Spain. Then, Saica employed as few as six workers at its paper production plant – a far cry from the more than 10,000 it employs today, across Spain, France, Italy, Portugal, the UK, Ireland, Turkey, Luxembourg, the Netherlands, and the US.
"Today, Saica Group is one of the largest European players in the development and production of recycled containerboard paper, with a capacity for production of 3.3m tons of recycled paper," says Ramón Alejandro, President of Saica Group. "Our packaging division, Saica Pack, is responsible for the development of corrugated packaging solutions. In doing so, it sits alongside three further business areas: Saica Paper, which produces recycled containerboard paper; Saica Natur, which provides waste management and environmental services; and Saica Flex, which makes flexible packaging."
Having first acquired its packaging capabilities in 1975, Saica Pack now has 11 locations across the UK and Ireland. In 2022, the division is experiencing a tremendous uptick in demand, a fact that Brian Lister, UK Country Manager of Saica Pack, attributes to the increase in home deliveries, and the growing preference among consumers for environmentally friendly packaging. "Corrugated boxes guarantee greater resistance and safety during transportation, making them an ideal choice for packaging products," Brian indicates. "Thanks to the use of lightweight recycled papers, we believe that our packaging delivers a competitive advantage relative to other materials."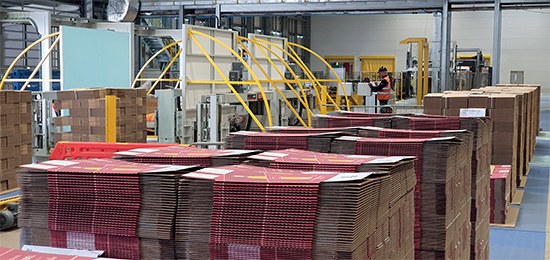 Looking to capitalize on this advantage, Saica Group has released its 2025 Strategic Plan. Consisting of seven major priorities, the plan provides a guide for decision-making within the Group. According to Brian, it's been an instrumental tool in the company's growth. "Continuous improvement of processes, products, and services is key to our strategy, and has been vital in helping us maintain a leading position in the market," he reflects. "Likewise, continued support for sustainable solutions is another key pillar.
"Sustainability is no longer a choice, it's essential," Brian continues. "Our customers are driving it, their customers are driving it, and we are driving it. The clarity of Saica Group's commitment to this has helped us to invest in solutions that are not just important for the planet, but also bring commercial benefits to our customers."
As a testament to its growth, Saica Pack is set to open a new £50m flagship facility in Livingston, West Lothian. It's hoped that the move will serve as a signal of the company's commitment to the Scottish market, and its intention to become a leading provider of corrugated packaging solutions in the region. "We're very excited about our Livingston facility," Brian remarks. "Its state-of-the-art technology will enable us to increase our capacity, and give our customers a top-class product and service with much more flexibility. It's a major investment."
Work across the site is already progressing at pace. "Installations of our new corrugator, rotary die-cutter, and gluers are nearly complete, and we've begun training our operators," Brian confirms. "Another innovation that we're developing is a new customer collaboration facility. The concept will allow our customers to spend time with our designers and innovation project managers, and then walk out with a physical printed conceptual design, all on the same day.
"We want customers to be able to visualize their designs in 3D," Brian asserts. "It's an important part of being able to provide complete end-to-end packaging solutions for our customers. The site will also have a fully automated work-in-progress (WIP) storage system, currently under construction. The first of its kind in the corrugated industry in the UK and Ireland, it will deliver numerous benefits, including energy efficiency gains, increased safety, and fully flexible WIP storage."
Sustainability credentials
The developments at Livingston are evidence of a £230m annual commitment from Saica Group to progress the development of state-of-the-art technologies. "Since our entry into the UK, we've always invested in innovation to help maintain the highest-quality sustainable products and services," Ramón insists. "We built our first PM-11 paper mill in the UK in 2012, which was key to joining up our existing Saica Pack and Saica Natur UK business divisions, and so implementing our sustainable closed-loop model."
Brian echoes this thought. "To see this commitment at the group level is huge, because it gives everyone the confidence that we are going to stay at the leading edge of this industry for a long time," he notes. "Our 2025 Strategic Plan continues that commitment, while also making provisions to ensure that we develop sustainable products and services.
"We're aligning with the UN's Sustainable Development Goals to make improvements in a number of areas," he points out. "We will be the first Saica UK site to recycle water to make starch-based glue for the corrugator. A new effluent treatment plant enhances our ability to remove metals from liquid, and will have the lowest Biological Oxygen Demand (BOD) of any corrugated site in the UK. New printing equipment, combined with water-based inks, will also allow for more efficient wash-ups that use less water."
Future developments
These innovations will add to Saica Pack's impressive credentials when it comes to sustainability. "Saica Scotland already achieves waste recovery of more than 90 percent," Brian says. "At Livingston, we also have a new HVAC system that captures, cleans and recirculates process heat emitted from machines, and an automated flexo cleaning brush system that results in a reduction of 80 percent in chemicals and wastewater. We've also installed a boiler system that is designed to increase production on existing machines but save steam and reduce energy consumption."
"The circular economy is at the heart of Saica's operations," Ramón corroborates. "In May 2020, we joined the Green Recovery Alliance to support sustainable and bio-diverse policies impacted by the pandemic, building upon the European Green Pact, which aims to achieve a clean, zero-emission economy while protecting the natural habitat.
"We've also managed to embed sustainability throughout our operations, working in close collaboration with suppliers and customers to integrate a sustainable closed-loop packaging supply chain," he develops. "This has helped both Saica and our customers to reduce the environmental impact of waste and increase sustainability. Recyclable waste is collected and treated at Saica Natur, recycled by Saica Paper, and then transformed at Saica Pack into corrugated boxes."
In its adherence to, and execution of its vision, Saica Pack profits heavily from the hard work and dedication of its employees. "If we want to be known for our innovation, and our ability to deliver collaborative solutions with our customers, how do we do that?" Ramón asks. "The answer is that we trust our teams. They're our most important asset: we give them license to show how innovative they can be, and to work collaboratively with customers."
As an example of this collaborative approach, Brian points to one of Saica Pack's recent works for a major multinational food business, completed in 2021. "It was an end-to-end consultancy project, investigating what benefits could be delivered by reducing the primary pack size in different ways across a variety of product ranges," he explains. "We collaborated with the client over several months to come up with creative solutions that now deliver huge savings in carbon emissions and cost. That drive to look for improvements is central to the DNA of how everyone in the business operates."
Recent years haven't been without difficulty for Saica Pack. Like all businesses, the company had to work hard to adjust amid the onset of the Covid-19 pandemic. "Because most of our customers produce food and drink, we were acutely aware of our role as an essential link in the supply chain for many goods that were keeping the nation going," Ramón reflects. "To do that, we had to ensure the safety of our own people. We obviously enabled those who could work from home to do so, but our core operations require staff on-site. We implemented several changes to our operational patterns, how people moved around within factories, where machines were located, and how we transitioned from one shift to another."
"Similarly, we worked with our suppliers to ensure resilience and consistency in supply," Brian adds. "It involved a lot of contingency modelling, looking at additional options to ensure we had back-up should one supplier not be able to fulfil an order."
Looking ahead to 2022, the focus of Saica Pack's UK operations is to oversee the opening of its Livingston project. But that's not the only development afoot. "We're also investing heavily into our Wigan operation, consolidating two locations into a single site," Brian says. "Doing so will ensure our competitiveness and future growth in the North West, and enable us to offer the best possible service to our customers. It's vital that we're as operationally efficient as possible in order to stay at the forefront of the industry."
This emphasis on sustainability is one that Ramón expects to remain. "It's a long-term priority, and one about which the business is hugely passionate," he concludes. "Every decision we make has sustainability at its heart, and we're committed both to providing sustainable solutions for our customers, and to improving the environmental performance of our own operations. It's an exciting opportunity for the packaging industry, and we want to drive that change from the front."
Saica Pack
www.saica.com/en/saica-pack
Services: Corrugated packaging solutions