Sailfish Boats from Seminole Marine Group
Sailfish delivers excellence in fishing boats in terms of performance, structure and function.
Sailfish Boats may have started small in 1986 as a builder of saltwater fishing boats, but over the years it has expanded as company's reputation for quality grew. In the early 2000s when people started moving away from owning multiple boats, Sailfish took the quality principles for which it is known and diversified its line to Fishing Focused/Family Friendly Boats so that customers could get more from a single boat.
"We led the way by making our fishing boats much more family-friendly," explains Howard Libin, director of business development. "We never lost sight of our fishing-boat heritage; but instead, added the ability for the boats to serve a wider range of activities. Now, customers can do their hard-core fishing in the morning, take the kids tubing in the afternoon and then take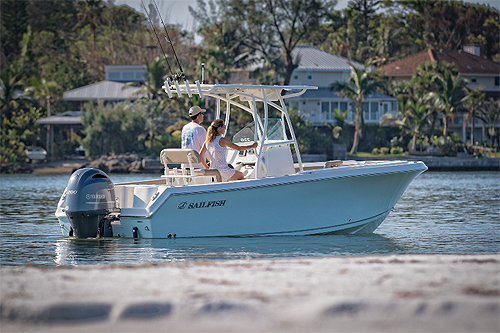 their wife, husband or friends for a ride at night with some moonlight cocktails."
To adapt to the changing market, Sailfish started designing boats with deep-bow seating, deep gunwales and greater overall depths of the entire boat "to keep water out and people in," Libin says, encouraging safety. Sailfish offers 16 different models, including center-console, dual-console and walk-around and bay boats. The company maintains is proud fishing boat legacy at a 30-acre facility in Cairo, Ga.
"Our center-console boats are fishing boats that are family-friendly, and the dual-console models are family boats that we made fishing-friendly," Libin says. "We take the versatility and quality of our boats very seriously. Other companies retrofit boats to have these features, but we design our boats from scratch in accordance with our core boat building philosophies."
Comprehensive Quality
Sailfish Boats are manufactured by Seminole Marine Group, which also manufactures the SouthWind line of deck boats. Not only is quality one of the company's key values, but it maintains this focus by delivering excellence in terms of performance, structure and function.
For performance quality, Sailfish's variable degree stepped (VDS) hull delivers a smooth and safe ride, even in rough water. Additionally, the helm is crafted with easy access to controls on the console, which is large enough to accommodate dash electronics. "The VDS hull is unique to the Sailfish brand and offers a higher-performing running surface," Libin says. "This allows the boats to provide smooth rides and a greater fuel efficiency."
Regarding construction quality, Libin explains Sailfish takes pride in building substantial and durable crafts. "We do a lot of things inside the boats that most will never see but still contribute to greater resale value, and better performance and experience during the use of the boat," he says. "We are NMMA certified by the standards of the American Boat & Yacht Council, and we only use quality materials and employ quality construction techniques to build high-quality boats."
Respecting functional quality, Sailfish takes several years from design to introduction before it's ready to introduce a new model. The company uses feedback from customers and its dealer network to continually improve every generation of boats. Libin stresses that customers understand Sailfish boats are designed by people who love boats and fishing.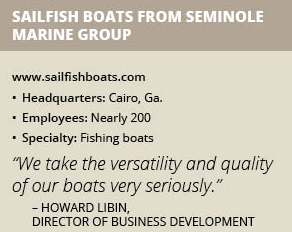 "We bring what we learn from our own experiences into the designs of these boats," he says. "As a result, our boats have intelligent ergonomics, the gunwales are high and the consoles are designed well. Your feet have multiple places to rest, the seats are comfortable, the passage ways are wide enough for real people and there are a lot of places to hold onto. There are cupholders every couple of feet because these days, cupholders are more than cupholders. Everything is where it should be because these boats provide functional quality."
It is the culture of Sailfish, he adds, to ensure quality in its boats. The company has had 35 years of continuous private ownership under Paul Hoppes Sr., who fosters the commitment to high levels of quality, Libin says, and shares that with his family and employees. It focuses on making decisions that lead to the perpetuation of the company and ongoing excellence in its work. Additionally, Sailfish buys American as much as it can.
"We are very bullish on the future," Libin says. "The economy is strong and doing well, so our customers are feeling confident and our dealers are successful. It is very much a team effort – we create quality products and have quality dealers to represent us and keep our customers satisfied."