Raising the pressure
By thinking out of the box, Salamander Pumps has brought new innovation and inspiration to the shower and domestic water pumps market
Established in 1993 as Salamander Pumped Shower Systems Ltd and now known as Salamander Pumps, this Sunderland-based business is a well-established manufacturer of water boosting solutions. A primary port of call for customers looking for shower and whole house pumps for gravity fed installations, and mains boosting in-line pumps and accumulator tanks, Salamander's range is suitable for domestic and light commercial installations. "Our routes to market are generally via the wholesale community, and then onto installers and ultimately householders," explained Chris Vallance, Sales & Marketing Director.
What attracts both existing customers and new clients to Salamander's solutions is the foundation of innovation upon which they are built. The business prides itself on manufacturing a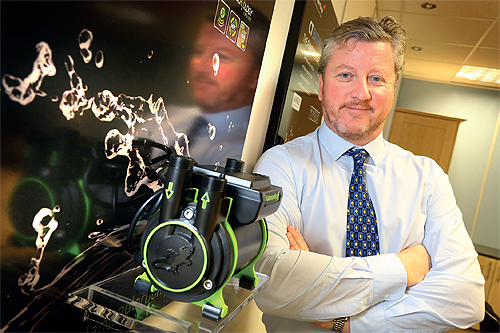 higher quality of product, and today it is known for making some of the quietest, most compact and most reliable pumps on the market.
Looking more closely at the range of pumps from Salamander and Chris noted that in past years, shower pumps had really seen little to no development, and had kept the same, generic design for a long time. Seeking to change that, over the last five years Salamander has completely overhauled its product range, taking feedback from installers and householders and using some cutting-edge technologies to revitalise its offer and launch a whole new and exciting range of products onto the market. "We used the latest highly durable engineering grade plastics to produce a quiet/efficient and bespoke product in our CT range and move away from traditional construction methods," he explained. "Our products are based on a 'platform' design, which enables different SKUs to be produced with minimum disruption to the manufacturing process – a true example of design for manufacture. This innovative approach also reduces the component count allowing for more focus on quality at component level. I would say that product innovation is at the heart of what we do."
A perfect example of this innovation is Homeboost, which Chris described as 'perhaps the most successful and most innovative product we have launched'. "Suitable for boosting mains water, Homeboost is an award-winning product in its own right," he added. "It is an intelligent unit that regulates flow to be legally compliant with the water fitting regulations of 1999, and it will boost the mains water flow to a maximum of 12 litres per minute, which is the legal maximum of water that is allowed to be pumped directly off the mains water supply.
"If a household only has six litres of flow per minute coming into the household, Homeboost will add six litres per minute, and if the household had five litres per minute it would add seven litres and so on, to enable a maximum flow of 12 litres at 1.5 bar pressure."
Chris continued with some more details about the clever technology within Homeboost. "Mains water pressure is at its worst for most households during peak times of the day, such as first thing in the morning at around 7.30am when much of the UK is taking its morning shower. However, at 10am when most UK households are at work, the mains water pressure might then get up to 12 litres per minute, at which point Homeboost will switch to standby mode and simply allow the water to pass through it without being pumped. It is very easily installed and comes complete with three pin plug so there is no electrical requirement to be part P registered."
Highlighting the benefits of Homeboost brought Chris onto another new product, EVE, which he described as 'very much built on the success of Homeboost'. Both products incorporate the use of variable speed brushless motors. "EVE is a shower and whole house pump, suitable for any gravity fed plumbing system, making specification easy," revealed Chris. "The uniqueness of the product stems from its multi-functional approach. Generally, in the UK, shower pumps come in either 1.5, 2.0, 3.0 or 4.0 bar variants and they work in either positive head or negative head modes. Negative head pumps are needed where there isn't sufficient natural flow of water to start the shower pump via flow switches. EVE operates in both positive and negative head applications, therefore eliminating confusion of product selection.
"EVE can also be set by the user to 1.5, 2.0 or 3.0 bar mode depending on their individual pressure preference, and what's more, it will detect when other outlets in the home are switched on, such as a flushing loo, a washing machine or tap and automatically work harder to ensure the shower maintains its pressure and flow."
The market has given a great reception to EVE, and it has been nominated for an award at the 2020/2021 Pump Industry Awards, a recognition which acknowledges Salamander's dedication to finding new and original solutions, and its focus on innovation and smart water performance.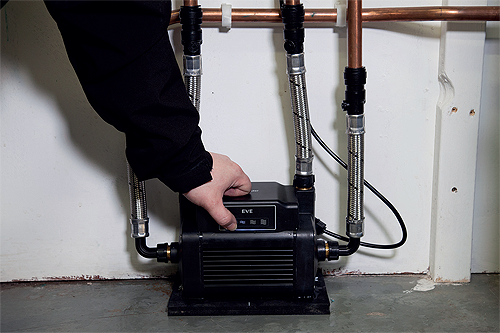 Salamander believes that the EVE product can give the ultimate shower experience, and creating sophisticated products such as this requires not just vision and foresight at the design stage, but also ISO-certified, state-of-the-art facilities, where its teams of experienced manufacturing operatives can put their knowledge into action. Salamander's factory features material storage, manufacturing, and despatch all under one roof, and it has recently moved to a flow-based system to enable more efficient flow and productivity. "We run a lean manufacturing process that enables quick changeover between differing SKUs, and we have designed bespoke manufacturing lines to suit our needs, again giving efficiency gains," said Chris. "Our designs incorporate 'back feed' material to ensure less downtime between changeover, and the right parts, in the right place, are always available to operators. We have also invested heavily in automatic presses to enable consistent results on the assembly of critical-to-quality components. At the end of the process, we have incorporated automatic testing as well, where we carry out 100 per cent testing of our products, gaining consistency of test alongside traceability."
Proud to be a UK manufacturer located in an area with a strong manufacturing culture and heritage, the team at Salamander works hard to not only meet targets but work together as a cohesive unit, with customer satisfaction as the ultimate end goal. "We pride ourselves on our people, and we look to engender a can-do attitude throughout our business," Chris confirmed. "A recent customer experience project launched by the company in 2021 encouraged increased communication and departmental interaction through 'T shaped' working, with an aim to improve collaboration and culture, prevent any siloed working and deliver an excellent customer experience."
This latter point is of critical importance to Salamander – it is imperative that the staff have the client's issue as a priority at all times. In Chris' words, the business: "aims to focus more on providing solutions to a householder's water pressure problems and approach their needs from a solution-based perspective, as opposed to just pushing products."
Such is Salamander's dedication to the customer that it has even created a unique website – www.waterpressureproblemscom – which it designed specifically with the householder in mind, enabling them to identify their problem and walk through to a solution.
While Covid-19 did bring challenges to the business in terms of health and safety (Salamander's Covid protection systems and processes were rated as excellent following an unannounced inspection by Sunderland City Council) it also brought about a phenomenon that has boosted sales and meant that 2020/21 has been its busiest ever year.
"This is the 'upgrade' effect and it has had a significant impact on shower pump sales in the UK," explained Chris. "Householders are staying at home and not holidaying abroad, and they have instead chosen to upgrade bathrooms, add en-suites or install much thirstier shower heads, and those homes with gravity fed systems (cold water storage usually in the loft space, and a hot water cylinder – usually in an airing cupboard) have needed a shower pump to enable a satisfactory showering experience. The business is growing at well over 20 per cent and we have increased our workforce by over ten per cent in the last year and have added a second shift in order to meet the new and increased demands place upon our business."
In tandem with the upgrade effect, Salamander's workload has also been increased thanks to another innovative addition to its range – a new accumulator tank product, called Accuboost. "Accuboost is the newest entry to our mains water boosting product range," said Chris. "As UK households slowly move away from traditional gravity fed systems, our experience tells us that consumers will always want performance when it comes to the pressure of their shower or the speed of their bathfill. As mains fed combi or unvented systems grow, we need to be able to give consumers the water pressure performance they desire, and that is where Accuboost comes in."
Chris believes that boosting mains water pressure is an area where Salamander will be developing further innovative and market-leading products in the future, alongside some other related areas. With its parent company (Davidson Holdings Ltd, a building products conglomerate) favouring a long-term approach, the next few years look set to some exciting developments for Salamander Pumps. "Hopefully we will be seeing a gradual return to relative normality going forward, and I see the business extending its brand reach into other new and exciting areas, and turning what is effectively a small-to-medium enterprise business at the moment, into a significant medium enterprise," he concluded.
Salamander Pumps
Products: One of the UK's leading manufacturers of shower and domestic water pumps
www.salamanderpumps.co.uk