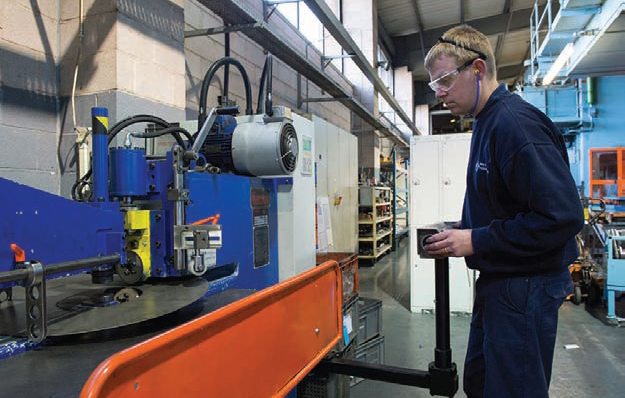 Salop Design and Engineering
A collaborative approach
Not only does Salop Design and Engineering demonstrate a strong manufacturing capability and reflexive approach to the market, but also an exemplary attitude to the wider industry and local economy.
Founded in 1960, Shropshire-based Salop Design and Engineering Ltd has grown from a design agency into a leading UK manufacturer of pressings and assemblies for a range of industrial applications. Mostly serving the automotive, white and yellow goods sectors, the company predominantly operates in the UK but currently exports 20 per cent of its production to Europe and the US. "Today we have mechanical, progression, hydraulic and transfer presses up to 1000 tonnes," explains Commercial Director, Christopher Greenough. "We also have two state-of-the-art powder coating lines on site, and combined with our own haulage firm we are truly a one-stop-shop for all pressing and coating needs."
With the automotive TS16949 quality standard in place Salop has developed a robust range of processes to monitor and maintain delivery, quality and cost to its customers. "We project manage to the customers' requirements and expectations," says Chris. "We really pride ourselves on reacting to customer needs and being fully involved in the supply chain. We have a good name within the industry for metal presswork and have achieved remarkable results in growing the powder coating side over the last three years." As a tier two supplier Salop deals with all of the major UK-based automotive facilities and Germany represents its biggest market outside of the UK.
"We have bespoke, state-of-the-art hydraulic presses that can take customer tool concerns and provide real production options," outlines Chris. "Supplementing this is a full project team that involves top management to make sure customer expectations are fully met." As a result, Salop possesses the ability to process material from 0.4mm to 20mm in-house, as well as a deep draw capability.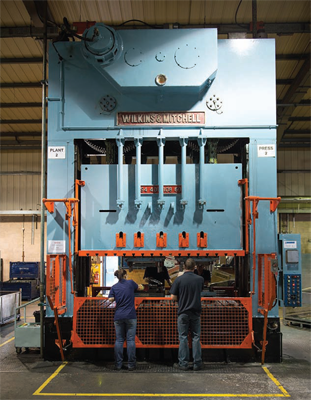 With such a comprehensive technical capability behind it, the company has been able to offer a leading, specialist service to the market. Of note, major contracts in the company's portfolio include the processing of all rear muffler boxes for the Rover 75 car produced in the UK until 2005, and all BMW Mini One and Cooper S rear muffler boxes up until production moved out of the UK in 2006. More currently Chris highlights: "We have taken on a customer's concern about a fuel tank from their existing supplier. In 2004, they moved the tooling to Salop and within two weeks, we had turned the process around to give them a production process that worked."
Despite reaching its leading position in the UK's automotive industry, Salop still felt the full force of the economic recession. "In 2009 when the recession hit the UK automotive industry we relied on that industry for 90 per cent of the company's turnover," notes Chris. "This had a major impact on us, which meant that we had to make redundancies and revisit the site's business model. As a result we invested into our first powder coating line the fourth quarter of 2012 in order to dilute the reliance we had on automotive presswork. Since then the powder coating customer base has grown and in 2015 a second line was added."
An investment of £1.5 million was put into this diversification and is focused heavily on high-end technology. The state-of-the-art facilities now include seven-minute quick colour change booths and 97 per cent recycled powder facility. Such is the rapid success of the turnaround that by the end of 2015, Salop will see a 50/50 split in revenue between automotive and non-automotive industries. "This diversification has not only helped to secure the current workforce, but has also really allowed us to grow," adds Chris. "The predicted turnover for this year is on target and set to be a record year for the company."
However, it is not just into its own manufacturing processes that Salop is investing heavily as the economy emerges out of a recession. It is currently in the middle of a £250,000 investment into renovating and kitting out a training centre for manufacturing. "The centre will be run by In-Comm Training and Business Services and branded as 'In-Comm Training Academy Shropshire'," explains Chris. "When it opens in 2015, it will allow employers in Shropshire to help their apprentices gain the real core skills of engineering. It is set to become a hub for manufacturing businesses to upskill their current workforce, and start their apprentices on the road to adding value to their business."
This outward commitment to serving the wider industry is deeply ingrained in Salop's philosophy as Chris himself is also the President of 'Made in the Midlands', an organisation promoting the local area's manufacturing expertise. Combined with Salop's attitude to continuous training and upskilling within its existing workforce, and an ongoing apprenticeship scheme, it is no surprise that the company became the recipient of the Manufacturing Excellence award at the 2015 Shropshire Chamber Business awards for its work with the local community and young people, and its commitment to the region.
"Since the recession in 2009, we have built the company back up slowly and methodically," concludes Chris. "Whilst there are certainly still challenges ahead as customer demands and expectations are ever increasing, I see a great amount of opportunity for those manufacturing companies that have stayed around, and have become leaner and keener to make the UK a go-to place for manufacturing." With this in mind, the future for Salop is very much driven by growth, with a target to increase turnover and exports by 40 per cent within the next five years by attracting new customers and remaining committed to its existing customers and core values.
Salop Design and Engineering Ltd
Products: Manufactures metal pressings and assemblies
Sites: Shrewsbury, Shropshire, UK