Shaping home comfort
SAM Mouldings has increased its market share following the acquisition of a competitor, as the MDF mouldings manufacturer continues to grow at a pace that enables it to stay on course to realise its five-year growth strategy
Halfway through its 'Vision 2020', Springfarm Architectural Mouldings (SAM) is on track to realise the ambitious five-year plan the manufacturer of medium density fibreboard (MDF)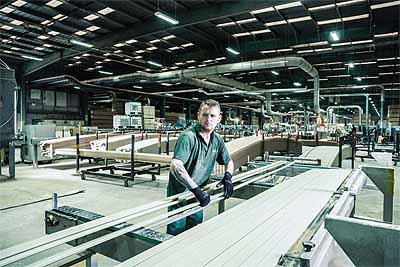 mouldings laid out nearly two years ago. "We are pleased to be where we find ourselves at the moment," comments SAM Mouldings' Sales Director, Gerard Wilson. "The period since 2016 has been one of a continuous post-recession recovery and trying to build a sustained growth, whilst remaining profitable which allows us to reinvest and improve our business when needed. All in all, it has been a really positive last couple of years, and I am looking forward to continuing in a similar vein in the next two and a half years, to achieve what we have projected. At the time of drafting the plan, we thought it was a bit ambitious, but we have always been an ambitious company and we are happy to be meeting our targets at this stage."
Gerard points out the acquisition of one of SAM Mouldings' competitors as the real highlight for the business in the past couple of years, as the operation enabled the company to considerably increase its manufacturing space. "It was a big step for us and an essential part of our strategy for growth. Even just from a psychological point of view, it gives both us and our customers peace of mind to know that we have a new manufacturing facility on the mainland, in Lincolnshire, because around 85 per cent of our trade is within Great Britain," he discusses, adding that the new plant does not differ much from the company's main facility in Antrim, Northern Ireland, just on a smaller scale.
"Our intention for the years to come is to develop the new site and boost its capabilities. It already produces a high-calibre range of primed MDF mouldings and we want to build on its USP's for the future. Improving the efficiencies across the SAM Group is an ongoing process for us and we rely heavily on our dedicated in-house engineering team that is working tirelessly to streamline the manufacturing processes in place. For instance, we recently optimised one of our production lines entirely, which dramatically increased its efficiency. We are confident that by constantly evolving our manufacturing capabilities, we will be able to enhance our product range and release even better products. For the time being, we are nicely set up with production facilities as they should be to meet market demands. We retain our focus on doing what we do that little bit better," Gerard continues.
In the almost three decades of its existence, SAM Mouldings has earned a reputation of being an industry-leading provider of an extensive range of MDF mouldings in a wide variety of profile designs and sizes to suit any décor style, either traditional or modern. While the company offers various finishes, it is still the pre-primed MDF moulding that can be rightfully named its trademark product. Gerard elaborates: "We are certainly recognised as a market leader in the supply of this type of product to the construction industries in the UK and Ireland, and I believe, we have strengthened our position further in recent times. Where I see our advantage, is not just in the broad product range, but, more importantly, in the service package we offer. We are able to create a proposition that combines a product of the right quality, delivered on time and in full, and at a competitive price. It is then the consistency of our offering that makes us stand out from the competition. We have assembled a really strong commercial team, which promotes and sells our products in a way that is best for the business and in line with market demands."
Unsurprisingly, the ongoing commitment shown by SAM Mouldings in gathering the right staff, earned the company a gold accreditation against the Investors in People Standard in October 2017. The family business was recognised for its superior people management practices by what is the international standard in the field, defining what it takes to lead, support, and manage people effectively to achieve sustainable results. The achievement is doubly impressive, given the fact that SAM Mouldings has increased its workforce from 90 to 190 employees in just two years at the time of the award presentation, once again highlighting the dexterity of the company's senior management team in creating and nurturing a positive work environment for all employees to benefit from.
Digging deeper into the current market conditions and the ongoing hot trends within the sector, Gerard gives his explanation of why SAM Mouldings is witnessing a particularly successful period for its fully-finished MDF skirting and architraves, especially when serving the DIY industry. "Generally, people are becoming more conscious of the benefits of buying fully-finished products, and they are willing to pay a bit more just to eliminate the hassle of having to paint their skirting boards and architraves. We have been working in Europe with some export partners, mainly in the Benelux but also in other markets, and we can see this mentality manifest itself on the continent. Customers are inclined to buy something that is either semi-finished or even fully-finished to reduce labour time onsite, and I think the UK will catch up on that fashion in the next few years," he predicts.
The horizon before SAM Mouldings looks clear for the Northern Irish manufacturer to continue meeting its goals and remain in a comfortable position in the market. The business has a clear vision of what its next moves have to be, in order to extend its success in time, and Gerard shares his recipe for the future. "What is key for us now, is to continue to listen to the customers and to the market trends, and make sure we are on the same page with those. Our aim is to move with the industry and accommodate its needs, thus keeping ahead of the competition," he sums up.
SAM Mouldings
Products: Internal and external MDF mouldings