Moulded for success
With over 25 years of industry experience, SAM manufactures an extensive number of MDF internal and external mouldings available in a variety of finishes including primed, unprimed, fully finished or wrapped
Based in Antrim, Northern Ireland, Springfarm Architectural Mouldings Ltd. (SAM) was founded by Sam and Julienne McCrea in 1990 and today continues to operate as a family owned business. The company was established with the core values of teamwork, integrity, respect and loyalty and has since grown from a handful of employees to 180 dedicated members of staff. Throughout its history SAM has remained highly committed to its people, which was exemplified in 2004 when the company became the first manufacturing business globally to achieve
Investors in People Champion status. During October 2015 the team at SAM celebrated the company's 25th year in operation, through both buoyant and challenging market conditions, throughout which the business has maintained its commitment to its core ethics.
"We have always worked to the ethos of looking after our people and we are immensely proud of our team. It is what has built this company over the years," exclaims SAM Managing Director, Richard Holmes. "The company has enjoyed a large amount of growth during the past 25 years despite the difficult recession, which had a major impact on the industry. SAM started its journey supplying materials to builders' merchants within Northern Ireland and has since grown its customer base to include new territories covering the UK, Ireland and Europe and new markets including picture framing and kitchen manufacturing. More recently we have formed relationships with architects, contractors, housebuilders, joinery workshops and offsite construction companies to highlight product solutions that would benefit them and their building projects."
SAM manufactures and delivers a comprehensive range of high quality MDF internal mouldings in a wide variety of profiles available primed, unprimed, fully finished (SAM Zero) or wrapped (SAM Wrap). SAM Zero is an innovative UV gloss finish that eliminates the need for on-site painting after installation, and therefore reduces overall cost for the customer. SAM Wrap is a cost-effective alternative to traditional wood mouldings with the added benefit of negating knots, twisting and warping. The company also provides the marketplace with an extremely durable fibreboard (SAM Trimax) for use in external projects such as cladding, facades, fascia, soffit and decorative bargeboard. These are available in any RAL colour and are manufactured to the bespoke requirements of the customer.
"Our core business is to produce primed internal MDF mouldings such as skirting board, architrave, door linings and windowboard. Our other product ranges (SAM Zero, SAM Wrap and SAM Trimax) add value for the customer, whether that is by reducing installation time and costs, minimising waste, reducing maintenance costs or delivering an extended product guarantee," Richard elaborates.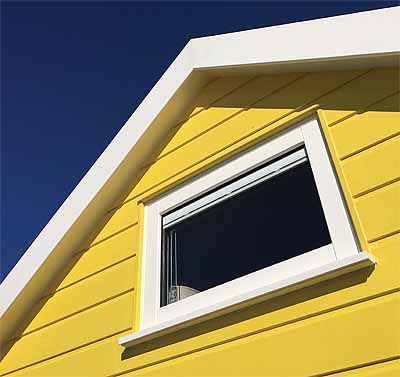 Whilst market conditions have been tough over recent years, SAM has continued to invest in both its people and equipment in line with demand. During the past three years for example, the company has doubled its workforce from 90 to 180 employees and has invested more than £2 million into new factory equipment. As demand within the construction industry increased, this investment ensured SAM was still able to offer the same quality product and service to its customers. "We have introduced a number of measures to ensure we could cope with the economic upturn such as hiring a weekend shift, meaning the factory is operational seven days per week. We also streamlined our production flow, which improved our efficiencies," Richard explains.
The company also recently established a New Product Development role to explore opportunities within the industry and a Marketing department to develop effective communication channels between SAM and its target markets. The first major project was the launch of the new customer-focused company website, which allows visitors to easily navigate through the information they need. Over the coming years SAM will continue to increase its market share. "We have a five-year plan during which we intend to double the company's turnover and increase profitability," Richard concludes. "We will be launching new products and services and targeting different markets and territories. We have worked hard to get to this stage and we are excited about what the future will bring."
SAM
Products: The UK's leading manufacturer of MDF mouldings