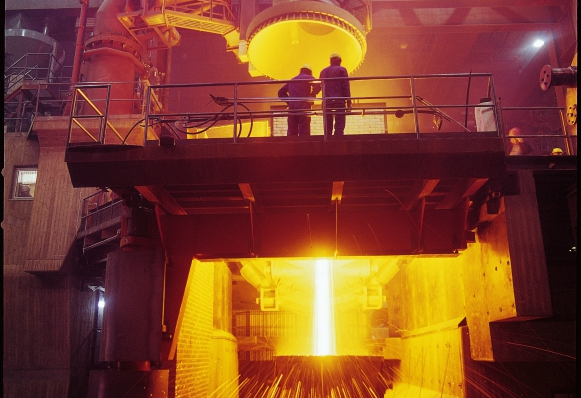 Sandvik Materials Technology
Sandvik Materials Technology and its parent company, Sandvik, have long been ahead of the innovation curve. The company, founded in 1862 by Göran Fredrik Göransson, was one of the first to use the Bessemer process by acquiring 20 percent of the patent to make low carbon steel. Sandvik's brand name was first established in the United States in 1876. It is also a pioneer in the development of 300 and 400 series stainless steel alloys for the GMAW, GTAW, SMAW, FCAW, SAW wire, strip and associated fluxes.
Today, the company is known for its duplex alloys, which combine properties found in 300 series and 400 series ferritic stainless steel alloys. Duplex alloys are available in several versions with increasing levels of strength and corrosion resistance known as lean, standard, super- and hyper-duplex. Superaustenitic and other specialty grades are also part of the Sandvik portfolio. "The technical expertise that Sandvik has within the industry in the development and support of new alloys is what we are most proud of," Technical Manager and Applications Specialist Frank Babish says.
Sandvik Materials Technology continues to improve on the quality of its stainless steel and nickel-based alloy products. The company recently introduced high-silicon versions of its standard duplex and will soon introduce a high-silicon super duplex welding alloy. A new grade of stainless steel that can be used to manufacture boiler in coal-fired power stations – Sanicro 25 – is also being introduced.
Sanicro 25 and the new duplex alloys will be among the highlights of Sandvik Materials Technology's booth at the FABTECH expo in November in Chicago, Babish notes.
Sandvik Materials Technology is one of three groups within Sandvik, a Sweden-based global engineering company. The company's other groups specialize in metal cutting tools and systems, and mining and construction equipment and tools.
Offering Expertise
Sandvik Materials Technology develops filler metals of stainless steel and nickel-based alloys that are used in a number of welding processes. Sectors served by the company include the petrochemical, pharmaceutical, transportation, automotive and offshore oil industries. "We have sales offices in 130 countries around the world, and in many of those we have a dominant market share," Global Product Manager Peter Stones says.
Specialized applications for the company's products include components used in nuclear reactors. Sandvik Materials Technology's metals are also used to manufacture vessels used in fertilizer manufacturing. These vessels handle highly corrosive materials such as nitric acid, sulfuric acid and urea.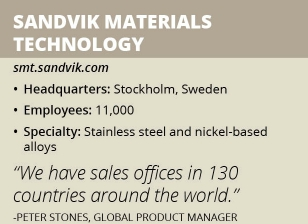 Sandvik has products for weld overlay cladding that can be deposited at a rate of up to 90 pounds per hour and in a single layer, whereas conventional processes can achieve only 12 pounds per hour and may require up to three layers in order to achieve the chemistry required.
In addition to producing stainless steels and alloys, the company also provides technical support to the fabricators utilizing its products. The special properties of the duplex alloys require careful control on parameters used in the welding process including joint design, heat input, interpass temperature and shielding and backing gases. "Many of our alloys require very specific welding procedures," Babish says. " For the correct corrosion resistance with mechanically sound welds, you need specific welding procedures, and that's where we can provide expertise.
"We help our customers avoid cracking, corrosion and other failures to weld correctly the first time," he adds.
The company offers a line of welding products as well as on-site service to fabricators. Sandvik Materials Technology's most recent welding-related products include a covered electrode used in underwater welding and a smartphone app that offers technical data and other information to fabricators.
Sustainable Solutions
Sandvik Materials Technology's manufacturing process begins in its facilities in Sandviken and Hallastammer, both in Sweden, where metal and is melted in five- to 70-ton heats. Molten metal further goes through an argon oxygen decarburization process before it is transferred to a continuous casting machine. The material is cast into billets, which are sliced into one-ton pieces.
These billets are first hot rolled and sent to a plant in Fagersta, Sweden, where they are hot rolled into coils. Coils are shipped to plants in Sandviken; Mogi, Brazil; or Scranton, Pa.; where they are drawn into wire. The wire facilities also spool, pack and ultimately ship wire to customers.
The company also operates facilities that process billets into other forms including tubes, strips, bars and net shapes. "The fact that Sandvik is fully integrated is our biggest strength," Babish says. "Being integrated gives us consistency, which is very important when it comes to applications such as robotic and automated welding."
Sandvik Materials Technology's facilities carry a number of certifications including AS 9100, ISO 9001, ISO 14001, ASME Section III, CWB, CE, DB, TÜV, DNV, U.S. government and OHSAS 18001.
Sandvik operates its manufacturing operations in a lean and sustainable manner. Roughly 75 percent of the materials melted in the company's Sandviken and Hallastammer facilities are recycled, and the company is also very strict in its use of chemicals in its manufacturing processes.
Several of the company's products are also designed to reduce its customers' environmental impact and increase efficiency. "We are committed to offering sustainable solutions to our customers, many of whom operate in segments with rigorous sustainability requirements," the company says. "We continuously strive to improve our processes by having a strong internal governance framework with clear policies and guidelines which support us in value-creating decision-making."