Sarginsons Industries Ltd
Lightening the load
Sarginsons Industries is one of the few European companies to offer gravity diecasting, sandcasting, and low-pressure diecasting in a single foundry. Its customers benefit from synergies because it can combine elements of each diecasting process
Sarginsons Industries has few competitors in Europe, and while some of these are larger in size to Sarginsons, it has the edge in terms of technology, and recently announced a brand new development that will prove invaluable in the future of the automotive industry. In particular this will be crucial in lowering emissions, and facilitating the predicted boom of electric cars. Considering the company is already fully expecting to have a record year, then its future looks even more promising and it has everything in place to take advantage of these growing opportunities.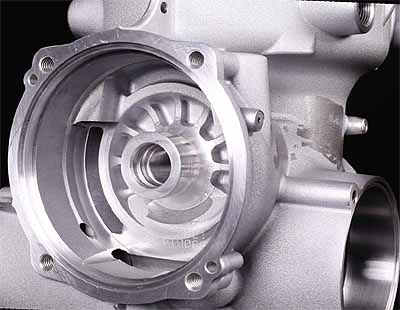 The company, which is celebrating 80 years in business in 2016, is a specialist in the casting sector, and it was the owner Mark Nunan that provided an overview of the main methods that it utilises: "There are three that we specialise in – one is sand casting, and this is for short run components, so mostly prototypes for the car industry, and prototypes for the aerospace industry. The next one is gravity casting which is a low to medium quantity of parts, again this tends to be within automotive work, but also a lot of aerospace applications as well, in addition to this it is used for oil and gas requirements. The third part that we do is called low pressure casting – we have great experience in this and it is proving to be increasingly useful due to the drive towards lightweight vehicles."
Sarginsons is at the forefront of the casting industry, and in order to retain its position the company is investing in improving its facilities and tools, and Mark listed some of these: "We are looking at spectrographs, 3D digital scanners, and a new £250,000 X-ray machine that will penetrate even deeper into a product. The machine uses multiple 3D X-rays to build up a computer tomographic picture of the microstructure of components, ensuring better structural integrity – this is most important when we are working on anything safety related.
"We're also looking to invest in another low pressure machine which is around £200,000, and last but not least we will be adding a new automatic sand core machine to enable hollow castings."
Sarginsons has recently made an exciting development, which Mark was able to discuss: "Under the Catapult scheme by the government we have recently been working with Brunel University and Jaguar, and helped develop a new lightweight aluminium alloy that is as strong as steel and totally recyclable."
This will affect a developing sector within the automotive industry – electric cars, and this area looks likely to transform the landscape of vehicles. The rapid change will rely on the development made by Sarginsons, and Mark outlined this situation: "Currently electric cars are limited by their battery life, so if we can get 600 miles out of an electric car then it can compete with a tank of petrol, but they are not able to do this at the moment, and some are running at about 300. However, one of the ways that the battery life can be extended is by reducing the weight of the car. Therefore, if we can take out the steel chassis and replace it with a lightweight aluminium one – reducing 50 per cent of the weight – then the distance is going to go up significantly. There is a clear drive towards electric cars, and there are figures suggesting that by 2020 there is going to be as many electric charging stations in the UK as there are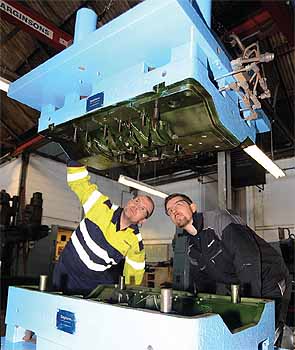 petrol stations. The changes that are going to come in the automotive industry from electric cars is going to be absolutely phenomenal, and the volume of business is off the chart – electric cars are coming."
Another solution Sarginsons provides is related to changes in emissions testing, which Mark was able to explain: "For us, our new technology means that we can make something that is as strong as steel and make a chassis with all the benefits of being steel, however it is made from aluminium that is hollow and lighter. This means in terms of emissions, in terms of CO2, in terms of efficiency, it is significantly better – which is an important issue following the recent emissions scandal that has led to the real world emissions tests coming in 2016.
"Real world testing will show that the mileage per gallon actually achieved could be 40- 50 per cent less than those claimed at present – and one way they will be able to do this is by reducing their weight – that is what we do – we take the weight out of cars without losing any strength or flexibility."
In addition to this Sarginsons work is enabling the long awaited ambition to enable circular manufacturing – meaning that everything that goes into a car will be able to be recycled and made into a new vehicle.
The future within the automotive industry looks as though electric cars will play a major role, and this is something that Sarginsons fully expects and is fully prepared for, and Mark concluded how positive the coming years looks for the company: "The automotive industry in the UK is particularly buoyant, but I think increasingly there will be a shift towards electric vehicles, and this could multiply the size of Sarginsons by a factor of three or four, meaning we could easily grow to be a £20 million turnover company. The lightweighting of electric cars is going to be critical to the vehicles' success, and we have the technology, we have the alloys, we have the casting techniques to make this possible."
Sarginsons Industries Ltd
Services: Gravity diecasting, sandcasting, and low-pressure diecasting