Circuit boards are complex electronic components, made up of thousands of parts, some as small as a grain of sand. If there is a defect in the finished boards, the customers can't easily send them back when buying overseas. Or if the client wants to make a last minute design change to the amount of Ohms the resistor can handle, it's difficult to halt production when there is a massive order next in line.
But because it is located domestically, SAS Manufacturing has the flexibility to quickly make those changes and quality checks and send the finished products to the customer without disrupting the supply chain.
The company's advantage lies in its ability to turn orders around in a short time frame. An overseas manufacturer might be able to produce a circuit board for less money – depending on the cost of logistics – but it can't beat SAS's ability to react. "They're not as flexible as we are locally," President and owner Ted Smit says.
Smit was working as an electronic engineer in 1992 when his wife, Sharon, started a home business that made cable assemblies out of their garage. The couple decided to go out on their own in 1995 and moved into a 1,000-square-foot building where the newly formed SAS Manufacturing produced small-run assemblies and prototypes.
Today, SAS's 50 employees work out of a 25,000-square-foot facility in Corona, Calif. The company manufactures a range of electronic circuit board components from simple cable assemblies to high-tech fine pitch surface mount assemblies for about 60 customers. These components are found in airplanes, gaming devices, guitar amplifiers, irrigation control equipment, security alarms and automobiles. "We really don't have a product of our own," Smit says.
"We fill a niche," he continues. "There are a lot of American companies out there that build products that need local support when it comes to electronic assemblies and cable assemblies."
SAS can fulfill small- and medium-volume orders. The typical production run can range from 100 pieces to more than a 1,000. One customer in the automotive industry even purchases a half-million small circuit boards each month.
In some cases, SAS's customers procure and supply the materials and SAS handles the manufacturing. However, the turnkey model has become more popular among OEMS. Using that approach, SAS is also responsible for procuring the bill of materials in addition to assembly and production.
Some customers solely sell electronic equipment and have no manufacturing resources of their own. For those kinds of clients, SAS is a more involved partner, helping with everything from refining the initial product design to prototyping and volume production.
SAS even provides box-build assembly where it puts the completed circuit board in a housing enclosure. It can then be shipped directly to the retailer or end-user without the customer ever needing to take possession.
Through its extensive services, SAS provides support for both startup companies and established businesses that don't want to invest in their own production resources. "We are an extension of those companies," Smit says. "We are their manufacturing arms if you will."
Embracing Automation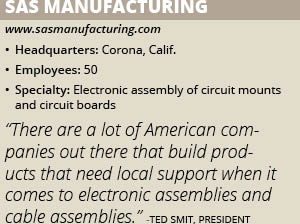 Cheaper overseas manufacturing labor puts constant pressure on American companies to become more cost-efficient. "In order for us to be at all competitive we have to be lean," Smit says. "We have to save costs."
SAS achieved greater efficiency by investing in automation. Instead of hiring more expensive employees, machines do much of the work. The company started with one pick-and-place machine, but after seeing the impact on production speed purchased 14 more. Additionally, SAS has 11 lines of surface mount placement equipment used to attach parts to a circuit board, some of which can place as many as 35,000 parts an hour.
The company's investment in automation extends to how it approaches quality assurance. Each production line is outfitted with automatic optical inspection (AOI) machines that use electronic equipment to inspect components. The AOIs are integrated into SAS's manufacturing line, ensuring the every piece is thoroughly checked throughout production.
The AOIs are an integral part of SAS's manufacturing process, but its commitment to quality begins before production even starts. When sourcing materials, some clients require SAS to purchase only components with a certificate of compliance. The ISO 9001-certified company also conducts thorough reviews of all its own suppliers. "We only use qualified, reliable and certified vendors," Smit says.
When choosing which vendors to work with, SAS does not want companies that act purely as brokers. In Smit's experience, brokers that sell an integrated circuit or similar product sometimes recycle components, leading to quality issues.
However, industry suppliers such as Quest Components can guarantee that the product ordered meets standards. Quest specializes in high-quality passive and active components such as capacitors, resistors and semiconductors. During the entire 12-year history between the two companies, SAS has never once returned a Quest product.
Demand-Driven Growth
When a company has a reputation for reliability and quality, it can easily become overwhelmed by new business offers. The Smits are taking care to grow SAS at a manageable pace by keeping a close watch on customer demand versus current capacity, leaving enough room to take on new clients.
The growing interest in SAS's electronic circuit board components has Smit thinking about the next steps for the company. A larger facility will likely be needed by sometime next year, but the company is still debating how the expansion will happen, whether through an addition or a move to a bigger building.
SAS's knowledge of the electronics industry and its ability to assist clients has earned it the loyalty of its customers. "We've only grown our customer base," Smit says. "Really none of them have left us since they came to us."
Those lasting business relationship are a testament to the company's expertise and service. "We're not just a job shop outfit," he adds. "We strike a partnership with our customer. We feel the importance of being able to deliver a product to them as if it were our own."