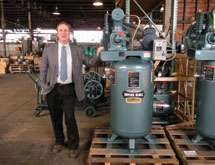 Saylor-Beall Manufacturing Co.
Saylor-Beall Manufacturing Co. has been producing air compressors for nearly a century, but despite all those years, it is not ready to slow down. In fact, it has done just the opposite as the company continues to innovate in design and production to stay an industry leader.
President Bruce McFee says the family owned Michigan-based company is able to compete with multinational corporations because of its dedication to creating lasting, quality products since 1915. "We have just focused on doing a good job," McFee says. "We have new equipment and have spent a lot of time paying attention to the needs of our customers and found distributors who wanted to sell a better-quality product."
Saylor-Beall produces commercial- and industrial-grade piston-type air compressors that range from 1.5 to 30 horsepower.
Improving Daily
Saylor-Beall created its own patterns for castings, which include cylinders, crankshafts, intercoolers, cylinder heads, connecting rods, manifolds and other parts that go into its air compressor pumps. Those pieces are machined on flexible machining centers that do the milling, boring and grinding, McFee explains. "There are always things going on in manufacturing and having control under our own roof, we can monitor the quality of our products," McFee says. "We test them so they are 100 percent reliable to go out to the customers."
All inventory is tracked on the company's fully integrated computer system. Since items are always accounted for using safety stocks, component parts are rarely out of stock and faster delivery times are possible. "If there is a problem, we have time to react before the part might affect assembly," McFee explains.
Turnaround times range from two hours for a 5 horsepower air compressor to eight hours for a 30 horsepower compressor. McFee says some orders can be shipped within 24 hours but special orders can still take a few weeks for delivery.
Product Expectations
The top priority at Saylor-Beall is to give customers a reliable, hassle-free product. Responsibility for selecting the right equipment falls on a number of experienced distributors that consider the customer's energy, operations, maintenance and repair costs and any special requirements.
Life expectancy of an air compressor is anywhere from three to 40 years – depending on the amount of use. A compressor that runs 24 hours a day, seven days a week won't last as long as a machine that runs 10 times a day, a few days per week. McFee says some compressors have lasted decades. "We have learned through a lot of trial and error to make pumps 100 percent reliable so they don't have to be reworked," McFee says. "That's a huge benefit. Do things right the first time and it saves money."
New Features
In one of its most recent innovations, Saylor-Beall has worked to reduce the problem of oil and water that contaminates the compressed air system and air lines. The company, along with a specialty supplier, has designed a piston ring specifically for air compressor applications. McFee explains that most piston rings are designed for engines, in which combustion forces the piston down. Those types of rings allow oil to build in the compressor's lines. The new Saylor-Beall piston ring is designed specifically for an air compressor, with a special angle that forces the oil back down and away from the air lines.
"We have gotten very good test results," McFee says. "To prove quantitatively how we are doing, we have oil consumption down to two to three parts per million, based on the mass of air to oil. That's very low." Decreasing oil in the lines is a benefit to the customer because it makes the system easier to maintain and the filters last longer, McFee adds.
About four years ago, Saylor-Beall was also able to secure an Underwriters Laboratories certification to build alternative control panels. "Some of our products are sold as a duplex operation; we need an electrical control to run it and there isn't one available on the market," McFee explains. "We have continually looked for newer innovations."
Staying Home
In spite of overseas competition, McFee boasts his products will continue to be made in the United States. "We have upgraded our design, focused on the need of our customers [as well as on] reliability and longevity to compete with the low-cost competition," McFee explains.
When McFee's group purchased Saylor-Beall in 1985, he remembers, there were about 15 family owned air compressor manufacturers. Today, nearly all of them have closed or were sold to multinational corporations. "We provide a good product to the customers, good jobs for people in the community and we have just been a very stable employer and supplier to our customers," McFee says as to why his company has stayed in business for almost 100 years.