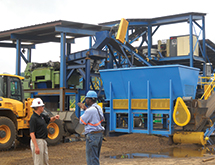 PSC Metals is upgrading its shredding technology to gain even greater separation of ferrous and non-ferrous metals from non-metallic and waste material. "We have materials that still go to the landfill," Vice President of Operations Services Denzil Boss says. "We now, in our industry, have the technology to recover more metals out of that stream."
The 16-year-old scrap metal processing company has acquired smaller scrap metal businesses through the years and expanded its operation to 52 locations throughout the north, midwestern and southeastern United States. Today, the company considers itself a specialist in the shredding process. "We are truly a scrap metal processor," CEO Bob Brewer says. "We take anything from basic iron and steel to precious metals. We handle anything that has metal and pulverize it."
Scrap metal is recovered from a variety of sources, including people cleaning out their garages on weekends, peddlers looking to trade metal for cash, other scrap metal dealers, factories and demolition projects. When an item such as a refrigerator, toaster or automobile has reached the end of its useful life, PSC Metals' shredders break the item into manageable pieces to be further processed and separated for its metallic value. The shredder, also known as a fragmentizer, can tear an automobile into fist-size pieces, Brewer says.
The company's 10 shredders have scrap-shredding capabilities of more than 200,000 tons per month and can "chew up" a half-ton pickup truck in less than 30 seconds. "PSC Metals is heavily invested in the shredding process," he adds. "Because we dedicate so much time to shredding, that's our niche. That's our job and we focus on that."
Once the shredding process is complete, a downstream separation machine extracts any metal from the waste material. "The downstream separation machinery is very sophisticated," Brewer says. "It accomplishes separation through multiple means, including sensor sorting, which is an electronic process." The sensing equipment identifies metal based on chemistry and density. After the process is complete, PSC Metals sells the scrap metal to steel mills and foundries to be repurposed, Brewer says.
Shredding Technology
PSC Metals' downstream shredding technology focuses on the removal of non-ferrous metal in shredded residue after the ferrous metal has been separated. The company's focus in 2014 is to build new facilities and update its existing ones to have the best available recovery capability for all of its flow, Boss explains.
The company's southern region recently commissioned a new facility in Chattanooga, Tenn., and is upgrading its Knoxville, Tenn., facility. The Knoxville upgrades are expected to be complete in fourth-quarter 2014. In the company's northern region a new location is yet to be determined, but expected to open in first-quarter 2015. PSC Metals is evaluating its options for installing a new facility in the Midwest region. The new growth will also require about 85 new positions to be filled throughout PSC Metals' facilities.
The benefits of installing the latest downstream shredding technology include recovering more metal, having more products to sell into the market and avoiding landfill costs. "The equipment will upgrade the purity of these metals from what we are at today," Boss explains. "Instead of selling, for example, 30 percent metal and 70 percent waste, we will sell a much higher purity directly to the market."
Another benefit of the shredding technology is that it gives PSC Metals a competitive advantage, President of the Southern Region Tim Brose says. "We need to stay on the cutting-edge or we will get left behind," he explains. "These downstream improvements will help us remain competitive and get extra value out of our processes."
Andre Pujadas, president of the northern region, says PSC Metals is embarking on a new era with this technology. "It allows the company to grow," he adds. "In the North there is a tremendous amount of competition. This will give us profitability and revenue from the downstream side."
PSC Metals is not the first scrap metal processor to acquire this technology, but the high price has deterred some in the industry. "Over time it becomes cheaper," Brewer says. The company partners with two different vendors to ensure honest pricing and payback on its investment, CFO Ron Kline says. "It's got a great investment payback," he adds. "Many of us have seen with previous companies we worked with and other vendors that this technology is proven. We are looking at compelling payback ranges."
Recycling More
The new downstream technology is extracting true metal, Brewer notes. "It's a new source of metal that would never be in the recycling stream," he explains. "We are on the cutting-edge. People in our business will be talked about for decades to come. It's taking more out of landfills and recycling. The amount of metal going into landfills is a global issue; this is not something that's unique to the United States."
The industry is cleaning up its act when it comes to recycling metal. One major change is that companies are no longer "dumping" waste to China. "At one time, anything with a lack of proper separation – for example rubber or plastic that is still connected to metal – would have been considered an off-grade and export item," Brewer explains. "China now has sophisticated standards on their imported products. That change has been incredible. Now, an export product is just as clean as domestic anything else."
Companies looking to export metal, but that do not have the capabilities to separate the metal from non-metallic material and waste, have to sell to a company such as PSC Metals that has the capabilities. "We are trying to make sure even the tiniest, little pieces that have metallic value aren't sent to the landfills," Brewer says.
PSC Metals considers itself a recycling center for the communities it serves – not a junkyard. "Recycling is a quality of life issue and we need to educate the community on recycling metal," Brewer says. To do its part in recycling, the company has transformed its Harriman, Tenn., location into an aluminum-only shredding facility. "That's fairly uncommon," Brewer says. "We have a specialty measuring device that can tell you the chemistry of the material as it passes under a belt."
Aluminum cans are created only by perfect chemistry, Brewer explains, which makes recycling essential. "The easiest way to achieve the desired chemistry for new aluminum cans is to use recycled aluminum cans as can stock, but that it is not enough to support the need for the beverage can business; so the controlled chemistry shred from PSC is an import remelt product," he emphasizes. "It takes only 30 days from the time you throw your can into the recycling box for the can to get back into the fridge full of a beverage. That's why this facility is so innovative."
The downstream shredding technology will allow PSC Metals to continue its mission to be a good corporate citizen by looking out for the environment and environmental waste. "It's about making ourselves accessible and letting people know what we do and encouraging this to be a behavior for people," Brewer says. "This is a community recycling center. The old junkyards are still out there, but this is a new way to look at recycling. It's community recycling versus the junkyard."
Giving Back
PSC Metals provides much more in each of the communities it's located. The company strives to make a difference through charitable donations, sponsorships and volunteer work.  Some organizations the company has supported include The Ronald McDonald House, The Judevine Center, Earth Day, City of St. Louis – America Recycles Day Expo, American Diabetes Association, National Multiple Sclerosis Society, Hurricane Katrina Relief Fund, The Darryl Strawberry Foundation "Fight for Autism" and Saint Louis Men's Group Against Cancer.
The company also focuses on providing career advancement opportunities and growth within the company for each of its 1,000 employees, Brewer says. "We want to be recognized as the employer of choice," he adds. "We have very little turn over; most people who come to work for us stay with us."
Through Good Times and Bad
The scrap metal industry can thrive in almost any economy. In a poor economy, peddler trading flourishes because people are looking harder to find scrap metal for extra money. "When the economy gets tough, people work all that much harder to try and find things to sell for scrap," Brewer says. "Farmers will pull old vehicles from the back of their barnyards or buildings will get torn down to create revenue. Sometimes the scrap metal volumes get a boost from this sort of thing."
When the economy is good, people are spending money more freely and not hanging on to older items. For example, consumers trade their used cars for newer versions and those older vehicles find their way to the shredder more quickly. "When there is a good economy and people are buying new homes, cars and stereos, there is definitely a boom in our industry," Brewer says. "The demand for our finished product goes up greatly while disposing of older items."
The automotive and construction industry have not shown improvement yet this year, but Brewer notes he has also not seen a decline in either industry. Meanwhile, the oil and gas industry is booming and creating the need for more steel and piping. "There is a cautious optimism out there," Brewer says of the future.
To take advantage of possible growth in other industries, PSC Metals is focusing on becoming the premier company in scrap metal processing. Over the past year, the company has attracted new employees, who are eager to improve the scrap metal business by coming up with innovative ideas and ways to conquer the industry, Brewer says. "That's been the single-most fulfilling thing that's happened to me in the last 18 months," he adds. "It's a good feeling and we want to continue to be at the forefront of scrap metal processing."