Sweeping the globe
Scarab Sweepers is a leading manufacturer of truck-mounted road sweepers with a long history of environmentally-friendly product innovation
Established in 1979, Scarab Sweepers began life as an innovative family business. In the 1980s Scarab pioneered the development of a single-engine Truck Mounted road sweeper with the release of the Major 3000 arriving in 1988. And this
innovation set the foundations for a company that, today, is the leading proponent of Ltdsingle-engine, eco-conscious products.
"Even back in the 1980s when it wasn't topical or fashionable, Scarabs main ethos revolved around environmentally-friendly, single emission sweepers, and it remains as important to us now as it was back then," Scarab's Business Development Manager, Andy Farley says.
In 2011 Scarab became a member of the Fayat Group, and together with French company Mathieu, and Dutch company RAVO form the Fayat Environmental Solutions division. With over 150 years of combined experience, the division is committed to a clean future through the deployment of its broad range of sustainable sweepers for the compact, mid-size, truck-mounted, and specialist truck-mounted sectors.
"Emissions control is becoming more and more important for operators and contractors, especially for those operating in areas like London, Birmingham and Edinburgh where Low Emission Zones are being introduced," notes Scarab's Manager of Marketing and Product Development, Gary Kelleher. "We have remained strong with our message and as a result we are seeing an increase in enquiries for our single-engine solutions. We are also working in parallel with ongoing developments in alternative fuels such as CNG, electrification, and hydrogen. We've always been at the forefront of technological advancements and we've had a lot of success with our CNG solutions across various areas of the UK and Europe where the infrastructure exists. Our strategy is to support customers in transitioning from a twin engine, to a single engine platform, and then pave the way for the wide-scale introduction of alternative fuel solutions."
Following on from the revolutionary early product developments, Scarab has continued to break new ground. In 2003, the Company became the first road sweeper manufacturer to supply all its sweepers with a CANbus control and diagnostics system. Intuitive and easy to use, CANbus has changed the way Scarab's machines are operated and maintained, providing users with comprehensive feedback including warnings and service reminders, as well as real-time monitoring and datalogging capabilities. Gary explains, the company is always on the lookout for similar product development opportunities that 'innovate' rather than 'copy'.
New product development
"For us, a large portion of product development is always going to be driven by customer feedback. Being close to our customers is vital for us to understand how to improve quality, ease of maintenance, reduce cost of ownership, as well as constantly refining the industry leading operating experience for which we are renowned. We are also constantly looking beyond what is happening in the sweeper sector to see if we can find innovative environmental solutions elsewhere that we can adopt in our own industry.
"We are preparing a number of interesting new products for release in the next six to 12 months. They all revolve around introducing positive, value-added solutions for customers, whilst also keeping an eye on the long-term goal. We are on a mission to have the most environmentally friendly range of sweepers in the industry; that is something we strive to achieve and is at the core of all new product development projects."
As a truly global business, Scarab exports a large portion of its products to continental Europe and far beyond. Though the company focuses on single-engine solutions, it still offers their twin-engine counterparts, which have proven to be the product of choice from Chile to Bangladesh, and Saudi Arabia to North America. Despite this, Gary claims that Scarab's Vision is still to introduce its single-engine solutions to more international customers in the future.
"We understand that there is a place in the market for twin-engine sweepers and for that reason we still have twin engine solutions in our range, with both Stage V and IIIA engines options available," he states. "The M6 and M65T export sweeper kits we offer, for example, have been designed specifically for easy and economical shipping worldwide. Due to their flexible design, they are also easily mounted on a huge range of chassis from any region. This allows customers access to Scarab's trusted quality anywhere in the world with minimal fuss."
Facility acquisition
What unites all aspects of Scarab's product offering is a central focus on high quality, high performance sweepers, recognized as some of the industry's best options in terms of economy and system control. Manufacturing its products from sheet metal upwards, Scarab's skilled local engineers have recently benefited from major investment in the firm's production facilities.
"We've been in Marden, Kent, for over 40 years," Richard Cardwell, Head of Manufacturing explains. "Over the years the site has developed through a process of evolution as we've taken on new processes and added new functions. These adjustments were made to the existing layout without ever really stepping back and optimizing the whole site, that is until very recently. The parts warehouse, service workshops and the new product development bay, were all intermixed around production operations in the same buildings. Furthermore, the assembly functions were disconnected in different buildings across the site so there was a clear opportunity to dramatically improve the visual management and lean performance of the whole process."
After considering several options, Scarab opted to take over a new 34,000 square foot warehouse and workshop facility located on the same industrial estate. The acquisition allowed for a 30 per cent increase in the overall footprint of the operations. "It was a strategic decision for us," Andy comments. "The building was completely refurbished with new facilities and a new office area to accommodate our aftersales team. The entire aftersales organization, including spare parts, service, and the demonstration fleet all moved into that building around October last year and having the whole team working together has brought considerable synergies."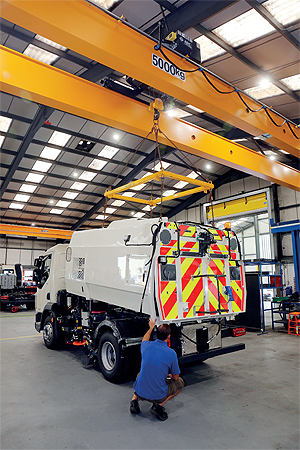 Workplace transformation
Richard comments: "In November last year we traded our main office block in for a two-storey office providing 5000 square feet of modern office accommodation – again on the existing site." Now approaching the final stages of site development, Scarab expects the project to be completed by the end of September 2020 and Richard is confident that it will prove hugely beneficial in supporting Scarab's plans to develop new products and markets and growing production volumes.
"In terms of production, it's given us space in the factories to reorganize things in a more logical way and improve the flow of our processes," he reports. "We've rolled out extensive 5S implementation across the whole site and transformed every square meter in terms of cleaning, painting and creating organized workspaces and visual management making it very lean. We're very excited with the progress and keen, post-Covid, to start inviting customers and suppliers to come and take the Scarab Tour.
"Combined with this we have made significant investments in plant and equipment including cranes, material handling and access platforms which all help transform our processes and improve productivity and safety. We've always been vertically integrated as a manufacturer. We are not just an assembly plant – we cut a huge amount of metal using laser cutting, CNC folding, and extensive fabricating and welding on site for all the major components. Our painting process has undergone some significant development of both the paint system and the processes, and we are setting new standards in the industry in terms of paint finish. From sheet metal coming in at one end to a whole vehicle going out the door at the other, by carefully controlling these processes in-house we can optimize flexibility, maximise speed and dependability, keep our costs under control, and make sure that the quality we put out is of the highest possible order."
Though the new facility is set to play an instrumental role in Scarab's future, the company, at its core, is a friendly and personable business that values, above all, the contribution of its workforce. Communicating a shared vision across the business has been vital to Scarab's growth, suggests Andy.
During the Covid-19 pandemic Richard confirms this was especially true. "Success has been about keeping our staff on board. We took the difficult decision towards the end of March to close the factory – a decision which we reviewed daily as a Senior Leadership Team over the course of five weeks. We maintained a skeleton team running the aftersales department for spare parts and service to ensure we continued to meet the expectations of customers who were still operating our equipment. We were fortunate that we had a healthy order book when the crisis started and a factory, product, and premises that allowed us to reorganize ourselves to socially distance when we brought people back to work. As our staff and visitors returned, we wanted them to have a safe space to work so we've introduced new cleaning regimes, new sanitizing and PPE stations in every work area, erected polycarbonate screens, created signage and floor markings throughout including one way systems and thermal cameras for checking temperatures when people come into the buildings. The workforce has been very supportive of all the steps we have taken going above and beyond to keep everyone safe."
Business Vision
Having weathered the Coronavirus storm, Scarab now has its sights set firmly on the company's long-term future. In October 2019, the Company appointed a new Managing Director in the shape of Gary Watson, who has already set about shaping the company's future. For Scarab, it is clear that the next five or ten years will be about growth.
"When Roger Hoadley founded Scarab in 1979, he envisioned a technology that would revolutionize the world of sweeping," Gary Watson says. "Single engine sweepers were little known at that time yet he had a desire to change the status quo. And in so doing, Scarab's environmental credentials were born and its journey towards enhancing society's wellbeing had begun. It's my privilege to take the helm of a company built from such a clear purpose. And today, backed by the Fayat Group, Scarab has a healthy balance sheet, a skilled and dedicated workforce, and a desire to provide the most environmentally friendly range of truck mounted sweepers in the market. These fundamentals will breathe life into our Business Vision, which includes substantial investment in NPD and marketing, expansion of our business globally, and further expansion of our facilities. My role is to help position this incredible company for the next part of its journey, and I'm truly thrilled by that prospect."
Scarab Sweepers Ltd
Products: Road sweeper manufacturer
www.scarab-sweepers.com