Entrepreneurial expansion
With over 125 years of manufacturing tradition, Scherdel GmbH represents a market leader in the fields of metal forming; assembly and joining technology; mechanical engineering; and tool and surface technology in both standard and bespoke modes
Sigmund Scherdel founded Sigmund Scherdel GmbH during 1889 and the company today continues to operate as a fully family owned business with a strong presence in 29 locations across 11 countries around the world. From its global headquarters in Marktredwitz, Germany the company manages more than 4800 employees worldwide and operates a global network of 39 manufacturing plants as well as a system of service and sales centres throughout Europe, the Americas and Asia. During its history Scherdel has established a presence within several international market sectors, including the automotive, electronic vehicle, healthcare, electronics and machine tool construction industries. In 2015 for example, the company experienced a turnover of circa €630 million of which €100 million was generated by tool, machine and system construction, while €55 million was invested back into the business.
"Between 2014 and 2015 Scherdel achieved growth of around five per cent and the trend within the automotive industry continues to look good. The growth of the business could be even stronger for 2016 and past three months in particular have been very positive," reflects Managing Director, Marcus Bach. "Our core business is within the automotive market, however we are currently actively working to expand in the medical and electro mobility (E-mobility) sectors. These are the youngest branches of the Scherdel Group, but they are developing well and it is our focus for the future to continue to develop these areas while continuing to serve our traditional markets."
While Scherdel continues to develop its presence within the E-mobility and medical markets, the automotive sector continues to represent an important contributor to the success of the business. Within the automotive sector Scherdel has proven expertise in vehicle drive systems, body, brake and chassis applications and vehicle interiors. With a proven history of industry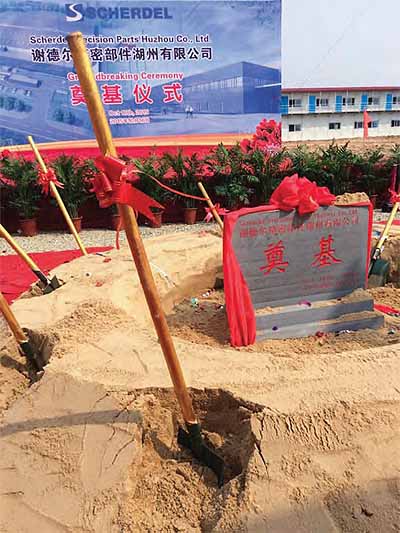 experience, the company has established a broad client base throughout the automotive sector around the world, meaning that while business is slow in one region the company can compensate through sales in other areas. As such, Scherdel continues to work to ensure that it is able to increase its presence across the globe so that is can remain close to its clients. "Scherdel products are present in nearly every car on the market and main clients are well-known OEMs, but also major tier one and tier two suppliers," Marcus Bach observes. "Therefore, we can count almost the entire automotive supply chain as our customers."
Scherdel was previously featured in Manufacturing Today Europe during August 2015, during which time the company had recently opened an additional manufacturing plant in Mexico to support its existing operations. As Scherdel continues to focus on expanding its operations across its chosen markets, the company has remained committed to further investment into its manufacturing capability to ensure that it can meet the requirements of an evolving market. Situated in Silao de la Victoria – a city state of Guanajuato, the investment in the new facility was valued at some €8.84 million ($10 million). The new plant covers an area of almost 30,000 square-metres and presently features around 9500 square-metres of administration, production and storage space. However, due to the expansive nature of the new location, Scherdel is capable of flexibly increasing its capacity to meet new and emerging customer demands. In addition to the new facility and associated equipment roughly 100 new members of staff were added to the company's existing workforce, further enhancing the manufacturing capacity of Scherdel.
Since 2015 the additional Mexico plant has proven to be a huge success for Scherdel and the company has capitalised on this momentum by investing in a new plant within China. "We were already present in Mexico, but the plant there had become too small so we took the decision to built a new plant to incorporate more space for products," Marcus Bach elaborates. "The motivation for us was the opportunity of offering valve springs to our clients in the Americas, European and Asian market. We have now also begun construction of our second plant in China. The building and roof are currently in place and it is intended that the required machines will transferred to the site during June 2016 with the first production samples to begin immediately."
Further to the foundation of new manufacturing plants, Scherdel has also invested into the research of new production technologies across the business, including ultrasonic welding, laser welding, ultrasonic soldering and new plastic moulding techniques. Scherdel also operates seven development and design units across the company that help it to implement new technologies as well as to assist clients in finding the best solution for their requirements, which can be in a standard or bespoke design. Throughout its business, Scherdel relies on maximising synergies between its various units and treating individual employees as entrepreneurs in her or his field. The continued development of its staff remains a further core aim of the company and Scherdel currently employs around 296 apprentices globally. "It is our aim to continue to develop the Scherdel Group across the automotive sector as well as the medical and E-mobility markets. This way the company will be less reliant on a single market segment, which will increase the stability of our business," Marcus Bach concludes. "One of the most important considerations for the future will be to employ the right people. We believe in working with the right employees who are motivated and free to think innovatively within the business. The most important element of Scherdel will always be the people running and working within the company. Every employee acts as an 'entrepreneur' at his workplace."
Scherdel GmbH
Services: Metal forming; assembly and joining technology; mechanical engineering; and tool and surface technology