Allying with digitalisation
Making the most of digital technology, Schmitz Cargobull has nearly doubled its production capacity. Via a considerable investment in its factory in Vreden, Germany, the company is now anticipated to expand its capabilities of manufacturing world-class trailers further
Time and again, Schmitz Cargobull has displayed a compulsive drive for continuous improvement on every level. Courtesy of its ability to produce over 61,000 trailers per year, the North German company has grown into Europe's leading manufacturer of semi-trailers, truck bodies, and trailers for temperature-controlled freight, general cargo, and bulk goods. Keen on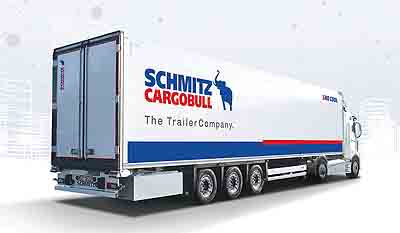 becoming the global market leader for refrigerated semi-trailers and platform semi-trailers, as well as a reference point for tipper trailers in Europe, Schmitz Cargobull's Supervisory Board approved the first stage of a sizeable 100-million-euro investment package for the company's facility in the town of Vreden.
"The Vreden factory is our brand's centre of expertise for box semi-trailers and will soon become home to a digital and automated plant that combines top-class customisation at familiar high standards of quality and minimal production costs," explains CEO, Andreas Schmitz. "This additional investment kicks off the expansion of the digital factory with increased capacity and better portfolio diversity. The idea is to set up a new production line in combination with a new assembly line, and to establish such a digital process that will enable us to cut manufacturing times almost by half."
Andreas projects what the process will look like: "In Germany, in particular, everyone is talking about digitalisation, but we are really going a step further where there will be complete integration – from the order entry all the way to the manufacturing and final assembly of the trailer. Of course, this does not mean that we are not going to need people to co-ordinate the system, but we would like to bring all teams together and follow this seamless digital process in our work with every single client."
Following its motto – '100% SMART', Schmitz Cargobull has taken to making all of its S.KO COOL reefer semi-trailers smart, by installing its in-house TrailerConnect telematics system in all newly-ordered reefers as standard. The telematics equipment creates a strong foundation for optimum control over an interconnected, integrated logistics chain, thus helping to boost efficiency and reduce total cost of ownership (TCO).
"We are constantly engaged in optimising our trailers, and we gradually launch new features to improve their performance," Andreas remarks. "For example, the smart semi-trailers include an automatic temperature radar that allows our clients to communicate with their own customers and present them with real-time information about the goods. This way, a supermarket may request the temperature recordings and establish a firmer control over the cold chain in a quick and easy manner.
"In addition, we have also improved the trailer's hardware, including a new floor, which is quieter and more suitable for intercity travel. Furthermore, the bulkhead design has been improved, so that the cooling air can circulate better. Last but not least, we have tweaked the fixating point to enable supermarkets to load and unload goods more easily," he continues, adding that even though the semi-trailers are not essentially a new product, Schmitz Cargobull qualifies them as such, because of the multitude of new characteristics that have transformed the trailers tangibly.
In recognition of its environmental responsibility, the company has also recently added electrical cooling units to its proposition. "We have already made sure that our standard cooling units have lower fuel consumption, but now, we are also offering electrical units that can run up to eight hours without any diesel at all," Andreas points out.
Schmitz Cargobull's innovative practices have evidently paid off in recent times as the business succeeded in growing its market share from 50 per cent to 55 per cent. What is more, one very special award received at the very end of 2017 crowned the company's targeted activities, reassuring Schmitz Cargobull that it truly is on the right path. Andreas discusses: "Our Vreden plant was named as the overall winner of the renowned Manufacturing Excellence Award, which was an incredible recognition for our whole team. We were immensely proud of being presented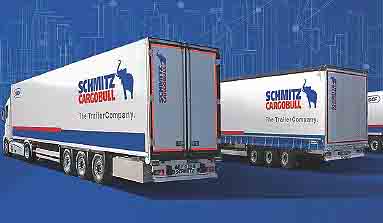 with the award, which acknowledges companies who use innovative and creative solutions to promote Germany as a centre for business and international competition over the long term. It showed that our lean and automation efforts had not gone unnoticed, but we also remember that, at the end of the day, the real test for us is our customer."
What has proven to be a core strength of the company over the years, is its efficient production network, and one of the main future tasks for Schmitz Cargobull will be to maintain and expand this operational model. "We have many production plants, which means that we can assemble the trailers locally and stay closer to our customers. Associated with that is the reduction of our delivery costs and, having been successful in rolling this working pattern out across Europe, we are looking to continue reaping its benefits in the coming years."
While Schmitz Cargobull produces reefer units and curtainsiders from virtually every corner of the Old Continent (Germany, Spain, Lithuania, Russia and Turkey), the company does not shy away from its ambition to grow into the Sub Saharan African market by leveraging GRW´s plant in South Africa. "We are confident that with GRW we have an excellent partner in the country, who can lift us into major international expansion, as that is another long-term objective of ours," Andreas reveals.
"The last few years have been extremely strong and the fantastic growth we have enjoyed, is due to our manufacturing system. We were able to increase our production rate from 55-60 reefer units per day to more than 100 in just two years. More impressive still, we managed to do that without major investment, so we expect the development of the Vreden facility to be of massive help in our charge further forward. I am convinced that if we maintain our high levels of productivity, our efforts will meet with even greater success," he concludes, brimming with optimism.
Schmitz Cargobull
Products: Semi-trailers, trailers, truck bodies