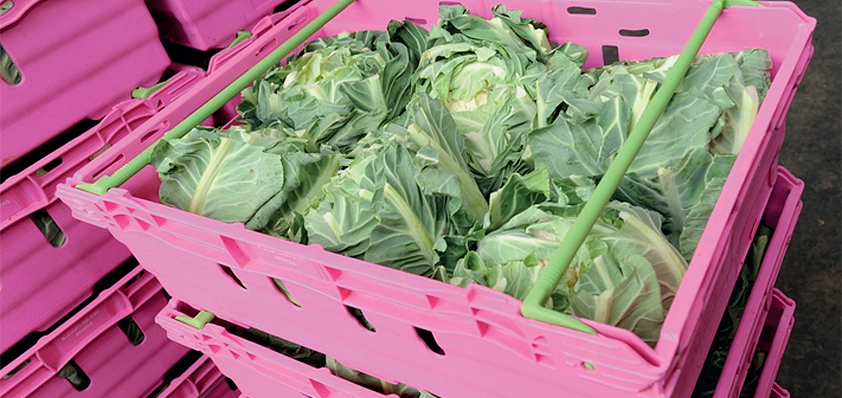 Happy returns
Inventing, developing, designing, and manufacturing returnable transit packaging (RTP) for more than 60 years, Schoeller Allibert is a market leader in RTP solutions, with active operations across the globe
Born out of a belief that more could be achieved together, Schoeller Allibert was formed through the acquisition and consolidation of some of the industry's most successful returnable transit packaging (RTP) manufacturers, including Schoeller, Wavin, Perstorp, Arca, Linpac, Allibert, and Paxton. The result is a business that is, today, one of the largest producers of RTP for material handling in the world. "Due to the fact that the company has been shaped by such a large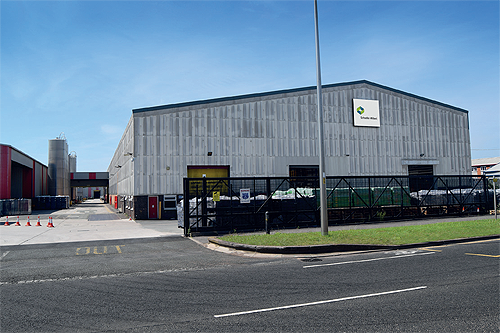 group of quality RTP firms, Schoeller Allibert has a history and heritage unlike anyone else in the industry," explains UK Operations Director Jackie Johnson. "The knowledge and experience in the company helps us to provide our customers with value in their supply chains through the products we produce. I believe that what truly sets this organization apart from its competitors though, is that we are very customer-centric in how we operate. We are a solution-based provider, as opposed to a company that makes boxes. For us, it is all about the solution, not the individual product that may eventually come to function in that role."
Though Schoeller Allibert is headquartered in the Netherlands, the company's UK branch – where Jackie is based – is located in Winsford, Cheshire. Acting as the centre for all UK production, the Winsford facility has recently benefitted from a significant program of investment directed towards both machinery and people. According to Jackie, the aim is to drive the site towards becoming a vital part of Schoeller Allibert's efforts to deliver 'the latest generation of returnable packaging solutions'.
"In terms of technology, we are an injection molding manufacturer, so any technology related to the manufacture of injection molded products is key for us," Jackie remarks. "The investment we have received recently will go towards increasing the automation of our facility, but we will be doing so in conjunction with developing our people. We are working very closely with our operations teams to deliver an upskilling program for our staff that is designed to work hand in hand with any automation or new technology that we bring into the site. This enables employees to develop and enhance their skillset to move from manual roles to those where they can acquire greater technical knowledge. For example, operators can, and have, developed from assembly roles to engineering apprenticeships. Additionally, investing in our technology, automation and people helps us to continue our absolute focus on quality consistency, driving innovation, reducing lead times, and achieving excellence in health and safety." Focusing on customers across seven key market segments – agriculture, automotive, food and beverage, food processing, retail, industrial manufacturing, and pooling – Schoeller Allibert offers a comprehensive range of standard and bespoke RTP solutions, from foldable large containers to pallets and dollies. No matter what is being manufactured, when it comes to RTP, Schoeller Allibert has become synonymous with high quality, durable, sustainable products that contribute to efficient supply chains through lower transport costs, reduced waste, and enhanced green branding.
"In a traditional manufacturing facility, you have a production plan and a work order and a product is developed around that," Jackie states. "At Schoeller Allibert, we do things differently and try to bring the customer closer to the people who are preparing the machines or doing assembly work – the people actually manufacturing the product. Rather than being told about order number 22341, our staff know the name of the customer and often have an understanding of their business – this is their product, their colour and this is the specification. It means that the customer is always part of the process."
The emphasis Schoeller Allibert places on its clients is supported by a central innovations team dedicated to improving customer supply chains – a department that Jackie claims is 'the strongest in the business'. With the ability to design and develop new products from concept to production, the innovation team regularly works closely with customers, offering supply chain solutions that reduce cost, reduce environmental impact, and add value. Among solutions the innovations team has helped to implement in recent times are the introduction of Euroclick stackable containers, the Schoeller Allibert System Integrator (SASI) range of containers and the new eCommerce ready Maxinest® Etail product. Schoeller Allibert has also begun supplying Maxinest crates to Cleveron picking robots adopted by several major retailers. It is a step into the future for a pioneering product that, in many ways, laid a foundation upon which the RTP industry has grown.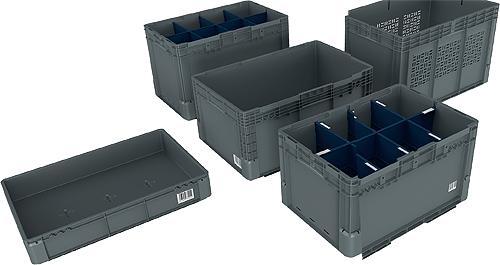 "Originally created and introduced to the retail market by Paxton's, one of Schoeller Allibert's consolidated companies, the Maxinest has been in the market for over 20 years," Jackie reports. "It is a proven, sustainable product that has spawned a lot of me-too versions over the years.
"What strikes me about the Maxinest is that it facilitates an efficient supply chain that becomes invisible at the point of sale, ensuring that the product retailers are looking to promote is forefront and not the packaging in which it is kept. As an RTP solution, the Maxinest also contributes immensely to reducing carbon footprints because it is recyclable and it nests when it is empty, so you are optimizing your return logistics space. For me, that is what makes our product essential in the marketplace."
Being so well established in the market has been greatly beneficial to Schoeller Allibert throughout a year that Jackie admits has been challenging from an operational perspective. Though the Covid-19 pandemic has led to many staff being forced to work from home, the Operations Director says she is proud of the way the company's workforce has adapted and responded.
"I think it has been a real success in the way people have approached it," Jackie declares. "The commitment and effort people have put in to ensure that we still deliver quality work and support the team onsite has been very encouraging. Under normal circumstances, you could go and have a chat with somebody if you wanted to look at optimizing the run of a production plan or something like that, but those tasks have had to be done remotely. Our teams have created new ways of doing things. They have looked at new templates and adapted how they work to support the operation when they are not there. People have engaged before being instructed. It's been a story of ownership and responsibility."
The post-Covid-19 outbreak environment Jackie describes is reflective of Schoeller Allibert's larger culture of inclusion and teamwork. This ethos, and the workforce's belief in it, was illustrated in 2019 when the company experienced labor availability issues during its peak season. After launching an initiative called Project Unity, the whole business came together to support operations and achieve a shared goal. Jackie has seen similar togetherness in 2020.
"We supply into some key areas, such as food, retail, and supply chains for the NHS, so it has been an extremely busy time for us, but our team has got right on board. In particular, some of our employees got together in their own time, took some redundant material, and manufactured their own tool to create visors for the NHS. The business supported the group as they produced and assembled the visors and we eventually supplied them free of charge to local hospitals and care settings around the area. That is the sort of culture we've got – a can-do culture focused on the customer and overall success of the business."
Having cultivated such a dynamic, efficient, and united workforce, Schoeller Allibert now plans to focus on providing its teams with skills for the future. As employees embark on academic and vocational upskilling and multiskilling programs over the next 12 months, Jackie is confident that the company will remain at the head of the RTP industry for years to come.
"Though we continue to take advantage of the appropriate automation opportunities, our main focus right now is on investing in people because people are what makes a business successful. It might sound like a cliché, but it is true, and there is a reason why so many companies see it as a key to success," Jackie asserts. "All our operators are getting opportunities to do business techniques courses and apprenticeships, which will only serve to benefit this organization. Ultimately, we want Schoeller Allibert to be recognized as a company with the capability to deliver a lean efficient plant supported by a highly competent and committed workforce. We're not far away from achieving that."
Schoeller Allibert Limited
Services: Returnable transit packaging solutions
www.schoellerallibert.com/uk