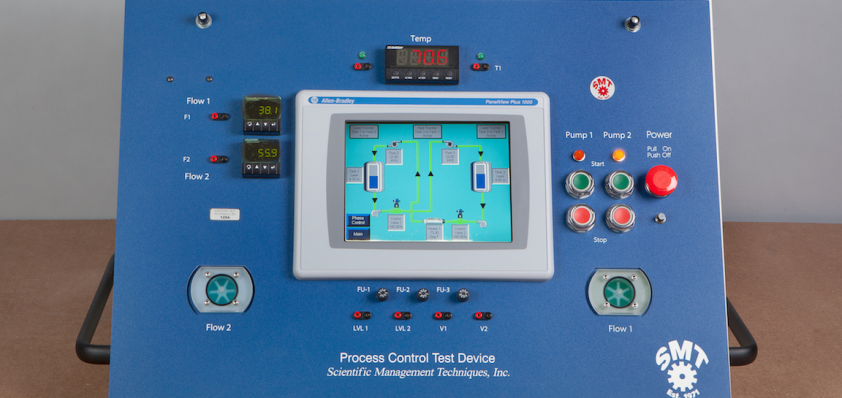 Scientific Management Techniques
There were 441,000 unfilled manufacturing jobs in the United States at the end of May, according to the Bureau of Labor Statistics. Some of that can be attributed to low unemployment figures, but many companies report another reason: a lack of qualified candidates.
"The manufacturing skills shortage has become more acute, the problem is growing," says Stephen Berry, president of Scientific Management Techniques (SMT), a provider of manufacturing skills solutions. It's a decline reflected in SMT's own data. The average score on the company's mechanical skills assessment program was fairly steady at around 60 percent from the 1970s until the mid-'90s. However, by the end of the millennium, those results began to dip and the average performance is now just over 20 percent.
A decade ago, solving the skills gap was the purview of plant managers; however, as the problem has grown, senior leadership has become more involved. "Now, senior management knows they have a problem and they're looking for a global solution," Berry notes. "Our skill solutions are currently deployed by manufacturing organizations in 46 countries".
Several factors have contributed to the decline in manufacturing skills within the workforce. Shop classes that once taught teens woodworking and metalworking skills are far less common in high schools, children are less likely to spend their weekends disassembling their bicycles when they can browse the internet, and there has been a cultural shift that pushed students away from trade schools. "In the last 20 years, society has moved toward everyone thinking they have to go to a four-year college to get a job," Berry says.
Colleges may have a wider breadth of career opportunities, but they can also saddle graduates with massive loans. A skilled welder or machinist, meanwhile, can earn just as much as a college graduate without the debt. "These are wonderful jobs, but if you're not attached to the manufacturing world you're not aware it," Berry points out.
Effective Assessment
Companies are pursuing a number of strategies to bring young people back into manufacturing. SMT's role in that process is two-fold: evaluation and education.
A good assessment is a critical component to evaluating potential hires. Qualified employees tend to stay with a company longer and are far more productive, contributing more to the bottom line. SMT's Hands-On Competency-Based assessments identify and measure the skills required to operate, maintain and troubleshoot a modern manufacturing facility.
Not being able to see how a prospective employee handles a real-world problem puts companies at greater risk of making a bad hire. "As soon as you put them into production it doesn't take a year to figure out they don't have the skills they represented in the interview," Berry says. "It can take one day."
That's the challenge Richard Whouley set out to solve when he founded SMT in 1971. Whouley, a mechanical engineer, developed the Standard Timing Model, a Competency-Based mechanical assessment device that tests a candidate's hands-on knowledge and aptitude by having them identify and analyze problems with the machine and then repair the malfunctions. "The assessment program identifies and measures the skills required to operate, maintain and troubleshoot a modern manufacturing facility," Berry says.
Today, the company offers skills assessment programs in five different areas: mechanical, electrical, PLC, CNC and process control. Further, the machines can be set up to test variable levels of pre-existing skills. The specific assessment used is a function of each job description. Many assessment program users set pay grades and job titles based on assessment scores/performance.
Looking for Trainability
In addition to identifying and measuring pre-existing skills, the mechanical assessment program also identifies mechanical aptitude in individuals who have not been properly trained and may have zero experience in manufacturing. Mechanical aptitude translates directly into "trainability."
"Our clients rely on this capability when they are hiring entry-level staff that must be trained," Berry states. "Identifying aptitude significantly increases the success rate of entry-level staff, dramatically lowering turnover."
The programs have been validated by 45 studies administered by industrial/organizational Ph.D.s. Berry says the program has been proven to be reliable, valid and defensible. "Our assessment program used in the hiring process is an extremely powerful tool," he says. "It measures the skill level of all applicants."
SMT's clients also assess their incumbent workforce to identify individuals for advancement and to measure skill gaps. With this skill gap data, SMT structures and delivers targeted skill-training programs. These targeted programs increase the ROI of training dollars spent due to the fact that the manufacturer only takes manpower out of production for the specific training required.
That leads to better results overall. An SMT study of 32 training classes with 664 participants between 2012 and 2014 found that participants raised their scores on average from 16 percent to 74 percent. "How someone performs during an assessment gives you a clear window into what skills a person has and what they don't have," Berry says.
In most cases, clients purchase the machines to administer the assessments themselves, but SMT also offers testing services when requested. The devices are the same for all customers; however, the difficulty can be tweaked to fit different job titles. The more basic tests are aimed at operators, who only need to know how to run the equipment, while the maintenance-level exams are much more difficult since those positions require deeper troubleshooting skills and ability. "This program has proven to be highly effective across a wide variety of industries," Berry says.
Competency-Based Training
SMT's training program is deployed by Fortune 500 manufacturers globally. The Hands-On program has been translated into several languages.
Each volume of the program incorporates the use of many hands-on training aids that replicate real-world conditions in a production environment. SMT trains the theory, then directly applies the theory in its hands-on training lab. The typical training unit/volume time breakdown is 40 percent theory and 60 percent hands-on time in the training lab.
"The key differentiator of our skills curriculum is the program design," Berry states. "The training program has been built by and for operations professionals over the last 20 years. We work closely with our clients to ensure the curriculum trains the specific skills required to optimize performance and profitability in industry. In this regard, the program is 100 percent demand-driven."
Looking for Long-Term Solutions
SMT's training program is available in two deliverables. SMT staff travels to client locations to deliver the program, or manufacturers can own the program, purchasing the hands-on training aids and licensing the curriculum. The company reports that given the acute nature of the skills shortage more clients are purchasing the program today than 10 years ago.
"Many organizations are looking for long-term sustainable training solutions," says Eric Frohn, SMT's director of education. "Given the number of individuals requiring training, owning the program delivers the highest long-term return on investment. We train and certify our client's staff to deliver the curriculum."
The American Council on Education (ACE CREDIT) reviewed SMT's training curriculum and assessment program. After the nine-month process, ACE CREDIT recommended the issuance of college credit for both programs.
Continuous Change
But manufacturing is not static. New technologies and processes are implemented all the time and an educational program can easily fall behind. Here, too, SMT benefits from its global relationships. Its curriculum is dynamic and changes based on feedback from clients around the world. In recent years, SMT has added new training aids to its program and expanded its scope to keep pace with technological advances.
"Not a year goes by that we don't update part of the curriculum," Berry says. "With the real-world feedback we receive from our global client base, the program represents an ongoing needs analysis of the skills required to optimize performance in manufacturing."