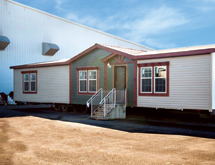 Manufactured homes can leave much to be desired when it comes to space, which is why Scotbilt Homes focuses on innovative designs and engineering to maximize every inch while maintaining visual appeal.
In 2004, Sam Scott and his son, Greg, founded Scotbilt Homes, a manufacturer of single–, double– and triple–wide mobile homes. Every home is built inside the company's 160,000-square-foot warehouse in Waycross, Ga., General Manager Dale Gilliland says. "It's the construction and quality of the home that makes us unique," he says. "We pay attention to detail and look for innovative ways to build a beautiful home."
Every home built by Scotbilt Homes meets or exceeds the manufactured home construction and safety standards administered by the U.S. Department of Housing and Urban Development (HUD). "There is a HUD book of standards to build by and everything has to be approved by licensed engineers," Gilliland says. "Material and construction methods have to be tested and approved before building a home."
Once Scotbilt Homes has completed building a home, it sells to various independent retailers in Georgia, North and South Carolina and parts of Florida and Alabama. "We recently started shipping to Alabama and we would like to expand our market there," Gilliland adds. "We want to see the company grow and expand in different markets."
Visually Appealing
Scotbilt Homes is constantly innovating its interior engineering and designs to stay competitive and visually pleasing to the customer. New color palettes, architectural features or draperies are introduced once per year and Gilliland's role in the company is to stay current on home trends.
"We are always trying to see what's going on in housing trends and how we can incorporate it into our homes," he says. "We use anything I can think of, including magazines, television shows, furniture markets and more to get ideas."
The company's new Tuscany home design uses cypress wood on the exterior and includes recessed tray ceilings. The design also has arbors over the windows to hang vines or plants.
"We are one of very few companies that do a recessed tray ceiling," Gilliland says. "There is a lot of engineering involved in that and it's not the easiest to build. That's the kinds of things we are looking for to stay current with the market trends and competitive."
Materials are never wasted during manufacturing. "We lay things out to get the maximum usage out of the material and space, which allows you to give the customer more for their money," Gilliland says.
Scotbilt Homes is also focused on incorporating consumer demands, such as taller ceilings, higher-quality materials and energy-efficient features. The company is building eight- and nine-foot ceilings in its homes today because customers are looking for extra height that is not available in older manufactured homes, Gilliland explains. Wood cabinets and ceramic backsplashes have become the norm in the kitchens and customers are requesting heavier insulation to conserve energy.
"Manufactured housing is not cheap housing," Gilliland adds. "Scotbilt Homes has never built the cheapest of the cheap."
Building A Home
Scotbilt Homes manufactures standard floor plans for customers to choose from that will fit their preference or budget. To make the manufactured homes stand apart, the colors in the interior can be altered so customers can make it their own. Scotbilt Homes offers beige, white, green, red and mustard paint along with a variety of prefabricated wallboards to select among, Gilliland says.
Each home takes about four days to complete and is built using a fully indoor manufacturing line. The company employs 150 carpenters, plumbers, electricians and roofers to get the job done, Gilliland says. "We have employees separated into 18 to 20 stations, depending on the size of the home, in an assembly line format," he adds. New employees are trained by partnering with an experienced coworker.
The family culture in the warehouse began even before the company was founded. The Scott family owned different companies prior to starting Scotbilt Homes and largely opened the company to help its former employees retain employment. "The Scotts have an intense loyalty to their employees," Gilliland says. "The job market was poor in the area, so Scotbilt Homes was founded to offer additional employment opportunities."
Despite the struggling housing market, Scotbilt Homes is continuing steady production, Gilliland says. The manufactured home industry is up 7.9 percent nationwide in 2013 versus 2012 as of September and Scotbilt Homes' business is up 25 percent. To sustain itself for the future, Scotbilt Homes plans to continue increasing its marketshare while remaining aggressive and competitive.
"We will increase our marketshare, stay innovative in products and expand production facilities to other areas of the country," Gilliland says.