Sexy engineering
SCX Group is enjoying the time of its life, as the engineering company is completing a series of huge projects for the sports and nuclear industries
Alot of companies would love to be where SCX Group is.The Sheffield-based mechanical handling services provider has built an overwhelming portfolio of projects that have placed it under the spotlight for the whole world to see. It cannot be otherwise, since SCX sits behind some of the most significant construction projects in sport. It built the retractable roof over Centre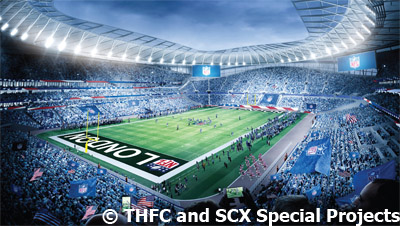 Court at the All England Lawn Tennis Club,Wimbledon. SCX is doing the same for No.1 Court there right now too. Moreover, it was commissioned to deliver the first ever dividing retractable football pitch for the new London home of Premier League side, Tottenham Hotspur
Managing Director, Simon Eastwood narrates the genesis of the business:"The company was founded by my father in 1972, and it started as an overhead crane and hoist repair and servicing business, which is still part of the SCX Group today. However, in the late 1980s, I really wanted us to take on projects that not many other companies were doing, so that we could add real value to the skills we had.This is how we started what later became SCX Special Projects in 1992," Simon explains."We became a solutions-based firm, and early on we did a lot of work for theatres and office buildings, including The Gherkin in London. Eventually we began to specialise in nuclear handling, too."
SCX gained world prominence with its work for the All England Lawn Tennis Club (AELTC), as it was selected to build the retractable roof over Centre Court at Wimbledon, which was first used in 2009.The company is currently engaged in constructing another retractable roof over No.1 Court, which will be ready for the 2019 Championships of tennis' most prestigious AELTC No1 and centre courts,Wimbledon AELTC No.1 court,Wimbledon tournament. Simon discusses the project: "The roof over No.1 Court has the same basic design as the one at the Centre Court, albeit thoroughly modernised to use newer technologies. It is also a bit bigger, having 11 roof trusses compared with Centre Court's ten.We are halfway through at the moment, and we will start lifting the roof trusses in August.
The challenge we face there has to do with fabricating and machining the large steel hinges that attach between each of the trusses.They are huge castings, and we started procurement two years ago, but they will not be ready for another six months, because of their size. Each hinge weighs 14 tonnes, so it takes time to manufacture them. In fact, this is why we recommended to the Club that we start early enough, just in case there are any hitches along the way."
In late 2017, SCX announced another high-profile contract, to create the world's first dividing retractable pitch at Tottenham Hotspur's new stadium.What is unique about the undertaking, is that it will make the new stadium the first in the UK to have two pitches in the same bowl.The fully retractable grass surface will be used for football matches, providing a pristine stage for the players of one of the strongest Premier League teams to showcase their dazzling football, whilst the pitch underneath will be used for thrilling NFL matches and music concerts.The retractable pitch sits in three steel trays, each weighing more than 3000 tonnes. These trays retract beneath the South Stand to reveal the artificial playing surface underneath. Once the grass pitch is rolled back into place, the joins are invisible and undetectable.
"Moving the retractable pitch was a relatively straightforward engineering task, and we had used similar technology at Ascot Racecourse, albeit on a much smaller scale.We were comfortable with the approach, even if it is close to 10,000 tonnes that we are moving. More challenging was the pitch surround – the area between the touchline and the hoardings – because that needs to raise and lower through 1.8 metres between the two pitch surfaces.We have to lift the entire structure in one, and it weighs a lot. If you are rolling something along rails, the technology is pretty straightforward. As soon as you introduce lifting, it's a whole new game, and becomes far more challenging.We had to perform extensive testing to ensure the success of our technology," Simon clarifies.
For SCX, the nuclear industry represents another key area of interest.The company is well-versed in the sector after accumulating years of experience and continuing to take on numerous new projects. It is currently constructing complex and precise mechanical handling cranes, whose lifting capacity ranges from ten to 125 tonnes. Simon sees immense potential for growth in the industry:"The Nuclear Decommissioning Authority has published its 2018-2021 Draft Business Plan. It is evident that every bit of decommissioning will require lifting and moving equipment with the safety, integrity and reliability characteristics so vital in the nuclear sector.We are very well-prepared to serve that need. Moreover, we expect several civil power stations to be procured shortly, and each and every one of them has a huge amount of lifting devices. As a matter of fact, we are already working on a number of those."
Simon praises SCX's EC&I (Electrical Controls & Instrumentation) department, as he observes changes in the perception of what constitutes an effective safety system."We have seen this trend grow in the last five years, especially in the nuclear industry. Even if we take the new Spurs stadium for example, safety is of utmost importance, and it is the control systems and methodologies that ultimately make the site safe.We are lucky to have three safety engineers, each of whom has obtained the highest TUV qualification, and you do not see that very often in other companies." He regards early engagement with clients as another core strength of the business, and a strategic advantage SCX has gained."This is important, because it gives us enough time to tease out the right solution for them, as well as the right technology for us to employ."
At the end of our interview, Simon addresses the skills gap in the industry."Getting skilled engineers has been the biggest restriction to our growth, I suppose.The educational system lets businesses like mine down. Schools encourage everybody to go to university, and some degrees seem to be discriminated. From my personal experience, I can say that some of the best engineers we have are the ones that we took as 16-year-old apprentices.They eventually went on to get a degree, but because they had already been given the practical skills, adding that theoretical knowledge enabled them to become superb engineers."
SCX has found a way to fight this skill shortage by opening its own education scheme, the SCX Academy, where it delivers practical training to motivated individuals."We have a workshop with lots of different pieces of equipment to train young people on," Simon points out.
"Overall, I think we have been privileged, because of the type of work we do. Professionals now approach us far more often or, if we invite them, they are very keen to come and work on the variety of exciting projects we can offer. It is a bit of 'sexy engineering' that we are doing," he smiles.You can bet it is.
SCX Group
Services: Mechanical handling services