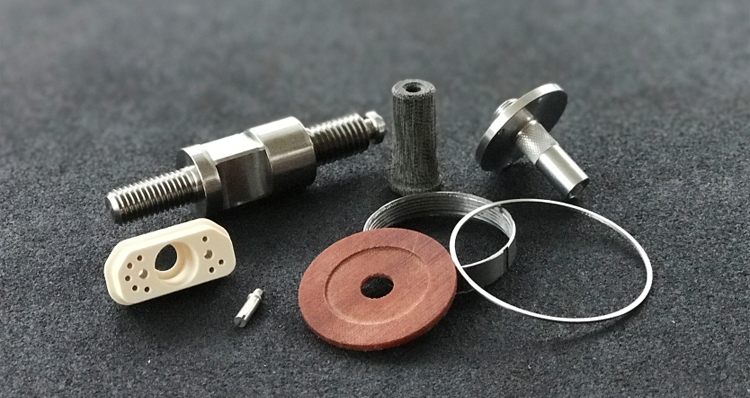 Seastrom Manufacturing Co. Inc.
Seastrom has established itself as a reliable provider of precision assembly hardware.
When Seastrom Manufacturing Co. Inc. sends bus bars, clamps or brackets to a customer, they can be certain that they are fabricated to the highest standard. "That's what the industry counts on," Sales and Marketing Manager Aaron Hludzenski says.
The precision assembly hardware company also knows that its clients count on strong service, which Seastrom is more than willing to provide. "The customer experience is what keeps us going," he says. "We need to make it a pleasurable experience for the customer."
Based in Twin Falls, Idaho, Seastrom's specialties include precision stamping, CNC machining, waterjet, four-slide, screw machining and laser part marketing. Founder Wensil Seastrom started the company with his namesake in Glendale, Calif., in 1928.
He initially operated out of his garage, making electric motor components before becoming a job shop for the aerospace industry. Over time, Seastrom moved to its 100,000-square-foot location in Twin Falls, where it also offers secondary operations, assembly and packaging.
Hludzenski adds that the company has grown to serve an array of industries, including the aerospace, defense, electronics, energy, medical and agriculture industries, as well as general machinery manufacturers that require stamped parts. "We also partner with a lot of distributors," he says.
Quality Controls
Seastrom has implemented strict controls to ensure manufacturing quality. Hludzenski explains that its employees follow documented processes that ensure the company stays in accordance with its industry certifications, including ISO 9001: 2015 and AS9100 Rev D.
These procedures cover all steps of the manufacturing process, ranging from when materials to are received to when the final products are shipped. Third-parties, he notes, audit these processes on an annual basis. "We have to pass those audits for our certifications to remain relevant in our industry," Hludzenski says.
Seastrom also takes steps to follow its customers' requirements, which can include the use of domestic materials to need to follow Federal Aviation Administration regulations. "We have a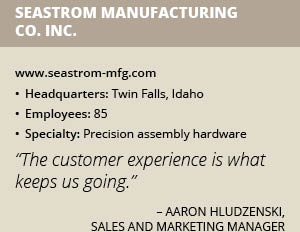 quality flow down requirement list of 50-plus items that we have to adhere to," he says. "Otherwise, they can't use the parts."
Seastrom's strict controls also help promote safety in its facility. "That's No. 1 on our list," Hludzenski says, adding that the company maintains strong safety record.
The company also reinforces its safety philosophy at its semi-monthly plant meetings. "We continually make our employees aware of what needs to be [done] in a safe environment," he says.
Getting Stronger
Seastrom is currently in growth mode. "The executive team is looking to add additional [salespeople] and managers to areas of the company to strengthen its position," Hludzenski says, noting that he himself was a recent hire.
The company also just purchased new CNC equipment for machining, but it is not finished yet. "We have our wish list for more," he says, adding that the company wants to grow its capabilities. "We strive to make that a reality."
Seastrom also is using more alloys in the manufacture of its products, Hludzenski says. These include aerospace grade, nickel and titanium alloys.
"Some of the mills in the United States have trademarked alloys, where they've designed something based on a need their end users have," he says. "They're usually high in nickel or cobalt." The company uses approximately a dozen of the alloys, with access to many more.
Good Things
Hludzenski joined Seastrom last year. "I have always been in the industrial industry," he says, adding that he takes pride in how the company focuses on improving its operations with new product lines and machinery.
"It's a changing dynamic and people are inherently a little fearful of change," he admits. "But what we're most proud of is the continued commitment to adapting to our changing environment."
Seastrom also makes sure to reward its employees when they successfully make these changes. "It makes people believers," he says. "We're a successful and greater company for doing it."
Currently, the company is adapting to some of its clients implementing lean manufacturing and just-in-time initiatives in their own operations, which has led to less quantities being ordered. "We've seen volume throughout the years take a change," he says.
"That's something we have to deal with," he says, noting that Seastrom's diverse customer base helps it cope with this. "When one is up, one is down. No two customers are alike."
Seastrom is excited for 2019. "We think it's going to be another year of growth," Hludzenski says. "We're going to continue with our philosophy and I don't see anything but good things coming in the future."