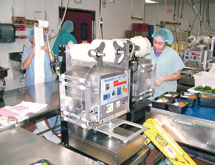 Seattle Sutton's Healthy Eating
A food maker may not recall the stereotypical images of a manufacturer who makes gadgets and gizmos, but food manufacturers do, in fact, have the same worries as gadget and gizmo manufacturers. R&D, meeting quality standards, working with suppliers and getting orders out on time are real concerns for food manufacturers, too. And just like their gadget-making counterparts, food manufacturers make promises on performances, as well. In the case of Seattle Sutton's Healthy Eating (SSHE), a maker of healthy ready-to-eat meals, the promise is simple: sticking with SSHE's meal program leads to a healthier life and improved health.
"Some have a misconception that this is a fad diet," explains Seattle Sutton, founder and president of SSHE. "When I think of a fad diet, I think of something that you go on to lose weight that, of course, doesn't taste very good. That's not what our meals are, and while you will lose weight on our meals if you stick to the plan, weight loss has never been our only goal. Our meals are for anyone interested in healthy eating but who doesn't want to cook their own meals."
To make due on that claim, SSHE designs nutritionally balanced meals portioned for either a 1,200-calorie-a-day diet or a 2,000-calorie-a-day diet, depending on the customer's needs. The meals are designed and prepared in-house at the company's 32,000-square-foot, USDA-certified facility and shipped to the customer's door.
Breakfast, lunch and dinner for the whole week or a half-week includes items such as scrambled baked eggs with roasted potatoes and fresh fruit; chicken salad with angel food cake; and homestyle meatloaf with veggies and mashed potatoes. Each meal is repeated only 10 times throughout the whole year.
"Every meal has its own label, which has a nutritional fact sheet and an ingredient list on each label," Sutton says. "Every meal is computer calculated to adhere to our high nutritional standards. Everything is portioned and calculated, and we have a registered dietitian that makes sure we meet our stringent guidelines."
SSHE bases its product's quality on what goes into making the meals and what is left out. It depends on its vendor Preferred Food Group to deliver fresh ingredients three times a week. Because SSHE maintains a five-week menu cycle, Preferred Food Group knows what ingredients to have on hand for SSHE's weekly orders. Each day, SSHE customers enjoy fresh fruit, vegetables and/or salad, which Sutton says is hard to find in the home meal delivery market.
"We don't have to worry about competition because no one else is doing what we're doing," she says. "If you go on a healthy meal program, be sure it includes fresh fruit, salad and vegetables. That is most important, but it's also one of the most difficult for people to shop for. When people go to the store, they might shop for fresh fruits and think it's really fresh, but some of our things might be even fresher when it reaches the customer's door. Our main vendor delivers three times a week and we really strive to buy top quality in everything."
SSHE works hard to maintain that quality. No high-fructose corn syrup, food dyes, artificial sweeteners or hydrogenated oils are added to the sodium-restricted, low-fat, low-cholesterol meals. The meals stay fresh as they are delivered via refrigerated trucks inside of boxes packed with SSHE's own specially designed cold gel packs. Meals are delivered twice a week – 12 meals in the first batch and nine in the second. In its busiest week, SSHE produced more than 180,000 meals.
Demand for SSHE meals is likely to continue to grow as the company prepares to launch a vegetarian meal plan. Just like any other manufacturer, Sutton says SSHE responds to consumer trends while also staying true to its mission of creating wholesome, healthy meals. Popular cuisines such as Mexican and Italian show up on the menu often, and the company is getting ready to introduce another meal option for the growing vegetarian community.
"We are working on having a new vegetarian choice that will be an average of 1,500 calories a day," Sutton says. "That is something new for our menu cycle. It won't include any fish or poultry. It will be vegetarian meals only."