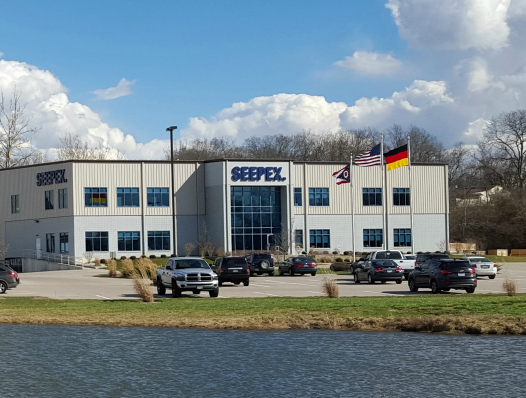 A leading worldwide specialist in pump technology, Seepex is known for providing high-quality, reliable and cost-efficient solutions to customers. Its progressive cavity pumps, macerators and control systems help keep thin to highly viscous, aggressive or abrasive media flowing.
A wholly owned subsidiary of Germany's Seepex GmbH, Seepex has 120 employees in the U.S., part of a 700-employee global workforce. In North America, Seepex is fairly autonomous. It has manufacturing and research operations in the U.S., and all of the pumps sold in North and South America are assembled here.
"We also provide support for injection molded stators worldwide, offering 16 different varieties of elastomers, including those that meet FDA requirements and REACH requirements in Europe," President Mike Dillon says. "Last year, we made more than 50,000 of those and shipped them to other Seepex locations."
Shaping the Market
Basically, Seepex serves two primary markets. The first is with municipalities and their water and wastewater treatment plants. That is a big market for Seepex, which it reaches through representatives that work with consulting engineering firms, cities and construction companies to secure its business, promote its products and help write guidelines for using its products.
"Our products pump water and wastewater treatment chemicals as well as sludge," Dillon says. "We handle everything from thin, non-abrasive sludge solids to very abrasive sludge solids. The municipal market represents about 30 percent of our sales."
The other market is the industrial processing world. In that market, Seepex sells through distributors that take title of the products.
"Distributors take the orders and we fulfill the orders," Dillon says. "Our biggest market on the industrial side is the chemical market. The oil industry has been a big part of our business, but it is down somewhat because of the drop in oil prices. We were very active in drilling and production operations for shale and petroleum projects, but that market has dropped although we do see it increasing."
The food industry is another industrial processing market where Seepex has a presence. Dillon says lower energy prices are leading some in the food industry to make capital improvements, which is driving growth in that sector.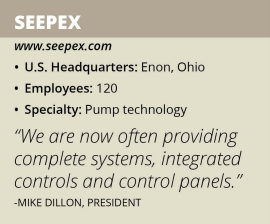 "Essentially, we can get involved with any processing industry," Dillon says. "We try to be diversified, whereas many competitors only work in municipal wastewater industries. It is a big market, but it is competitive due to bidding requirements. It can also go up and down, as we saw in 2009 after the home mortgage crisis and the decline in new homes, new sewer lines and new plants."
To help Seepex grow, it is regularly looking for ways to expand it market opportunities. This is how it got more involved in the water treatment market. At one time, it was doing a lot of projects in wastewater treatment, but not as much in water treatment. This is why it got NSF 61 approval for its products to be used in drinking water applications.
"That took years to get, and we have to pay dues and go through regular audits, but we are seeing that water treatment business increase," Dillon says. "Our products use less chemicals because our pumps are more accurate and consistent. We've done similar things in the food market, and we have a new product coming out for that market that took seven years to develop. We're doing a product extension for the water and wastewater markets this year."
Believing that it must always have new products targeted for certain industries in its pipeline, investing into new products is ongoing effort for Seepex.  The company meets with its global team via videoconferencing about once a month to go over new product developments. Run by engineering experts, these meetings include representatives from sales, marketing and all company disciplines. Seepex has procedures for evaluating new product proposals, ranking them by importance and regularly reviewing project status. Other areas for improvement include looking at lean manufacturing techniques to find opportunities to improve manufacturing and reduce costs.
"Our global teams from Asia, Europe and North America are looking at where we can make investments in new markets, processes, manufacturing methods and material handling," Dillon says. "For example, we are now producing some high-volume parts that used to be machined and are now being made with investment casting, and we are going to injection molding and engineered plastics for some components."
As Seepex moves into the future, it plans to look for more opportunities to provide integrated systems. Pumps are part of a processing system, and its customers want more than just a pump.
"We are now often providing complete systems, integrated controls and control panels, and we are looking at ways to integrate controls to help with maintenance cycles," Dillon says. "The ability to provide complete system integration opportunities for clients is important, because more customers are looking for complete solutions beyond the pump."
Fortunately, Seepex can take advantage of the resources at its fingertips. Electrical engineers, designers, welders, materials experts and more are all part of its operations in North America. It has the support of its parent company, but it is decentralized enough to take the steps needed to meet market needs in the region.
"That forward integration helps provide entire solutions for customers," Dillon says. "We can do custom designs to provide customers with complete solutions, and that is contrary to the tradition of the pump industry, which has had a lot of consolidation and production rationalization. Others have walked away from niche markets, and those special products, designs and fabrications help us meet specific customer needs."